2016 is the year of projects for me. When I was looking at my own new years resolution for the year to come, I knew I could not take a 365 on (I would fail epically on day three or so), yet at the same time I knew photography is a big part of my new year resolution. This year I decided to create virtual projects I want to focus on and take  them to the next level. It is all still a little bit blurry for me on how I am going to tackle these projects as a whole, but I know at least the working title of some of the projects (for now I have five working titles). The very first one is "portraits" and the second is "strobes" and combining them will be a pleasure to explore.
These two projects focus on different skill levels I want to increase during 2016 and share my discoveries with you, so when I was visiting Darth last week, I could not resist and ask if I could shoot his bodyguard while he was practicing his lightsaber skills in the background.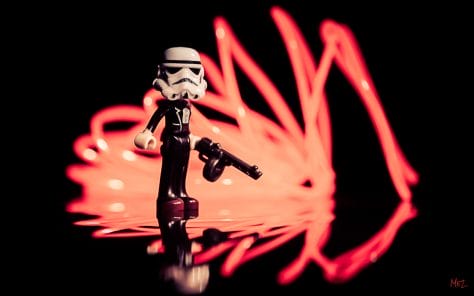 And guess what, he said yes.
So, when I read that Matt was getting his strobes fired up to explore something new and take his toys into the fish tank I really felt excited for him. Highspeed flash photography is something I like to explore myself, and using your strobes to capture motion instead of your shutterspeed is a most wonderful journey. I agree fully with Matt that there is no point in keeping "the technique" a secret, what sets you apart is how you use the language to tell the story you want to share and grow your own journey.
I personally have a tendency to keep the magic, and not start explaining the technicalities behind the shoot, as I rather have people enjoy the image itself and there are hundreds of fantastic resources out there that does explain the magic.
As part of my "strobes" project I want to explore my boundaries and revisit some of the basics 101, as you actually have two pictures in one as you can see in the image above. You have your normal ambient light, and the strobe that freezes the motion (you want the full monty, go check out the strobist).
In this shoot, Darth was doing his warming up training exercise with his lightsaber in the background, while I used a strobe to get the frozen portrait of the bodyguard.
Shot on a tripod, with a long exposure of around 30 seconds (Darth goes crazy with his saber, lightpainting all over the place), while a single strobe captured the bodyguard in the front.
Great fun !
Me2