There are several types of LEGO builders.
Personally, when I buy a LEGO set, I follow the instructions. I open the bags in order and I make small piles with each bag. Then, I use my eyes and my memory to locate parts in piles on my table or on the floor.
Some AFOLs may not consider the instructions as relevant and prefer building their own creations.
I have seen people organize their parts by grouping them by colors before building. That helps them look for parts.
And recently, I saw something amazing. Something beautiful.
I knew it existed because I saw pictures online. But to see it with my own eyes and to see it in the making was something mesmerizing.
A little story
I recently had a friend come over to help me build a set. A big one.
She is a fan of LEGO, too, and it was the first time we built together. So, I asked her how she usually proceeds when opening bags of parts. She told me that she starts by sorting them by colors.
No problem for me, we will organize them by colors. So, I started helping her and after a couple of minutes, I noticed what she was doing. She was knolling.
[clickToTweet tweet="Knolling: process of arranging related objects in parallel or 90deg angles as a method of organization." quote="Knolling is the process of arranging related objects in parallel or 90-degree angles as a method of organization."]
She was grouping parts by color, then by type, and she was aligning them in perfect order. The floor was her canvas and the parts were her paint. There was precision in her movement. A wrong gesture and she would have to start over.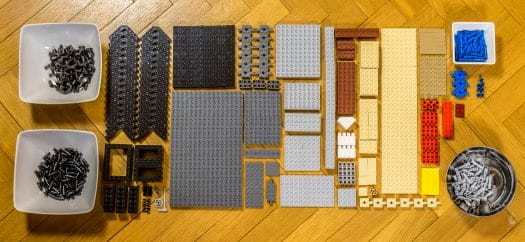 It was funny because she didn't know that what she was doing had a name and people were doing it in all sorts of domains.
She had been doing that for years, before building every set.
She had been knolling her whole life.
But what is "knolling"?
Knolling was a term I heard online when I was watching a video by Adam Savage. And he was actually playing with LEGO bricks in this one.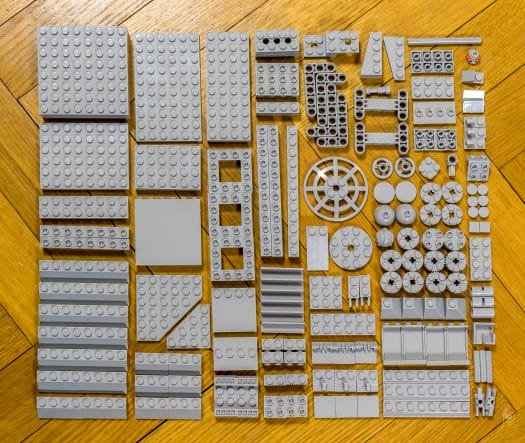 A little of History
The term of "Knolling" was first used in 1987 by Andrew Kromelow, a janitor at Frank Gehry's furniture fabrication shop. At the time, Gehry was designing chairs for Knoll, a company famously known for Florence Knoll's angular furniture. Kromelow would arrange any displaced tools at right angles on all surfaces, and called this routine knolling, in that the tools were arranged in right angles—similar to Knoll furniture. The result was an organized surface that allowed the user to see all objects at once.
And now Google is full of pictures of knolling…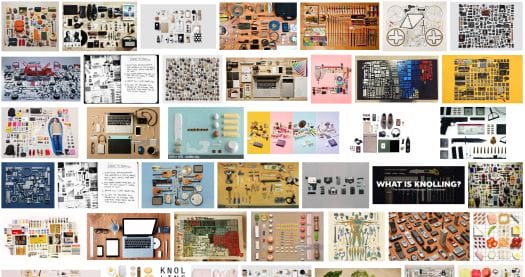 The Art of Knolling
Some people, like me, love things in order, perfectly arranged. When you look at them, it has a peaceful quality and a calming effect.
Knolling with LEGO allows you also to enjoy your set even more. Before starting building (which is half of the fun), you can spend your time looking at all those parts, studying them in details, discovering new ones, wondering how they will be used and organizing them in front of you.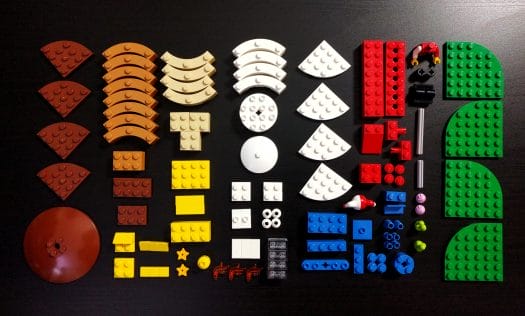 Of course, this takes time, patience and focus. But it's so enjoyable.
Finally, you end up with a new creation. A brick painting of some sort.
Can it be considered as a MOC? Not sure.
Anyway, it's an ephemeral piece of art. Colors and parts facing each other. But in the end, you need to use them to build the set. So you can take a picture to capture your creation.
Now, that I started doing it, it is becoming more and more a ritual for me. A way to prepare myself before building.  A way to enjoy the set even more.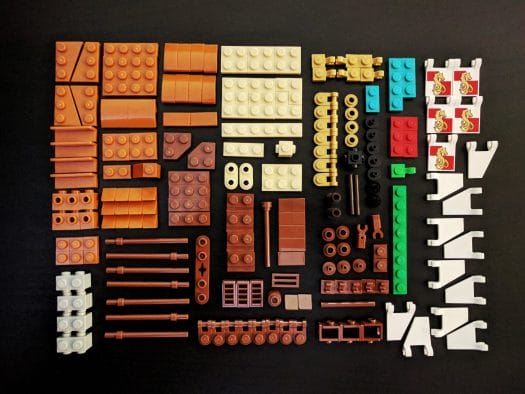 And as they say online: "ABK – Always Be Knolling".
Julien / Ballou34
PS: Thank you to my friend (who asked to remain nameless) for inviting me to the world of "Knolling".
Aeronautics engineer by day, toy photographer by night.
Exploring the world with his plastic figures.