A most interesting day, starting with a picture of a  little tree  …
As some of you may have noted, I have been pretty absent here during December, and not been able to participate in some of the photographic challenges Kristina and Shelly laid out for us or even just keep you all informed of my creative endeavors in this realm of constructed photography of still lives.  The month of December has been a most hectic one for me outside the realm of plastic. Travelling from one big Inc. event to the other and taking deep dives into corporate discussions with Darth leaving my creative other half hungering for Xmas. Hungering for that creative break away from board and meeting rooms alike, focusing on my other half and get some quality time with the right hemisphere of my brain.
I knew I had to feed my creative hunger with a photoshoot before I could return to our blog here, so on Xmas day I took a deep dive in the Studio with E. and a little tree, and we explored some ideas.
Great fun !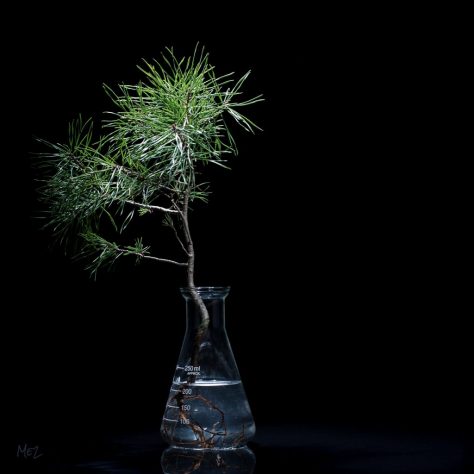 We spent a good two hours in the Studio having great fun, sharing stories, talking shop when the little tree became chemistry and a real photoshoot was born.
We tried to name the picture after Shelly photo challenge, but never came further as "The Idea" and we were sure Shelly was looking for something more as just a title, albeit a cool one, but we were satisfied and happy with the result.
The energy was there, the visual muses were satisfied, so a writers block should not occur. I was going to write an epic post about the past, present and future that would blow your socks off.  A post never written.
I have been busy all day with mastering procrastination exercises, from upgrading the blogs core engine, reading a lot of new and old posts alike, checking out some youtube channels on my next creative project and enjoying the snow flakes on the window still. When finally there was no more excuse to delay this epic post, I spent a good two hours exploring why the main image did not look good on my brand new retina monitor when Lady Electra came to the rescue and put our little village in the dark.
Current estimate to be reconnected to the grid is a good 5 hours, but it could take a little longer, give and take the current state of snowflakes in the area.
I promised myself I would be writing a little post about a little tree today, writers block or not, with or without being connected to the grid, so here I am.  A 4G dongle, a battery pack running on its last fumes and a not so epic story after all.
I do hope you enjoy the pictures as much as I did shooting them together with E. …
Stay tuned for that epic story later on this year …
Me2
PS. I was not kidding that the image looked bad on my retina iMac display, while it actually looks pretty much ok on my HP notebook. If the images look "bad" for you, let me know what screen you are using, as images should be good all times, and we just recently installed an image optimizer to improve performance of our little blog.