I have always had a love of good old fashioned corn on the cob (also known as Maize). My grandfather would grow several rows of corn in his garden that I helped weed and harvest.  Picking a fresh ear of corn was always a pleasure. Corn on the cob has a bit of a nostalgic feel to me and takes me back to those good old days of gardening with my grandfather.  I am glad that this new Lego series 17 includes an awesome Corn Cob guy minifigure!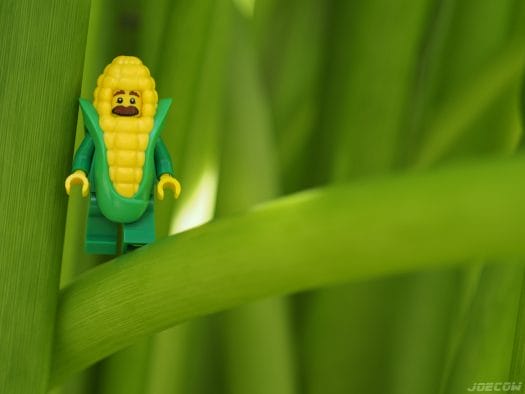 Fresh grown corn grilled on the BBQ is so delicious!
What makes it even better is adding a little bit of butter and salt…
Wrapped in tinfoil, Mr. Cooper Cobbs (as I affectionately started to call him since he arrived on my doorstep) had an unfortunate run-in with a half stick of somewhat melted butter.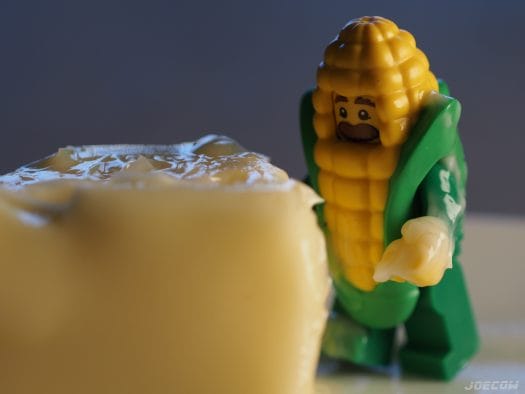 I am just hoping they release a butter CMF (hint hint), to compliment this guy!
Butter and salt are not only for the corn cob but is a staple for popped corn as well.  Sometimes the temperature in the desert southwest, where Mr. Cooper Cobbs resides, can reach well over 100 degrees (which is a good 38 Celsius for the Europeans under us).  It gets so hot his popcorn kernels have been popping out in the open – no additional heat needed!
I'm not sure if this is actually possible but I've heard rumors of it happening.
Mr. Cobbs was very grateful for his umbrella.
Unfortunately, his Cob suit is not equipped with air conditioning…
Overall, I am very pleased with the detail of this awesome figure! It is a great addition to my collection and anyone else's for that matter.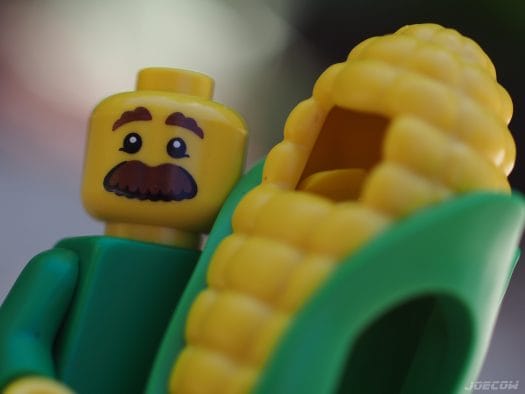 I love the optimism that Lego has applied to his corny face – he seems extremely happy to wear the cob suit and do whatever Corn Cob suit guys do with enthusiasm.
I hope he never shaves that bushy mustache. Not even when it is well above 100 degrees and things start popping.
I am glad I was able to shoot this one before they are officially released – Thanks again for the opportunity SiP.
~ Joecow