First of all, I'd like to thank Shelly again for the great possibility to share my creative hobby in this friendly and creative blog.
Today My Five Favorite Figures are here to tell their unique stories. Why are they special for me? To be honest, it took me a long time to think about all my Lego figures and customs. But then I asked myself: "Which heroes influenced the development of my hobby"? This criterion made my choice evident and the characters appeared on the stage one after the other.
1) Norman Osborn / The Green Goblin ("Spider Man", 2002 film)
Evidently, this figure has mysterious power… it turned me into a real cinema operator! I always admired the great scientist who entered into a dialogue with his dark alter-ego. Just look in his mad fiery eyes! The costume of the tiny Goblin is made to the finest details. It came in a very old and rare Lego set that was a perfect copy of Norman's laboratory. After entering it, I saw the recreation of my favorite story through the prism of Toy Photography.
2. Harry Potter (J.K. Rowling)
This little Harry isn't only my source of inspiration; he was also the first to bring me the love for Lego. As you know, Harry and his Hogwarts friends' rooms were my first sets and it's pleasant to think that we have grown up together! The Harry Potter Figure is the symbol of Childhood. It reminds that the most important things don't change with aging. Needless to say, this photo doesn't have any special effect… I just photograph a Wizard!
Jacob Marley ("A Christmas Carol", Charles Dickens)
Jacob Marley is the Ghost from the best Christmas Book I've ever read! He wears long chains and warns the reader against the life where love and generosity have no place. Impressed a lot, I created his Figure myself. Though danger and fear come from the Ghost in the story, I'm very proud of such a marvelous acquaintance!
4. Sherlock Holmes (Arthur Conan Doyle)
Clearly a cozy atmosphere on Baker Street, old alleys of London and dangerous secrets are on Sherlock Holmes' mind and reflect on his intelligent and friendly face. The famous detective seems to leap from the pages of his stories and we don't need any effects made by a good camera to see how much this figure can show with his amazing expression! I recreated Sherlock's wonderful flat in order to take part in all his adventures.
Griffin, The Invisible Man (Herbert Wells)
Have you heard about the Invisible Man? I can tell you: "A picture is worth a thousand words"… Meet the most dangerous researcher from the ancient and charming times of England. Being an enthusiastic custom maker, I was inspired with the great serial filmed by James Andrew Hall in 1884 and that's why I created Mr. Griffin on its base – albino, sinister person obsessed with a mania to frighten people who never see him…
"Things can tell about People more than People can tell about Things". (c) Sherlock Holmes (Igor Maslennikov's screen adaptation, 1979)
While I was telling the story of my Favorite Figures, they were telling mine. Who would have thought that would happen? This clever topic turned out to be a wonderful clue to self-expression! Just imagine: we have made a fantastic journey and saw the unique mixing of worlds, epochs and genres.
I'm very glad of the unexpected shape that my post acquired because it looks like a mini excursion into cinema and literature. This transformation just goes to show how Toys contribute to our cultural enrichment and develop the aesthetic side of our life.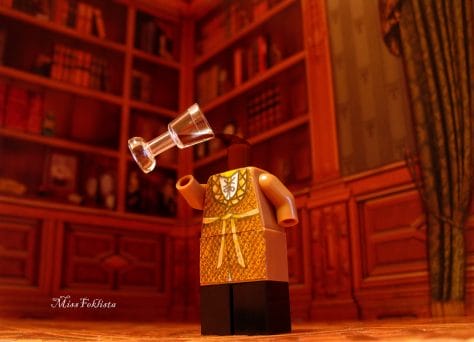 Ann  @Miss__Feklista
"Magic is above price".
Ann,
Toy Photographer from Russia