Hello! My name is Ki young Lee from Korea. I'm a graphic designer by day and I specialize in Lego Castle and Super Hero photographs . I belong to MOAICO (a LEGO art planning agency in Korea ) as a LEGO photographer and you can find me on Flickr and Instagram.
Over the years, many people have asked for a glimpse of my work from behind the scenes as well as my workflow. So when Shelly asked me to write a post for StuckinPlastic I thought this would be great opportunity to share some parts of my creative work process.
This is my little studio in my room ( sorry, it's so messy). I use one small desk lamp for the main light and a half-transparent paper makes the light very smooth. I generally use two of them together, and so yes, I take my photos inside the studio.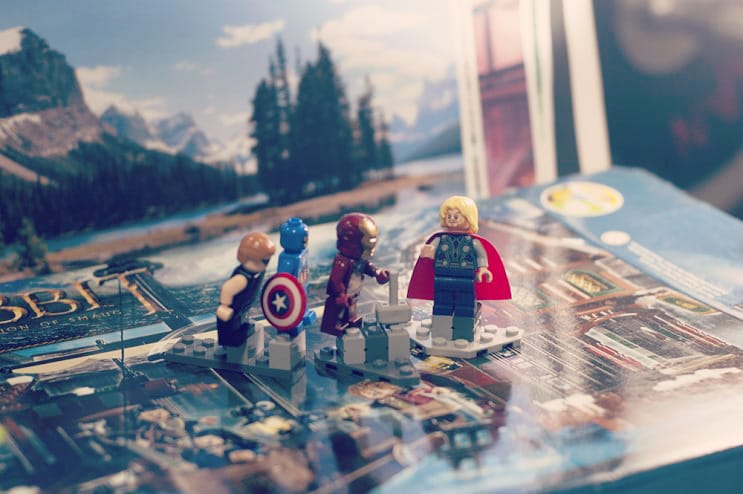 I usually take my photographs using printed paper for the background; forest, night city, field, cloud. These printed papers are really good and help me to get a variety of atmospheric backgrounds.
After shooting, I adjust the color, brightness and add some elements.
It's a very simple workflow I use for most of my photos (studio lightening, photographic backdrop, smaller tweaks in post processing).
One day however, I wanted to make my photos more special and unique.
I thought that if I make something more alive and a more active scene, like a movie or animation, that would be awesome too.
So I decided to use my graphic skills with my photos and extend my workflow a little.
This image was my first big try and one of my major works. It is a scene where an evil wizard threatens the kingdom. For a more scary and dark atmosphere, I had to retouch the image many times.
I took mini figures one by one and deleted the background and adjust their positions. For a feeling of greater depth the foreground figures have to be twice the size of the background figures. To create a dark heavy atmosphere I used the brush tool to make certain areas darker. I wanted the evil wizard ( with snake ), good wizard and the king to be more visible than the others. So except for the three of them, every element has to be dark. This process also known as dodge and burn is the most difficult and takes the most time to get it right (if you retouch some wrong parts, everything will look unnatural and you have to start all over).
Finally, I added the fire effect on the evil wizard's stick. I think it makes the scene more alive and vivid. The red light around the fire is important to help give it a feeling of reality.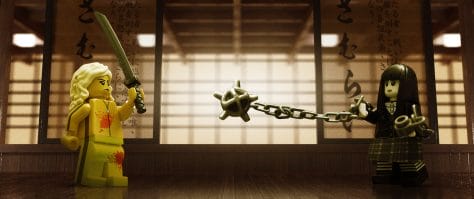 And sometimes, all the graphical post processing is not sufficient to get the image I want and I use a 3D program. It helps me to upgrade detail that I can't do in my little studio.
I made those spaces in a 3D program and it's very unique and special process. By using polygon, light and texture a new virtual space is created that augments the reality, before post processing the image in Photoshop.  You can see that The Bride's pants are white in the original photo. I didn't have yellow LEGO legs so I painted yellow on the white legs by using a brush tool in Photoshop. This is also how I created the  black line and blood marks. If you take a closer look at the image you will see that Gogo's weapon consists of three photos ( it took three different chain shots to get it right).
I did much the same thing with the Notre Dame shot, I combined the series 13 mini figure classic king's crown and cape shot with a Hulk shot. It's very special and unique process this modeling into 3D space.
And then there is composite layering.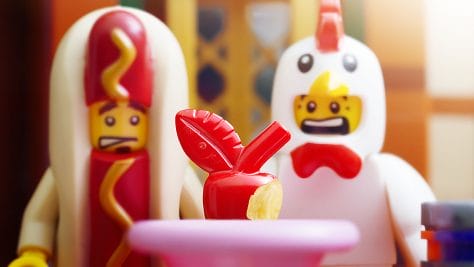 Adding little details, like a half eaten lego apple is a simple way to create fun and humor. To do this I simply combined a half eaten real apple shot and a LEGO apple shot.
It was simple and fun work :D
This workflow and a glimpse behind scenes describes most of my work. The technique is very important to help make the photos more adorable, but I think the most important thing is the what I want to show in my photos.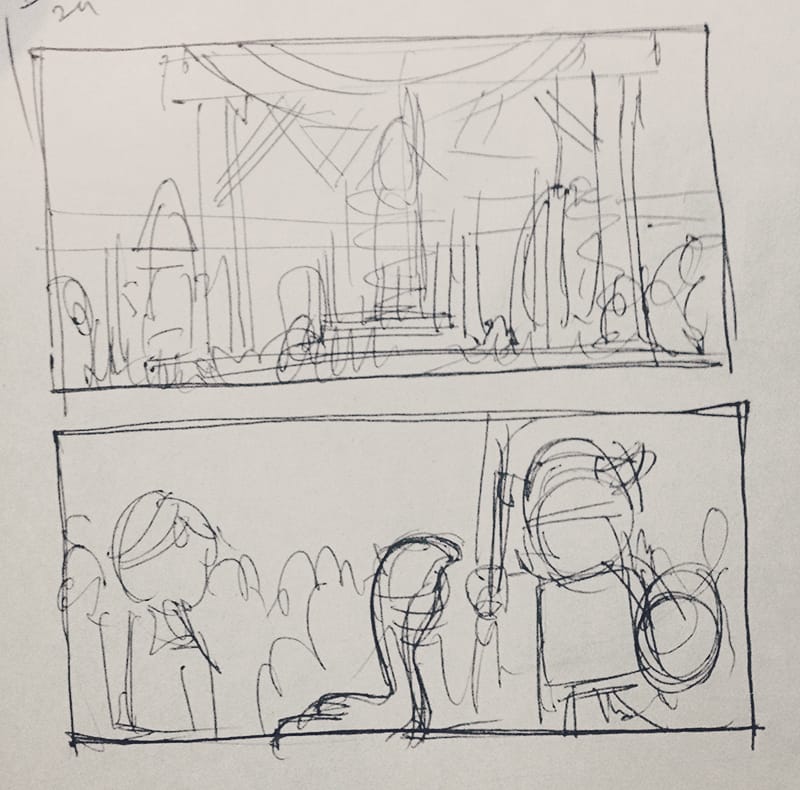 Before shooting, I always draw a rough sketch of what I want to show in my photo. I include the camera angle, which figure is the best for this shot, figure's face and motion, light direction, etc…
I think about what is the best way to describe the scene. This study is the most important process for me and I think it helps my photos to be better.
Thank you for reading such a long text. I'm happy to share a behind the scene of my workflow with Stuck in Plastic and hope you enjoyed it as much as I have.
~ Ki young Lee
[instagram-feed id="1513301″ num=4 cols=4 showcaption=false]
Country : Seoul in Korea
Job : Graphic Designer