When The LEGO Group made the LEGO Ideas Fender Stratocaster 21329 they certainly hit some right notes. Both Jennifer and Chris rushed out to buy one to see if they could create some visual rhythm and rhyme, and to see how the set matched up to the real thing (they both happen to play guitar)
And what better way to rock start the year than with their musical review.
For now, tune in and enjoy the sound of beautiful music (or should we say images).
Yes! We love it… because it has all the details it should have: Three single coil pickups and a selector switch, a tremolo bridge, and a vibrato arm (aka whammy bar). The headstock with the printed Fender logo, six pegs with strings, and the nicely curved body silhouette looks just perfect to us.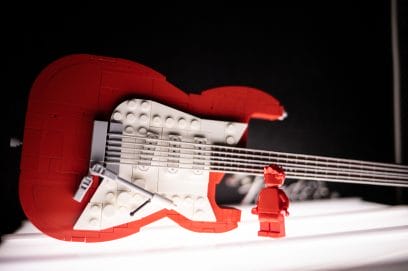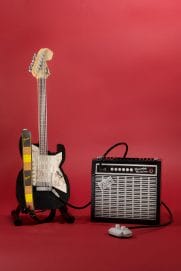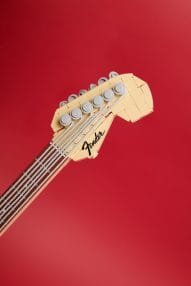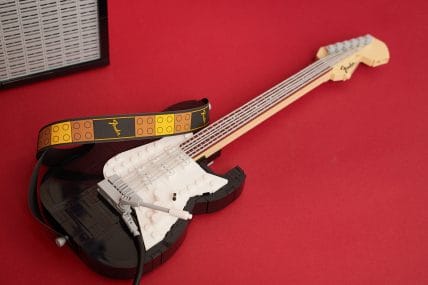 Included accessories are a cool Fender guitar strap (yes! It will twist like a real one! 😅) and a foldable guitar stand.
Blackface Fender Princeton Reverb
Building this guitar amp was a lot of fun. It was amazing to be able to have a close look at all of the features. By removing the panels on the back, you get a very good look at the amp tubes and the speaker, the connecting cables, and the spring reverb tank.
Lifting off the top of the amp, you get a close look at the colourful circuit board. It really looks awesome. And hey! A red jewel as the power light when you turn on the amp – that's just cool!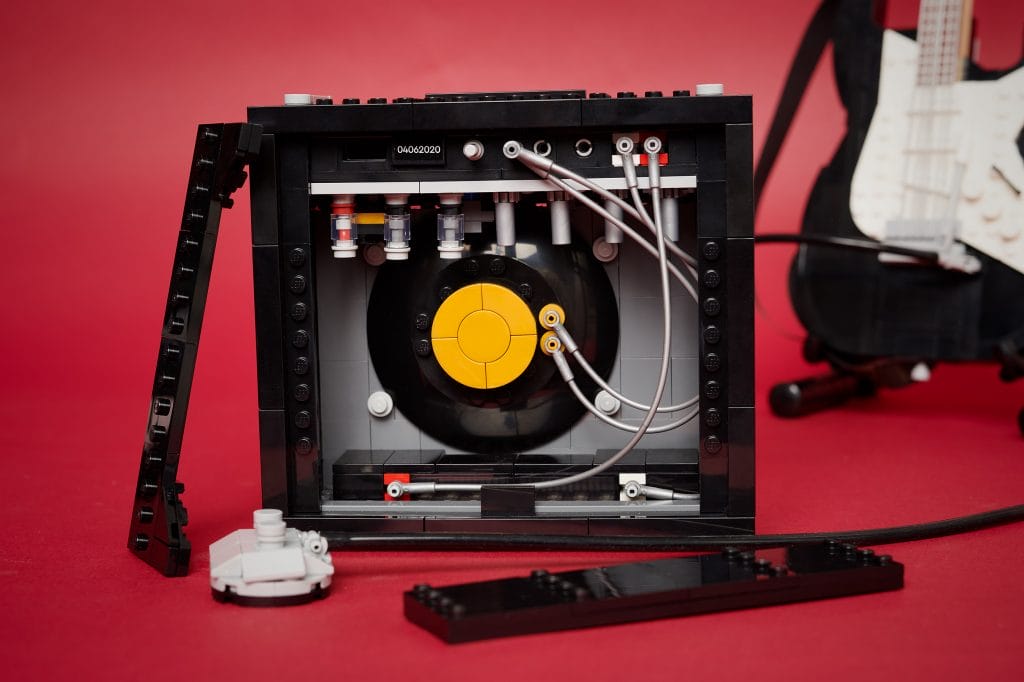 So we think that both the guitar and the amp are lovely replicas created with attention to detail and any LEGO lover that happens to like guitars most probably already has this set on their wishlist. We for sure can recommend it. And if you are looking for a good looking birthday present for the rockstar in your family that has already all the guitars of the world, then this +18 set can be warmly recommended.
Is there anything we would change in the guitar?
Of course we would want it to be bigger in size to play with it for real. For displaying, the size might be perfect. What are your thoughts?
What we would love to ask
Could there be a series of guitar models? We would both like to have a Telecaster and a Jazzmaster, too… and a Precision Bass… and effect pedals with hidden secrets inside… ;-) Imagine a display featuring all of those in the clubhouse.
A new year
As we've just landed in a new year, we won't miss the opportunity to say:
Music is awesome and there is so much more to it than just listening.
Why not start playing a new instrument in twenty two?
And which one would you choose then?
Keep music alive and support your favourite artist / band.
We all need music.
Just imagine a world without music for a second…
No … that doesn't work and doesn't feel right either.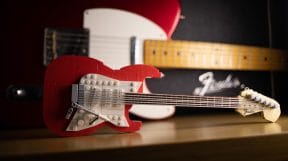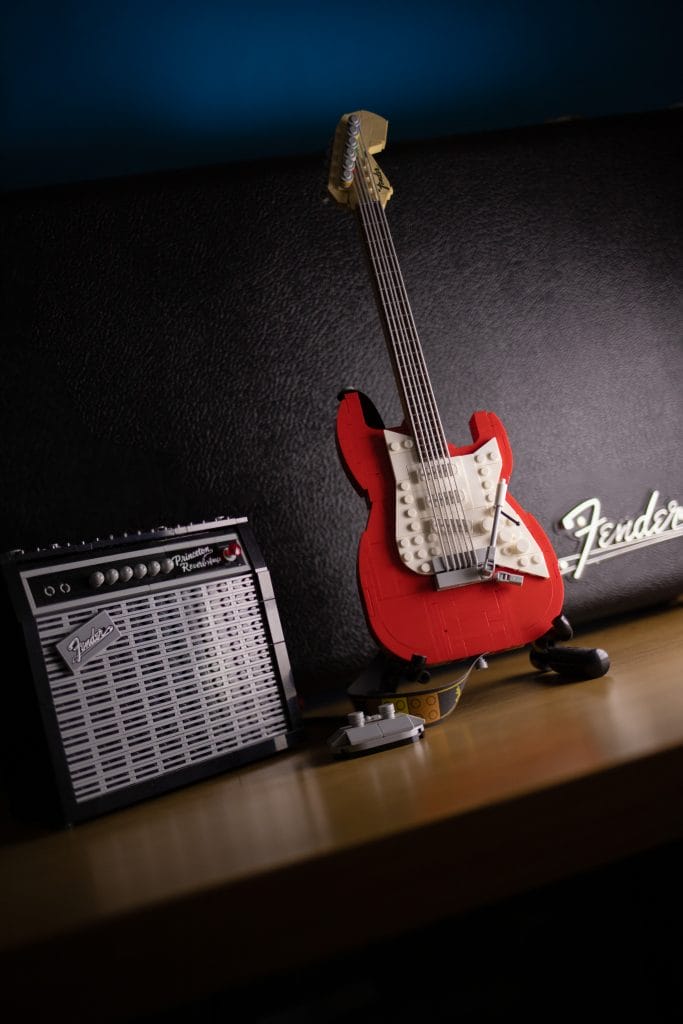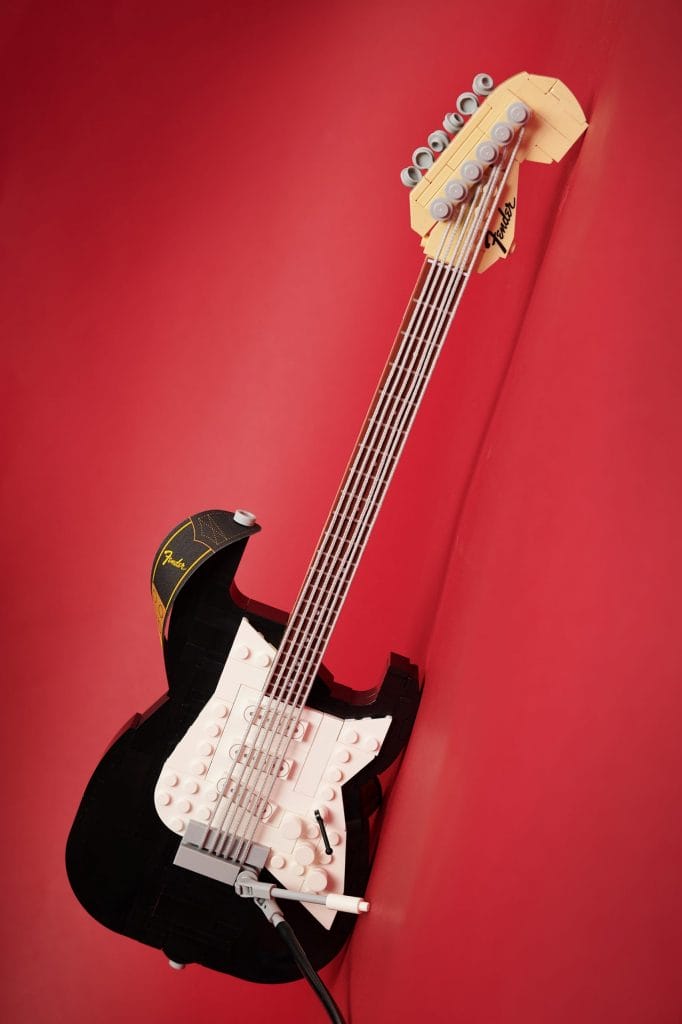 And for sure we will include some music in our SiP goes Twenty Two creative project that is about to start.
Happy New Year,
Chris and Jennifer
Co Authors :