I'd like to start my new story with thanking dear Shelly for this great fest of unity and creativity that she brings to us.
The more I tell about my hobby the better I know what the Time Travel is. After showing my Five Favorite Figures to you I had the impression that this adventure still lived in Present… And when I tried to reflect on the Past I was totally excited to realize that all my little heroes had the real Ancestors.
"Turning back the clock", I see another autumn – a sweet coincidence that can reward the most audacious time traveller. There is no doubt that I found my first toy photo. This 3 years-old shot was made when I was telling the story which happened 300 million years ago.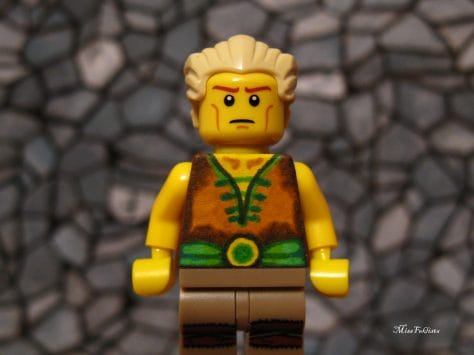 In my opinion, even the atmosphere of this picture is a little "ancient". It shows the Prince Adam who lived in the Era of wonderful dinosaurs and mysterious tribes. Being a little child, I was in love with this breath-catching legend with dark secrets and brave heroes – brilliant plot of a very old video game "Lost Eden". The world of the Past was like an opened book that I studied to the last detail and explored it with my good friends.
Prince Adam and his beautiful friend Dina. Customs and Dinosaurs are created by me.
Years later, I decided to recreate the great tale using my Lego hobby and bring it to the Present. Have a look at the white mirror on the shot below: it can become a window to some events or secret places. Like this magical object, the Toy Photography was my instrument of Showing and was based on my drawing and sculpture.
The Old Monk keeps the Ancestors' Memories
My hobby gave me the possibility to lead my family and friends through the mysterious caves, shining oceans and ancient continents. My Mother, the main Kindred Spirit in my life and enormously Creative Person, shares my interests and we invented all these fantastic constructions together!
The Guard of the Prison
Adam's sister is a brave Warrior Queen
With the Gold Sword you will open the secret door
The guard of the Maze keeps working through the years…
I'm going to illustrate this awesome story from the beginning to the end. As you can see, it is symbolic in every sense. One day I will invite you to explore this ancient universe with me. But now its time to return to the Present!
The way is open
Ann @Miss__Feklista
"Magic is above price".
Ann,
Toy Photographer from Russia