aBC of Bricks
A recap of the exhibition's opening night
As John Williams' Cantina Band started to play through the speakers, I twisted the top off  a well-earned beer, sinking back into the couch to take in the scene. All the dramas, hiccups and stresses subsided as I took in what we'd achieved.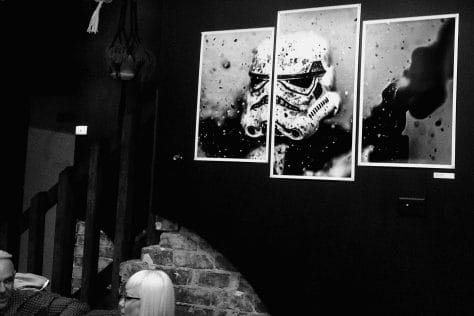 Christoffer's (@east_mountain) triptych adorned the main wall opposite the entrance to the gallery; a fitting place for a wonderful piece.  As I sank into the couch below sipping my beer, with the bucket divided into three over me, we both looked out on the walls filled with photographs of LEGO; photos by Christoffer and I, our children and our two mates.
Sarah from a Gallery in Preston laid out a table of her own LEGO for visitors to play with. People mingled, snapped bricks, reminisced, shared childhood memories of plastic and chatted.
Sean (@theshortnews) and his wife Maria arrived bearing gifts. Something that didn't surprise me coming from these two lovely people. What did surprise me was the flowers and chocolates (if you look carefully you can see them in the shot above) were from Shelly! Shelly, thank you! Sean and Maria, thank you! This was such a lovely gesture.
I cannot thank Sarah enough for everything she did. Yes, that's still her name, and yes, that's her in the pineapple outfit.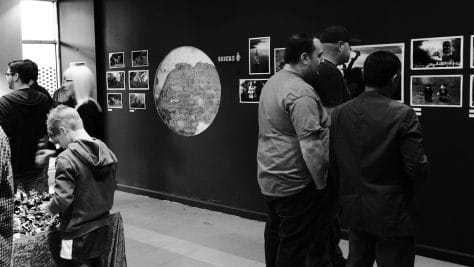 Around forty people walked through the gallery door; friends, familiar faces, familiar names, familiar usernames, new faces and new names.
Little pink stickers below my kids' and Christoffer's kid's photos brought on a sense of pride in me that is indescribable. Seeing their faces as they saw stickers placed below their photos by Sarah is something I'll never forget. Those expressions didn't dwindle, even as the pink stickers doubled, even tripled, in the case of one of their photos.
The night flew by in a blur.
I wish it didn't.
I mentioned last post, that sometimes words fall short. This is again one of those times.
I wish I had the words to thank all the people who supported and encouraged me. I wish I had the words to thank everyone who attended opening night. If only I had the words to show my gratitude to Sarah for everything she did. I wish there were words to describe how good the jaffle and beer were we had at the bar across the road after the gallery closed.  And I wish I could find the words to thank Christoffer for sharing these gallery walls with me.
But I simply don't.
-Brett