So I am the first to kick off our brand new series of what is hiding in our bags. Our bags as toy photographers out in the wild, full of cool gear and little nifty tricks looking for the next adventure, Pulitzer or Proify award … , but before I go there, I want to make two clear upfront statements.
"None of us are sponsored by any of what is in our bags, this is not some kind of sales exercise. It is just openly sharing with all of you what we carry along. One or two trade secrets may be revealed along the way, but we are not brand advocates of Sony, Canon or Nikon and we all pay our fees unless explicitly called out" and the second one is that we are not turning Stuck In Plastic in yet another photo gear site where we talk shop only.
On the contrary …

So, what is your bag ?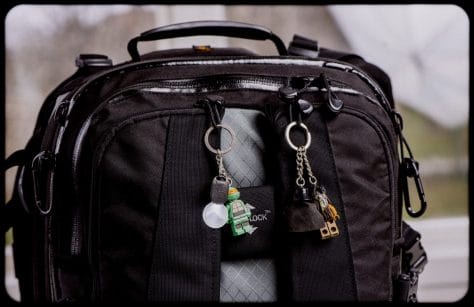 My bag of choice is LowePro Vertex 300 and while some of the crew may prefer the more classic Never Full bag of Louis Vuitton, I stick with my rugged black backpack of choice.   One of the key reason is it can hold my 17inch laptop when traveling international and fits in the normal international air regulations for cabin luggage while still holding all my photo-gear along. When packed with a laptop, camera, and lenses for a long haul flight it normally tops off around 12 kg or the average limit of most international carriers while I nicely put my tripod aside when the bag goes on the weight.
I had a few LowePros before and I was a very big fan of the slingshot (it makes changing lenses so much easier with a slingshot). However this Vertex is just a level up and knowing I can have my laptop, iPad and precious D600 all in one bag with me on the plane in the overhead locker and not in the hold does the trick for me.
The zippers are perfect and of pro quality. I for sure have put them under duress many times squeezing in just a last minute haul. The only downside of the naked bag is the fancy "gliders" someone decided to put on top of it and give a™as they just get lost on international flights. I only have the main lock™ left you can see in the picture above.
What is in my bag ?
So, on to the main question of this article. What is a toy photographer taking along on his journeys on planet earth and beyond?
First of all the outer pouches ( I emptied them on the work table for you to see) from top to bottom, one row at the time.
Small LED lights to fill in without going all … no major brand tagging along here, as I am actually just exploring them for now.
KLUD™ (the Swedish word for museum putty or Blu Tac and if this is the first time you hear about it, then this is your easter egg or trade secret. A toy photographer without KLUD is like a …)
Spare battery. Ask Vesa how important extra batteries are. I run a pretty tight regime on switching them out and recharging them, and so far I am OK with two batteries (I normally have an outlet overnight available)
Velcro for filters, I don't really take my big speedlights along on my international travels, but the selection of color gels (read filters) I do take along.
Little tripod for my travel flashlights (see next picture)
Moo business cards. C'se some folks ask anyway .)
An extra eyepiece. I once lost one while traveling and it really annoyed me. Since then I travel with an extra piece of kit.
Emergency USB loader ( i have a few extra everywhere)
Dust Cleaner (the green thingie)
Spare Memory Cards (I manage with two (32GB each) plus a laptop and an external backup device on a normal trip and I still keep having my JPG backup card in camera all the way up to home, but hey we were not going to turn this into a gear talk …)
A pink survival cord (cause you never know when you are in Indiana)
My wireless dongle (this is where Nikon lags behind Canon, and yes the D610 has it build in, but I only have the original model)
My LEGO travel badge (because some low cost carriers demand every bag to be tagged, also in cabin)
And last but not least my car keys. I always have them on the hook of the outer pouch so I don't need to search for them on my return from a long haul flight (I left my passport out of the picture but it normally has a sweet spot in my bag)
On to the inner side of the bag (which has plenty of room for my main body and my three lenses and when I really need my backup body along it snuggles in nicely at the bottom).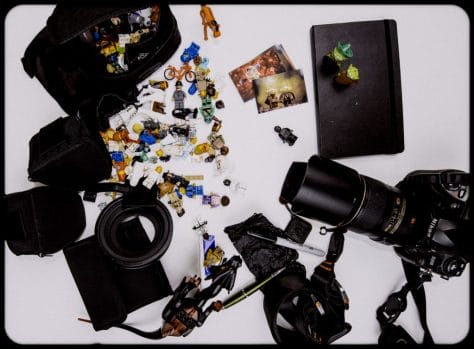 The camera (I admit, this is my backup D200 featuring my favorite 105mm)
The Toys, they all have to travel in photo bags. No questions asked, yet a most difficult selection process on who is coming along for the trip, who travels in the bag and who can go in my jacket pockets together with Me2
The strobes (using Nikon Macro Lightening set when traveling as they are very easy to use and don't weigh too much)
Blackwrap (another trade secret ?) is always handy to block some light or make a funnel with
Some great handlers from Peak Design
A Moleskine notebook. Yeezz, I sound snobbish here, but just like I like my primes, I like my notes, notebooks and pens allthough I have to admit I don't take enough notes while on a field trip.
My Body and Glass
Last in the series, yet not that unimportant is what body and glass I use ?
I travel with the Nikon D600 FX (which means full frame and I can really recommend full frame).
I love my primes and heavy glass, and travel today with a Nikon 105mm prime, a 14/24 big piece of glass, and a 50 mm to keep me honest. When I travel local or with a car I add to this a 120/400mm SIGMA telezoom.
That is my photographer's bag, any questions, just ask!
Me2 and Boris (the one carrying the bag)