After a most successful project in 2018, we continued in 2019 with a new series of words: SiPgoes53. This time no values or emotions, but human beings. People who shaped the world. Shaped humanity and our culture.
Be sure to check out the archive of all the blog posts related to SiPgoes53.
[instagram-feed type=hashtag hashtag="#SiPgoes53″ num=16 cols=4 showcaption=false]
Our (very) loose rules.
Like in 2018, we wanted this challenge to be acoustic.
This means, no pressure, no hurry.
Each week we explored a new person and everyone can take part in SiPgoes53.
But one does not necessarily need to take a new image every week.
Or a picture of each person.
Or even take a picture.
Our goal is to inspire. To challenge. And to explore your inner creativity. Not to burn you out. Or get you stressed. If a person on our list doesn't inspire you, it is fine to ignore them. If life gets in the way, it is fine to skip a week or do it later. Or do only one word a month.
Moreover, this challenge was not necessarily about taking pictures. While it is OK to make a new picture each week, it is also fine to reuse older pictures. Selecting a picture and matching it to a word or person instead of creating a new one, is a challenge on its own.
The Words
Selecting 52 famous people that shaped humanity is a hard task. Although our list is biased by our own European culture, we tried to aim for diversity. People of different gender, with different backgrounds, and from different countries and cultures.
We classified our list of names in 5 categories:
Art. Photography, painting, music, and architecture. We have 9 artists on our list.
Cinema. We have a grand total of 13 actors and moviemakers on our list. It is without a doubt that, as toy photographers, we are heavily influenced by cinematography.
Influencers. People who played a political or entrepreneurial role. We've got 8 of them.
Literature. People who wrote books or theater plays. We've got 9 of them.
Science. But also technology, engineering, mathematics, and philosophy. We've got a total of 11 people fitting in this category.
And if you count well, you will notice this gives us 50 people.
So who are the two missing?
It's for you to choose.
One woman and one man.
The Schedule
Not only have we tried to vary the people in our list, but also the schedule. We made sure we wouldn't have two people from the same category during the same month. Except for the cinema folks where we have 13 names and only twelve months.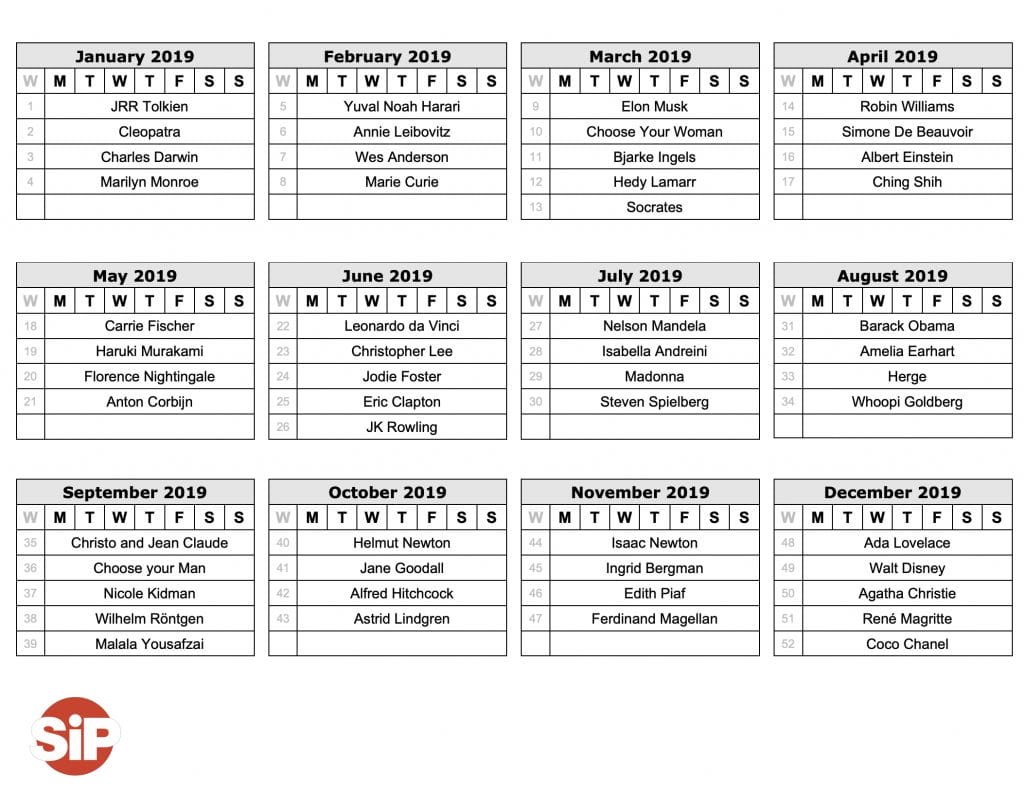 We made the schedule publicly in an old school PDF for ease of use.
The Hashtags
Like last year, in addition to the #SiPgoes53 hashtag, we will have an individual hashtag for each word. This year we will use #sip_firstname_lastname and occasionally #sip_name when the person does not have a first name or is famous enough to not require a first name like Madonna and Darwin.