Get ready to munch some brick ghosts with the new LEGO Icons Pac-Man Arcade set.
Hey there, fellow gamers and LEGO enthusiasts!
The LEGO Group and Bandai Namco are celebrating the 43rd anniversary of PAC-MAN with the reveal of the new vintage LEGO® ICONS PAC-MAN Arcade set. Get ready to take a trip down memory lane.
I recently had the opportunity to dive into the world of Pac-Man with the new LEGO Icons Pac-Man Arcade set. Trust me, this set is a beautiful recreation that will transport you straight back to the '80s, where chasing ghosts and gobbling up dots ruled the gaming world!

Before I talk about the set, why not start with a video that will set the mood?
Fun Facts about Pac-Man
The Colorful Connection:
Did you know that Pac-Man's famous yellow color was actually inspired by the iconic yellow of LEGO bricks? The collaboration between Bandai Namco and the LEGO Group revealed that the designer of Pac-Man, Mr. Iwatani, drew inspiration from LEGO's signature color when choosing the color for the game's protagonist. So, every time you see Pac-Man's vibrant yellow hue, you can thank the colorful connection between Pac-Man and LEGO!
The Missing Pizza Slice:
Ever wondered why Pac-Man has that distinctive shape? Well, here's a quirky fact: Pac-Man's design was inspired by a pizza with a slice missing. Talk about a deliciously fun inspiration!
The Power of Pac-Man:
Did you know that Pac-Man was recognized by Guinness World Records as the "Most Successful Coin-Operated Game" in the world? With a whopping 293,822 arcade units installed within 7 years of its release, Pac-Man truly left its mark on gaming history.
Toru Iwatani 岩谷徹
He is the brilliant mind behind the legendary game Pac-Man. Born in Japan, he joined the gaming company Namco and was given the task of creating a game that would appeal to a wider audience.
In 1980, Iwatani came up with the concept of Pac-Man, which quickly became a sensation. The game captivated players with its maze-like gameplay and the cheerful yellow protagonist gobbling up dots while avoiding ghosts.
Pac-Man broke barriers and became a cultural phenomenon, inspiring merchandise, cartoons, and even a hit song. Toru Iwatani's innovative approach to game design and his creation of Pac-Man have left an indelible mark on the gaming industry.
Today, Pac-Man remains an enduring symbol of the golden age of gaming, and Toru Iwatani is celebrated as the visionary creator behind it.
My LEGO Pac-Man Adventure as a Toyphotographer
Now, let me share my experience with the LEGO Icons Pac-Man Arcade set. As a toy photographer, I was excited to receive this delightful set.
From the moment I started building, it was like stepping into a retro gaming wonderland.
I highly recommend listening to 80's arcade video game music while building this set! Here are my very own top ten classic hits you can start with and enjoy while reading or building:
A small vignette
The set also includes a hidden surprise – a small vignette of a female minifigure playing PAC-MAN on a mini arcade. It's like discovering a secret level within the set itself which I do love very much.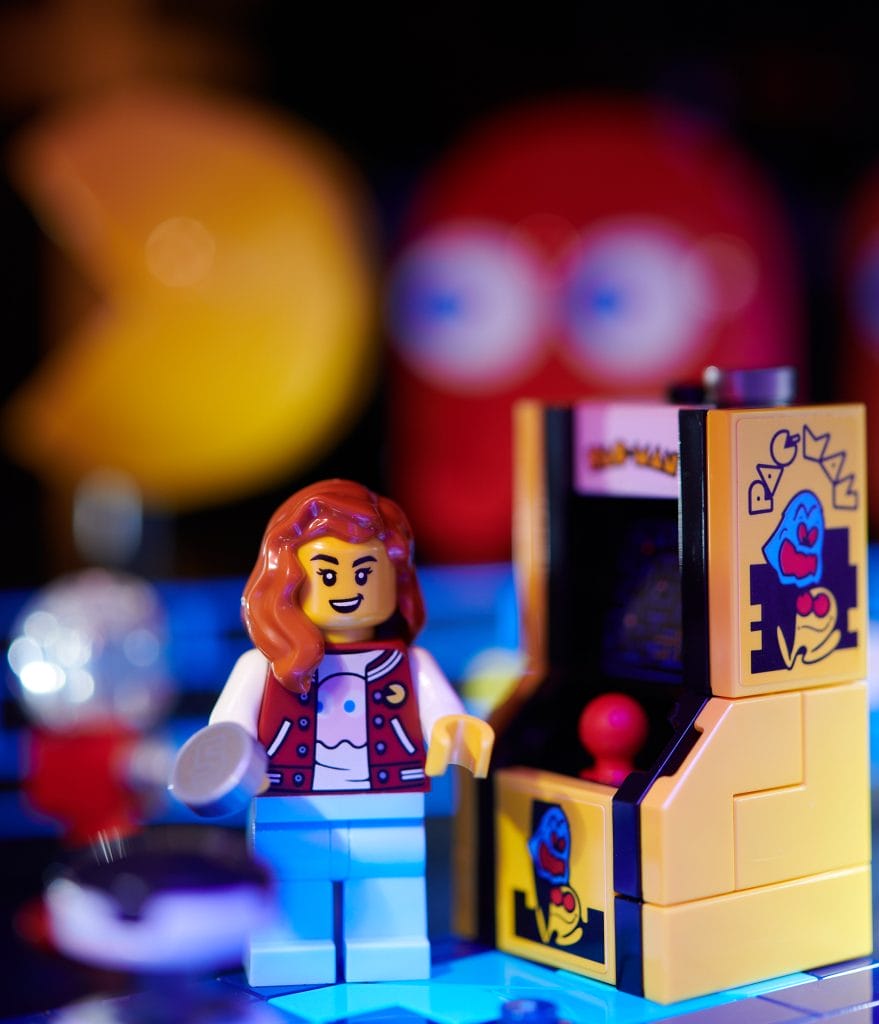 Taking pictures of the set proved to be a bit tricky. What I missed was the inclusion of the Pac-Man Arcade's base. I also would have loved to travel back to a real 80s kids' room to capture images in an authentic environment. Unfortunately, this wasn't possible… but who knows, maybe someday. ;-)

I then opted for a dark reflective surface as the base and worked with light filters and mist to get that feel I wanted to capture.
Here's a behind-the-scenes picture of another setup, this time without the reflective surface as the base.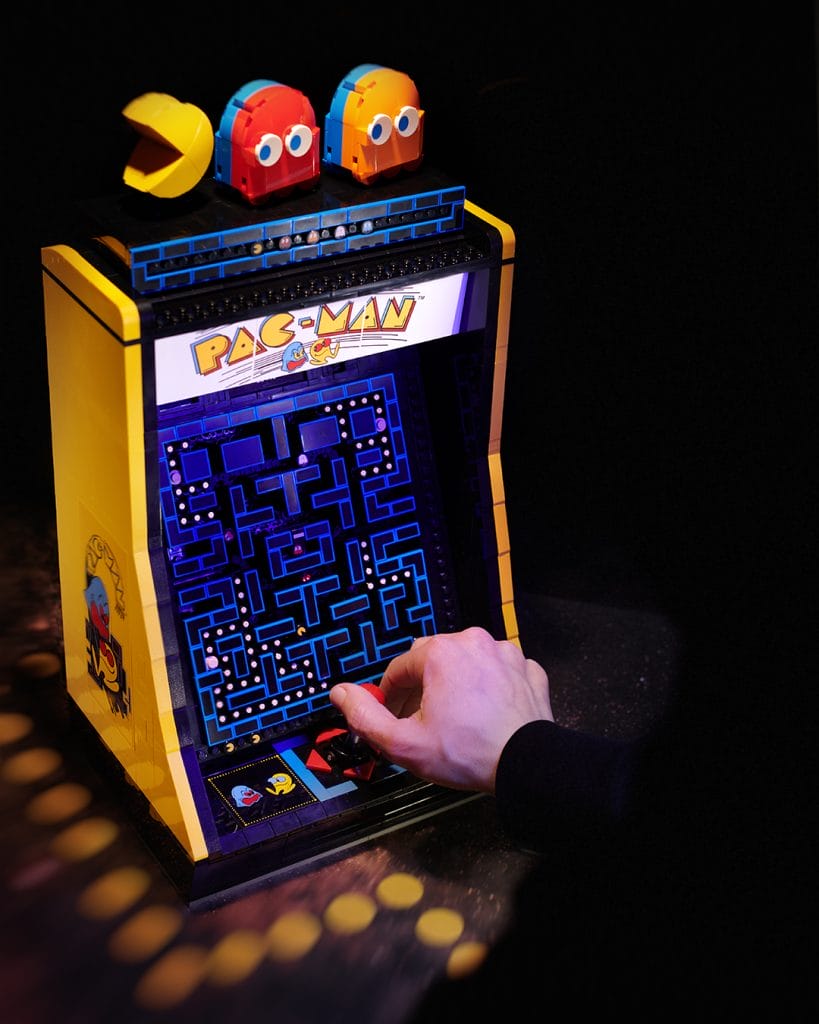 As mentioned before, I also listened to arcade music while taking pictures and for a moment I caught myself extensively testing the functionality and felt as if I were in an arcade center, actually playing.

Now, I could go on and on, sharing all the intricate details and features of this LEGO set. But let's keep it fun and exciting! If you want to experience the magic yourself and read more about the details I highly recommend visiting the official LEGO website >> LEGO.com/PAC-MAN

Trust me, if you are fond of classic 80's arcade games, once you've seen this set, you'll be itching to add it to your collection and embark on your own PAC-MAN adventures.
Hard Facts About the New Pac-Man Set
LEGO® Pac-Man Arcade Machine 10323
· Age: 18+
· The model measures: 12.5 in. (32 cm) high, 10 in. (25 cm) wide, and 7 in. (17 cm) deep
· 2,650 pieces
· Price: $269.99 / €269.99 / £229.99

Key functions and features include:
3 iconic Pac-Man figures.
1 light brick that lights up the area where you insert the coin.
A small vignette of a female minifigure playing Pac-Man on an arcade hidden inside of the cabinet.

LEGO VIP members will have early access to purchase the LEGO PAC-MAN Arcade set from 1st June 2023 from LEGO.com/PAC-MAN and LEGO Stores, or available to all from 4th June 2023.
Thank you LEGO for providing this set!

Are you interested in reading more and delving into different topics and blogposts? https://www.stuckinplastic.com/the-blog/
Come join us on Discord and engage in our weekly photography challenges. https://discord.gg/7bRmxuWTQ9