Time flies when you're having fun. It's an old cliché but it remains true. We're almost a week into April now would probably be a good time to review the weeks that have flown by to reflect on the challenges we've completed together. In a few countries around the world, March is Women's History Month and is dedicated to celebrating women and their contributions to our lives. We're using this as an opportunity to celebrate a handful of our community members who brought their A-game during the March TGIF challenges and who also happen to be women.
Happy Birthday Barbie
We kicked off the month with a celebration. March 9, is Barbie's or Barbara Millicent Roberts' official birthday. She was unveiled to the toy industry during New York Toy Fair on this day in 1959. The challenge was to celebrate Barbie's birthday and to make her feel special. After all, Stuck in Plastic embraces and celebrates all toys, especially the most plastic of them all. Janee took a special trip down memory lane and not only shot a beautiful image but really engaged with what her Barbie meant to her growing up and how their friendship evolved with time.
She shared this poignant poem:
The years have passed by, most of your friends were given away
You were stored in a cupboard not put out on display
You were kept in the dark so your nights had no end
I've treated you poorly my dear and beloved friend

But time, it is said, will circle back around
What has been lost will once again be found
You were not gone, just hidden out of view
Now it's your moment, let me don your dancing shoes

I've made a new dress, restored the lustre to your hair
That little comb-over does not steal from your beauty or diminish your flair
Your legs may not stay as bent as they once might have done
But you dear Barbie still shine as bright as any sun

After 44 years, you've become more than a toy
You've shared this girl's dreams and continue to share her moments of joy
I cannot promise what our future will hold
But it's you and me Barbie, together we'll grow old
Hildegard von Bingen
In week 10 of TGIF23, the goal was to spotlight a famous scientist and the invention they brought to life. Cordula chose to feature Hildegard von Bingen.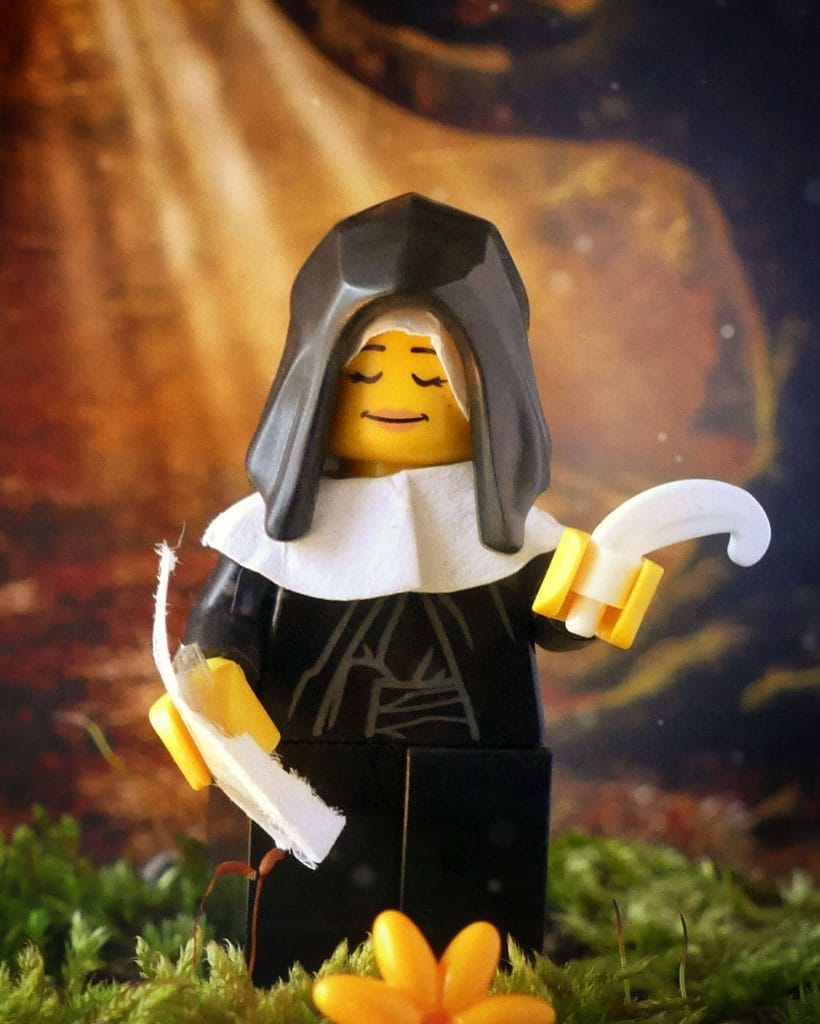 "I choose Hildegard von Bingen, since last summer I am working in a bakery and shop specialising in Hildegard's products, so this would be a good choice. Hildegard was a nun, artist, scientist, mystic, doctor, poet and politically active. As early as 1150, Hildegard had begun writing the "Liber Simplicis Medicinae", an encyclopaedia with descriptions of 230 plants, 60 trees as well as animals, stones and metals. Together with the medical application, Hildegard thus created the first botanical name register in the German language. Further works dealt with theoretical medicine, the science of remedies and thoughts about the universe, which were progressive for her time. Hildegard von Bingen anticipated numerous medical findings of later times. Hildegard not only served as advisor to Emperor Frederick of Barbarossa, but also to several popes, kings, bishops and religious superiors. For the time, this was an extremely unusual role for a woman, especially as her teachings were very uncomfortable."
A Renaissance woman before the Renaissance even began!
Africa
After all the partying and science exploration we celebrated the richness and beauty of Africa. The challenge was to avoid stereotypical depictions of Africa and to celebrate its diverse cultures and wildlife. Cybèle created this gorgeous image and shared tales of her trip to Zambia.
"My trip to Zambia in 2018 will remain unforgettable. Contacts with wildlife are all more impressive than each other by their proximity. It was this trip that made me want to go back to Africa again and again… but it takes money. My 1st photo illustrates a scene that I experienced there… except that I was in a vehicle but it illustrates well the proximity that one can have with the lions. It's just impressive. The photo in the background is a photo I took in Zambia. My 2nd photo illustrates a scene and/or an atmosphere that I would like to immortalize one day. A silhouette of an elephant or giraffe on a sunset background. And my 3rd photo illustrates the fact that taking photos nearby is good but it is absolutely necessary to respect the animals that we photograph and/or observe while respecting reasonable safety distances… obviously, here it is not the case."
Head over to Instagram or Discord to check out the other photos in her series.
Ball Game
Week 12 called for some fun with ball games. Wendy reminded us that we can only really have fun if everyone follows the rules or else… "Red Card!". Don't mess with this referee.
Surprise!
By the final week of March, we were pretty exhausted. We needed a jolt of something to get us back in the swing of things. This called for a "Surprise!" to get those creative juices flowing again. Check out this fantastic image by Barbara of Aminal waiting for the perfect moment to surprise Beaker.
If you are not familiar with the Stuck in Plastic TGIF challenges for 2023, check out this post for a refresher. And if you'd like to know the TGIF topics ahead of time, consider joining us on our Discord server.
Thank you to everyone who joined the TGIF challenges this March. We look forward to seeing what you'll create in April!
Stuck In Plastic.
The creative collective of toy photographers.