Before we head into the future of 2023. Let us just head back to February 2022, and catch up on a wonderful set. Our friends over at the LEGO Group provided Chris with this futuristic time machine. And he certainly had the pleasure of shooting it out on location. Here are his thoughts about this Iconic Back to the Future ride.
Back to the Future
The 10300 Back to the Future Time Machine is a beautiful recreation based on a 1981 DeLorean DMC-12. You remember the car that featured in the original 1985 film. It's actually the third time we've seen a Lego set based on the trilogy, the first being the 2014 Ideas set (21103) then the 2016 LEGO Dimensions Level Pack (71201)
Nope! the eccentric scientist Doc Brown didn't build this particular time machine, I did. And I was not disappointed. There were three builds to choose from, so I headed Back to the Future of 1985.
After settling on the original version of the car to capture, I headed out on a cloudy and overcast day to a favourite spot to get my shots. I wanted to create a cinematic feel to this shoot. One that was be reminiscent of the action packed Sci-Fi comedy movie. I was also keen to pay attention to the details that make the DeLorean something special.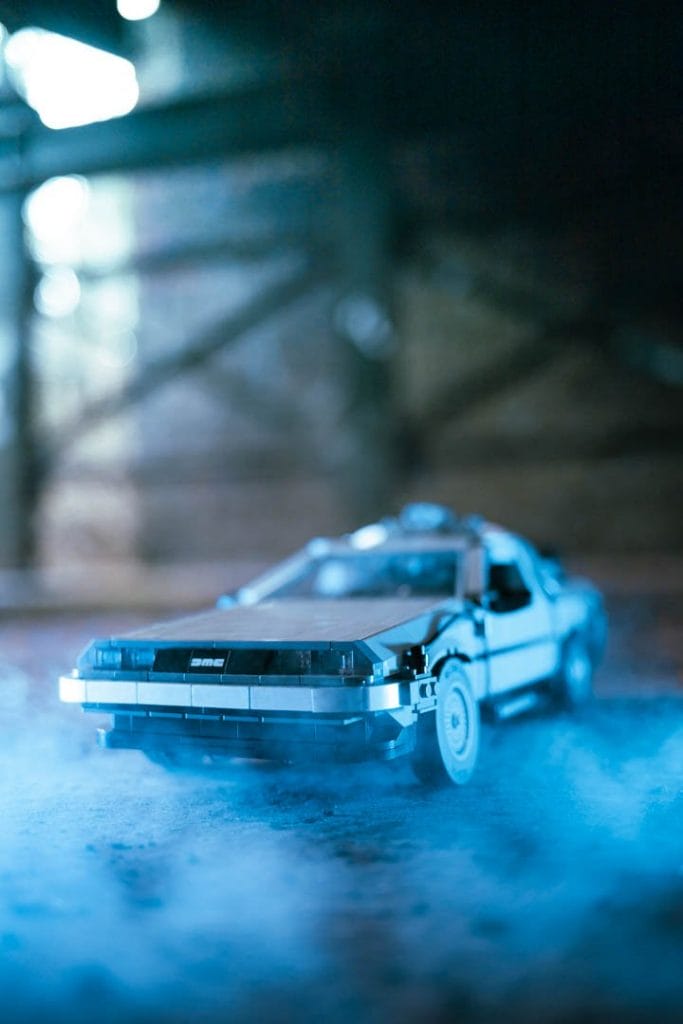 I wonder what Marty and Doc Brown would say about this LEGO design?
What did LEGO have to say?
Let's hear what Lego said about the set
"The 3-in-1 LEGO® Back to the Future Time Machine set gives you multiple ways to build, each one representing a different movie from the trilogy.
First, there's the original, complete with the lightning conductor Marty and Doc used to get back to 1985. Then there's the flying car from Back to the Future Part II, complete with fold-down tires for flight mode. Finally, there's the version from Back to the Future Part III, with the tray filled with electronic parts from 1955 that takes Marty all the way to back the old Wild West.
Each one includes classic gullwing doors, travel dates printed on the dashboard, interchangeable license plates (including the iconic OUTATIME plate) and, of course, you can't travel through time without a flux capacitor, which in this set even lights up."
The internal detailing is amazing for this set and includes a light-up Flux Capacitor
"Interestingly, in early drafts of the Back to the Future script the time travel device used by Marty and Doc was actually a fridge!
Perhaps, if it hadn't been re-written, we would be releasing a Time Travel Fridge set. We'll have to go back in time to find out.
The set also includes two new designs of minifigures Marty McFly and Doc Brown. Marty even comes with the iconic pink hoverboard featured in Back to the Future Part II."