The new TGIF23 challenge for 2023 is ready.
The guiding principles are still very much the same as in 2022.
On Monday morning we release the week's theme and hashtag on our Discord server , and on Friday (Thank Godtfred It's Friday) we announce the theme on Instagram and celebrate throughout the weekend the images we all created.

We only post our images on IG as of Friday, but of course you can share on Discord and maybe get some A/B advice on which to post over the weekend in our A/B feedback channel.
You can do more than one image, and also this year we warmly recommend creating up to three images to share (but one is good as well of course) and we will be building a real live art wall of the TGIF contributions throughout the year. 
Easy and simple.
You can join at your own pace, only pick up the themes you like, or go ahead with 52 images in a full series, and this is where this years TGIF has a full blown theme upfront. A theme we share upfront with you so you can easily plan ahead or easily catch up if you missed a few. 
And for those brave creatives that completed all 52 at the end of the year you will have a full deck of cards (52) with four suits of each 13 cards.
A deck of cards you can then actually print out and put under the Christmas tree for friends and family alike (or just keep for yourselves).
Yep, you read that right.
This year we will be building a deck of cards.
One card at a time.
Our 2023 theme of the year.
Before you get your cameras out and start shooting, there are a few things to keep in mind.

Orientation
Most cards have a portrait orientation, and so shooting in the IG portrait ratio will help you well on the way.
The ratio here is 4:5 (4 width and 5 high) and if you make sure that you leave some crop room available you will be good when composing your deck of cards.

We will be making a few templates available that you can use to preview your work.

Four Suits
You don't have to decide right now if you want to stick to the standard suit of clubs (♣), diamonds (♦), hearts (♥) and spades (♠) or change it out to the four elements of nature used in a tarot deck (air, earth, fire, water) but it may be good to give it a thought as it will help you to map out the story line that will be included in your deck at the end of the year. 

The 13 ranks
Every suit will have 13 ranks (1,2,3,…,8,9,10,Jack,Queen and King) and you also don't have to decide if you follow the numbers and court cards in your own artwork but you could add this dimension for sure.

The full grid of TGIF23
Every month we will pick up 4 cards from our deck we will be working with, and then every Monday we will draw one of the four cards, so there is enough time for planning ahead, and maybe you want to shoot two cards at the same time when life is busy …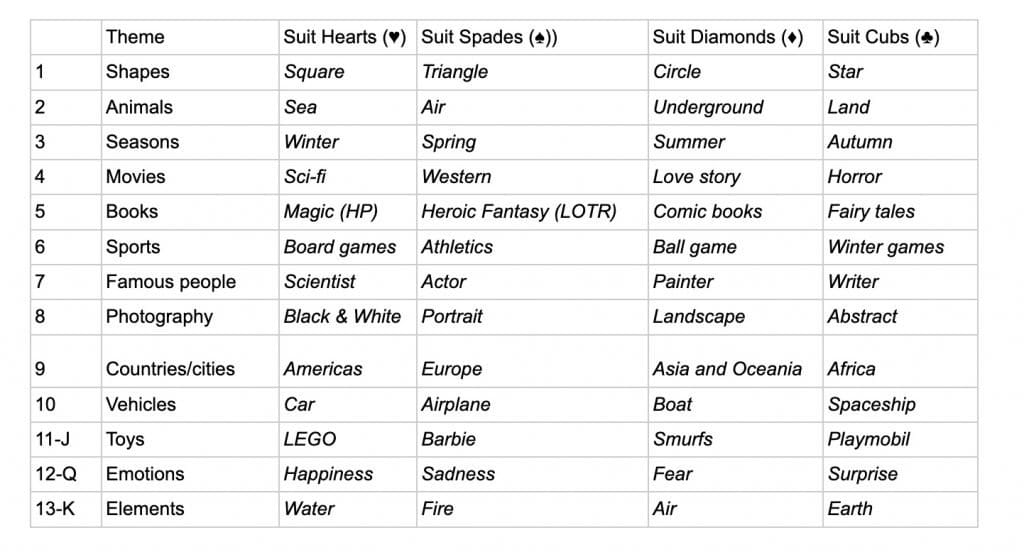 Here is an example:
On the first of the month we share the 4 cards of that month: ♥6 , ♦3, ♥Q  and ♠7
And then every monday we share the selected card of the week (one of the 4 above) and so it could be ♦3 we start with, which in our grid would become Spring as part of the Theme seasons
January
Our first draw for TGIF23 gave us the following cards

♥ 3 = season – winter
♠ 8 = photography – portrait
♦ 2 = animals – underground
♣ Jack = toys – playmobil
And if you want to know what this weeks challenge is before we announce it on Friday on IG you better join our discord server …
Stuck In Plastic.
The creative collective of toy photographers.