A few weeks ago LEGO reached out to us here at Stuck In Plastic for a creative photoshoot for a new "top secret" Harry Potter set.
And Jennifer and I jumped on the challenge.
We both like Harry Potter and some unknown creative challenge is not something we shy away from.
Jennifer and I were very excited about what it would be…
We just got the information about a new Harry Potter set but didn't know what to expect.
No clues were given.
The box
And Jennifer got the box first and she just said to me: Empty your room!
You'll need lots of space!
It is huge!!!
We both had to put the box all taped and made sure it was in a place no one could see when there were friends and family around and had a lot of laughs about that.
But there it was.
A big box with something red shining on the front of the box.
The Hogwarts Express.
Wauw!!!
And it was BIG and by BIG I mean really BIG.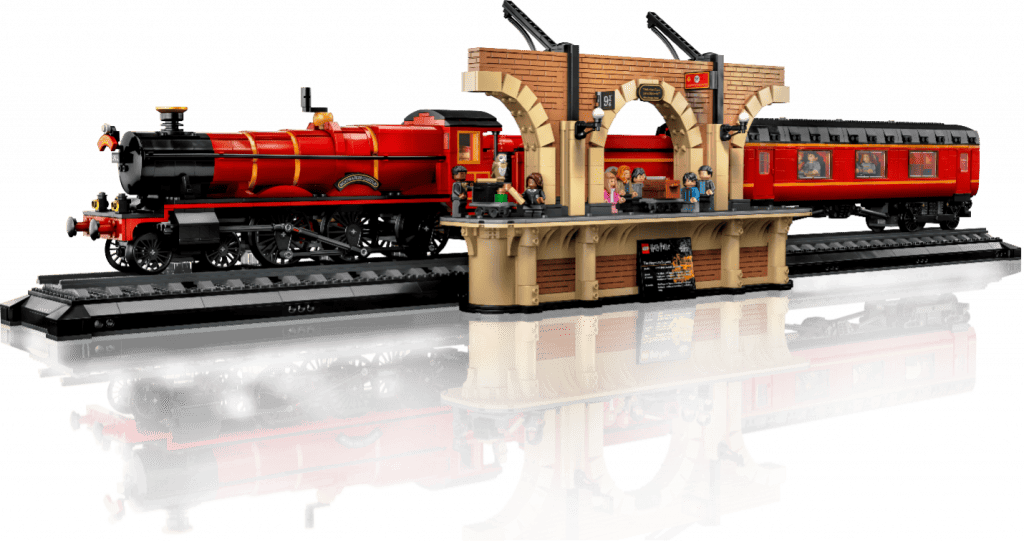 Because I was very busy before I got on holiday I had a little time to build so I started early in the morning building this wonderful train.
The set comes with 4 building instructions and 44 bags.
And an exclusive one way travel ticket.
And I loved every minute of building it.
I had a little panic when I was building the tracks and asked myself inside…..is it really gonna be this big???
Big
And Jenn had told me that it was BIG but didn't expect this.
The build consists of four parts, the locomotive, a wagon with coal, the passengers wagon, the train station platform and twenty minifigures.
Building The Harry Potter Hogwarts Train was a real pleasure….i really liked the building techniques, the little jokes and the different compartments of years that are presented in the set, they tell the story about Harry Potter and friends over the years. From when Harry, Ron and Hermione first meet in Harry Potter and the Philosopher's Stone, through to when Albus Severus Potter goes to Hogwarts in Harry Potter and the Deathly Hallows.
All the details make a Harry Potter fan's heart beat faster.
And so did mine!
Mine and Jennifers new favorite set!!
Jen even made a little awesome video …
Platform 9 3/4
The Set
The LEGO Harry Potter™ Hogwarts Express™ Collector's Edition set is available from 31st August 2022 via LEGO Stores and www.lego.com/howarts-express, at the recommended retail price of £429.99 / €499.99 / $449.99 which is approx. 0.1 EUR per brick. A bargain.
On behalf of SiP we would like to thank LEGO for this awesome opportunity!
And keep an eye out for our full images to show up on a SoMe feed near you.