Another Stuck in Plastic workshop has finished and it's time to reflect and share my experience of this weekend's activities and fun!
This was my fourth workshop and once again it did not disappoint!
Creative mess …
Spending time with a group of people all around the world who share the same love of toy photography …
And creating some beautiful images…
Who wouldn't want to join this! 
For anyone that hasn't joined a SiP Workshop before, here is a condensed version of what we get up to so you can understand why I love taking part so much. 
Before the workshop
First, up registration – this takes place about 1 month before.
If you aren't already following SiP on the discord channel, do so, as you'll get a heads up on when registration opens before it's shared on the other social channels. Then the wait begins…
Your friendly neighborhood postman (or postlady) then delivers a magical envelope containing the tasks for the 2-day workshop.
Clear instructions are given NOT to open it until the workshop.
For many of us, that is like teasing a kid just before Christmas …
And friends and family have to hide said envelope until the day so we aren't tempted! 
Homework
One week before we got a message to say we could open the envelope but only 1 internal parcel was allowed to be opened.
Let homework number 1 commence.
We all received a beautiful 3D printed figure that we had to paint, create a name and back story, and create a photo ready for Day 1.
And so the creative mess begins… from model paints to pens, to glitter showers (oh yes that's happened before!)
For anyone joining for the first time, help is always offered in the discord chat if you are unsure. 
Ready, Check, Go …
Friday evening (or very early morning for some participants!) is creeping up fast and the excitement and anticipation are building, but first up, a quick checklist of things to do before it starts:
3D figure painted
Image of 3D figure uploaded
Backstory created
Camera/phone batteries charged
Lights charged
Locate headset
Check on your laptop/computer/tablet that you can hear and be heard if not using a headset. (Communication is key in many activities)
A small amount of LEGO on hand (minifigure accessories and some basic bricks always come in handy!)
Snacks all lined
Envelope located from secret hiding place
All of the above crossed off the Todo list, then it must be Friday!
And so we begin.
Friday
A quick introduction round and off we go. Friday evening is about getting to know each other and this time out we had 3 participants who were up very very early to join from South Korea and Australia!!
Boris kept us waiting to open our envelopes this time out by having us complete a task before being allowed into the envelopes!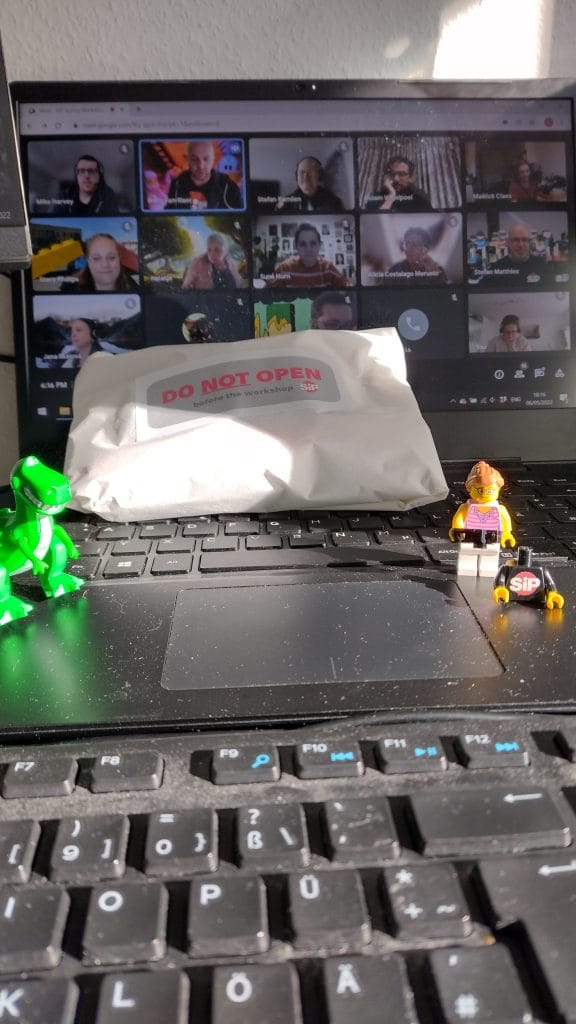 Task 1 done and it was time to open the envelope!
The excitement to find what is inside and what our tasks for the next day could involve! 
Inside the box
A Muppet minifigure, a variety of Harry Potter minifigure pieces, and a very special set of LEGO blocks… a Duplo piece, a standard 2×4 piece, and a Modulex block which I had never seen before.
I think many of us were fascinated by this piece!!
Homework received, it was time for bed ready for the big day.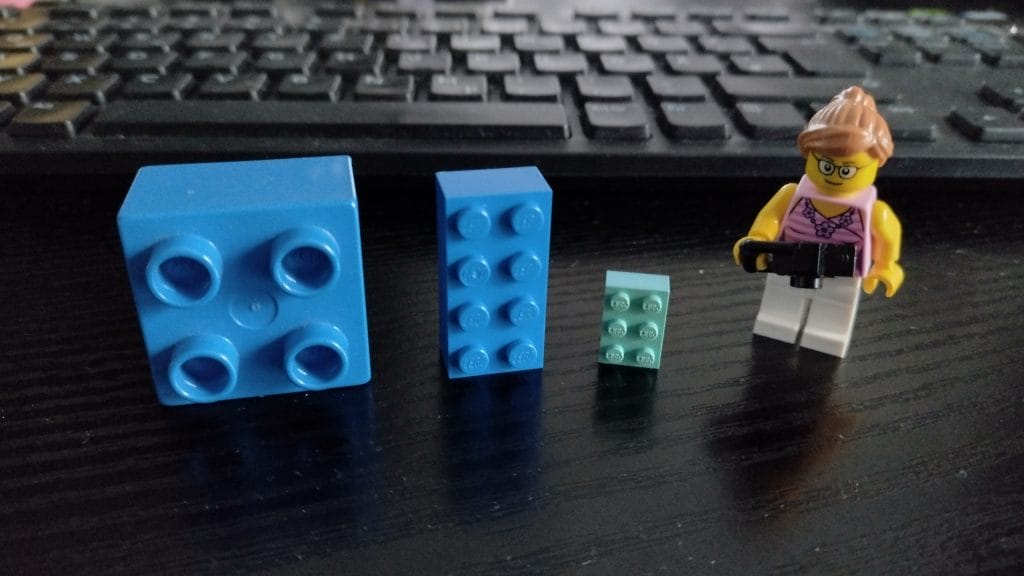 Saturday Morning
An early start for some but fueled with plenty of coffee (or tea) the fun begins.
The day is clearly broken down in the agenda and we have our friendly HR teddy bear on hand if anyone has any issues or is feeling a little stressed or overwhelmed.
The tasks are a mixture of smaller group work but also working as a group of 16 people on a variety of tasks from grid images, to collective blog posts to pushing out creativity with image formats we wouldn't usually use (this time was 4:1) all whilst every participant having a different style of toy photography and skill levels but it always works out well and everyone supports each other. 
A color explosion
I was the hostess of this weekend's #sipgoestgif challenge with a color explosion and this was also nicely linked into the workshop so we got to play with even more colour explosions and maybe a little bit of glitter :)
Fast Forward
Fast forward 5 hours and the creative mess is real…
This time around, my cat decided she wanted to join in and jumped into my tray of sand that was used for one task… chaos! 
And that's a wrap!
Another workshop under my belt and time to say goodbye …
Until next time.
Reflections
These workshops are a great experience and I'm so glad I can take part in them and work alongside some amazingly talented people.
The workshops can sometimes be a little stressful as we do work to an agenda with time restrictions, but you learn a lot about yourself and how you can deliver an image without having spent many hours editing or photoshopping the images to get the perfect version.
And if anyone is struggling with the pace, there is always someone else willing to jump in and help out with tips and tricks or ideas if the creative pot is running empty. 
I hope you have found this blog interesting and that it might peak your interest to join one in the future.
If not, I hope you enjoyed reading about my experience and seeing the images the workshop team created on the social media channels.
And if you don't believe me, I am told there are a few more blog posts upcoming …
Claudia