Happy Friday.
And a new month has started.
So this brings also a new host for our #SiPgoesTGIF challenge here in SiP goes Twenty Two with some colour explosions along the way.
But first we want to thank Maëlick for taking us through April and explore new and fascinating aspects in our toy photography adventures. From pinhole cameras to doing the things you normally would not want to do. Exploring the unknowns and embracing your flaws.
A very personal month.
Thank You, Maëlick.
The Fifth Month
May is the fifth month of the year in the #sipgoestgif 2022 calendar and the third of seven months to have a length of 31 days. And one month short of being almost halfway.
May is a full month of spring in the Northern Hemisphere and autumn in the Southern Hemisphere.
And it is also the host of our SiP Spring Workshop (starting today) and the celebration of Star Wars this Wednesday.
May is also the month that we have not one, not two or three, but four handpicked hosts to bring you a fresh and new challenge each week.
A challenge that starts on Monday on our own little Discord server (yep, do join!) and explodes on Friday on IG.
A creative challenge to have fun and explore your toy photography boundaries.
One you can easily join in.
No strings attached.
So back to May.
And our hosts.
Four hosts.
Four challenges.
Four awesome toy photographers each with their own background, experience and challenges for you.
Yet working together.
In the month of May.
In random order; Scott, Alice, Claudia and Stacy.
Claudia
The first hostess of the month is Claudia.
One of our close friends and story teller deluxe
And when we asked Claudia what she was thinking as a challenge she exploded.
A full color explosion
May is a month full of surprising new colors, be it the first sign of autumn downunder with fallen leaves or the spring packed explosion of flowers we are having here in the northern hemisphere.
And that is the theme I have selected for you this week.
Colour Explosion.
Yep.
Colour explosion.
Explore an overload of color.
And just in case if you wonder about the use of color vs colour this is what the internet has to say about it.
Color is the spelling used in the US whereas colour is used in other English-speaking countries like that little kingdom in Europe. The word color has its roots (unsurprisingly) in the Latin word color. It entered Middle English through the Anglo-Norman colur, which was a version of the Old French colour. And we will be supporting both.
Whether it's a use of colourful bricks, minifigures, use of different colour lights to create the colour , or using the wonderful colours that nature provides us in the month of May, the choice is yours…
Not only can you have fun playing with the different colours but also have a think about the month of May.
When spring arrives, I feel much more active and a spring clean usually takes place as it feels like the start of a new chapter or turning the page into a brighter, warmer season that brings lots of new opportunities to get outside
And so Claudia is looking forward to seeing a selection of fabulously bright, vibrant spring images over the next few days ready for the weekend!
And you can choose if you want to use #sipgoestgif_colourexplosion or #sipgoestgif_colorexplosion as long as you are having fun and create an overload of color …
Technicolor
And that is exactly what one of our other hosts of this month did.
A historical exploration of colors when Dorothy entered the technicolor world of the Wizard of Oz.
And yes, you could see all of this on our Discord already earlier this week.
Dorothy or was it Stacy …
… enters the world of LEGO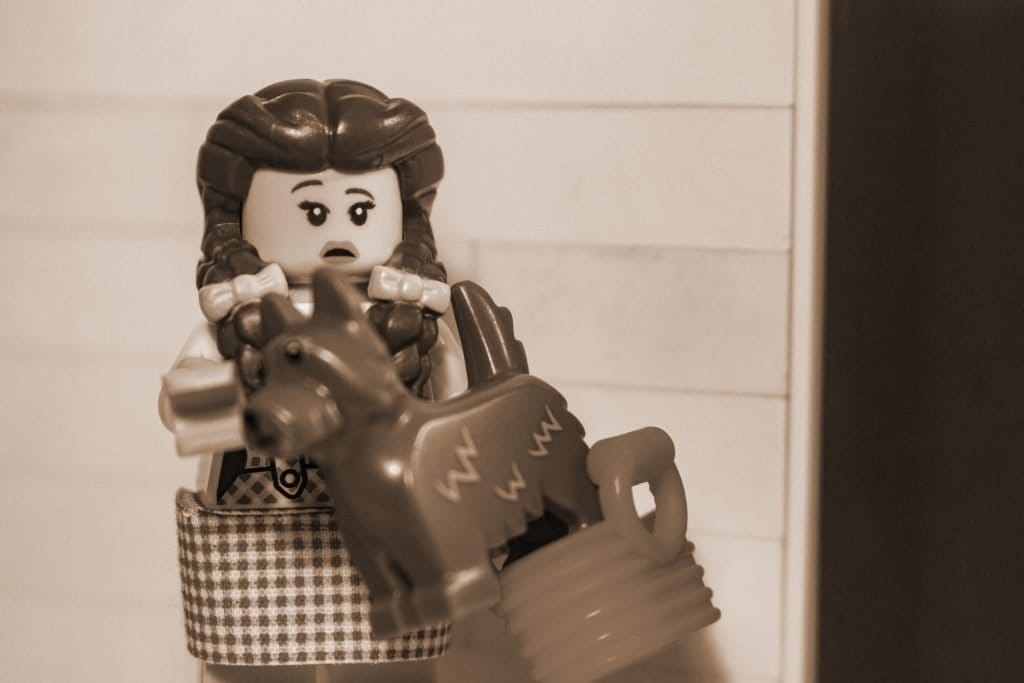 So, will you join us this week in #SiPgoesTGIF ?
Stuck In Plastic.
The creative collective of toy photographers.
Co Authors :