Welcome Back Old Friend
The ice started melting. Daylight seems to have returned. Signs of spring can be seen when stepping out your front door. Or so it seems.
Just like in any year there are some long awaited days with slightly warmer temperatures (causing some hard boiled fellow humans to wander around the neighbourhood in T-shirts and shorts). But wait: the weather strikes right back and April usually faces storms and winds and rain and snow- and then usually some more storms.
Help Is Underway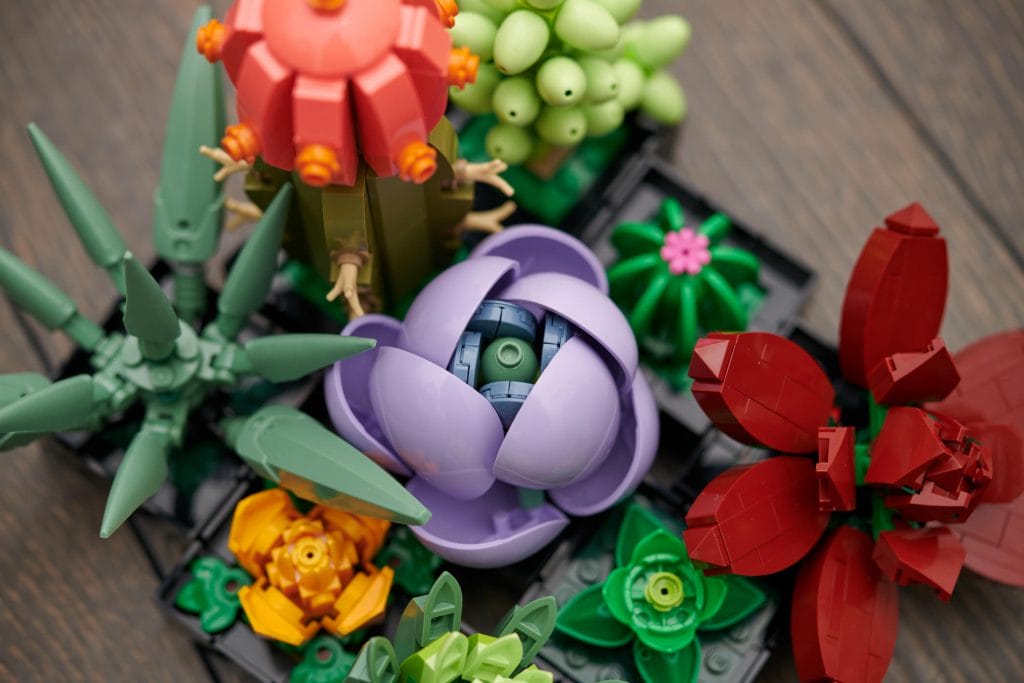 To help with these circumstances (or simply to continue with a wonderful series?) the good people at LEGO and senior designer Anderson Ward Grubb in particular, created a lovely selection of succulents. #10309 Botanical Collection Succulents
It consists of 771 pieces that form nine small, yet very satisfying and colourful models of plants. The building instructions are spread across three books so that it's really easy to share the building fun with your kids, neighbours or non-specified other loved ones.
Jennifer and myself were lucky to receive a set upfront to take images and share the joy.
The Green Thumb
…or the desire for one.
Personally, I (Stefan) am married with a gardener. Far as I can tell she absolutely has green thumbs. I enjoy her skills and knowledge of most everything botanical in our home. Unfortunately, my thumbs aren't green (or if at all, only green with envy). Much to my relief there is the botanical collection by LEGO. It already brought an easy-care bonsai tree and a happy flower bouquet to our place (more to follow!).
I (Jennifer) don't really have a 'green thumb' either, but I love the botanical sets. I will definitely be displaying the succulents on my sideboard alongside the other botanical sets.
The succulents are a perfect addition to the botanical series. And once again, the designer didn't disappoint when it comes to the usage of elements that you normally wouldn't expect in a botanical model. We also do like the possibility to connect the little pots to each other and to arrange them in any order that we like.
Come rain or come shine, in our homes we can definitely already sense the warmer days of the year.
A Non-Belgian living in Hamburg, Germany. Curiosity-driven and mostly to be found on tiny adventures and great journeys.
Co Authors :