LEGO sent us a the amazing LEGO BrickHeadz Spice Girls Rankin Tribute set for a little photoshoot, and we asked two of our resident brickheadz fans to get the girls in front of their camera and share their impressions with you.
First thoughts
Alice: When the package from Billund arrived and I opened it, my first reaction was to laugh out loud. Out of poor joy and fun.
Really!?
Spice Girls Brickheadz!?
How cool is that?
As someone who has grown up in the 90s, the Spice Girls of course were some of my idols (beneath the Backstreet Boys – who else loved Brian the most? <3)
Sophie: When Alice told me she had laughed at the arrival of the set I was incredibly curious as to what it might be, I don't think I would have predicted the spice girls in a hundred guesses!
I also chuckled when I opened the box but my biggest question was why now?!
Is there a reunion tour?
An anniversary?
Or is it just that our generation that had grown up with the music were now of an age to reminisce with lego?!
So before you start reading this blog post, we recommend that you start the Spice Girl playlist, turn the music loud and enjoy.
Or go all 90's and play a CD.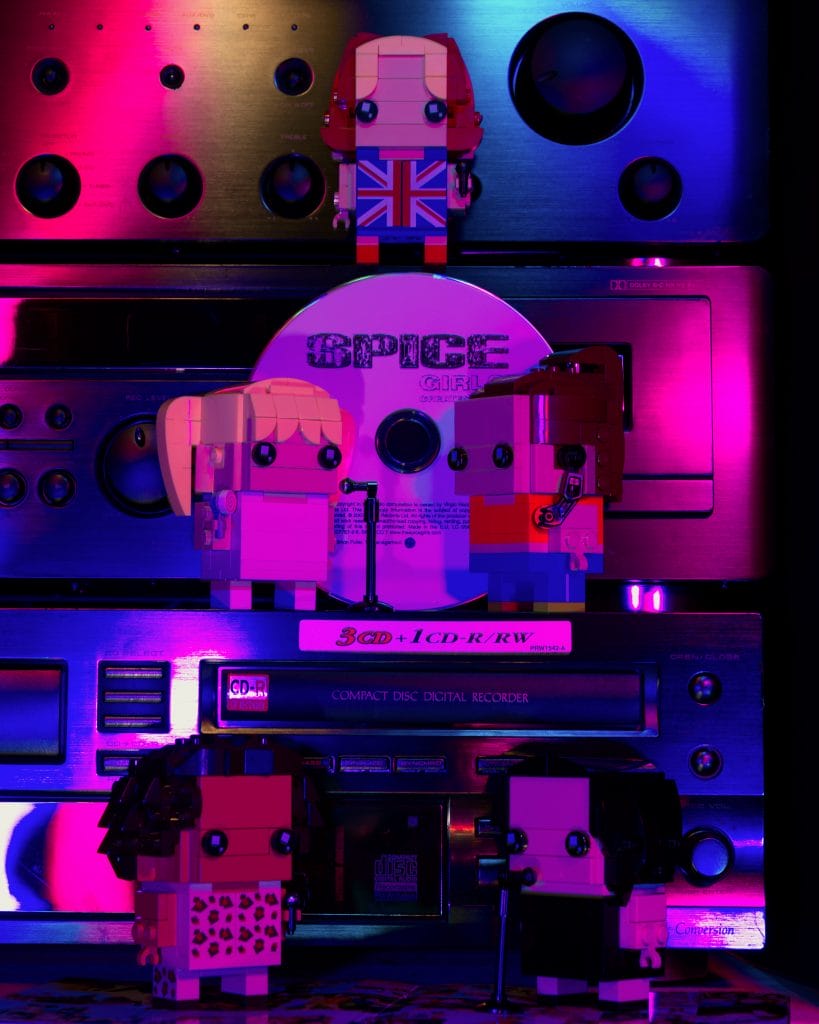 About the set
With five different characters it is the biggest set of Brickheadz that LEGO has released by now and also the first set that represents actual people. The set with the number 40548 contains all five Spice Girls: Emma (Baby Spice), Mel B (Scary Spice), Geri (Ginger Spice), Melanie C (Sporty Spice) and Victoria (Posh Spice).
It counts 578 pieces.
And retails for the spicy price of €49.99/£44.99, which is €9.99/£8.99 per Brickhead.
Not that much to get your exclusive Rankin model in front of your camera.
Building experience
Sophie: This is the biggest brickheadz set I've seen, usually they are limited to two or three in a box, I couldn't imagine separating the spice girls into two boxes and I'm glad LEGO didn't. The SiP crew know I love building a brickhead; I love that I can sit and build one with very little instruction and it is completed in one sitting, no bricks left loose overnight for the pets to dislodge/hide!
I was surprised that I sat and built all five in one go, once I had one I needed to see what they looked like together. Each Spice girl comes packed in an individual plastic bag and their own instruction booklet. My brain couldn't cope with the numbered bags not being in the same order of the set numbers.
Alice: The build of all 5 Spice Girls corresponds to the usual build of Brickheadz. It's easy and one can do it in-between times. I totally enjoy the different hairstyles and the building techniques of them and the printed parts of the set, especially Mel B's leopard printed cloth and the Union Jack on Geri's dress.
Also building them made me feel like a teenager again (and also a little old)! :-) Bringing memories of former times with quite a lot of loud sing-alongs with my friends whenever the Spice Girls were played at the radio stations or at parties. Singing "Wannabe" even played a role at a friend's wedding – but that's a different story. ;-)
Our opinions on the Set
Alice: I think this set represents the Spice Girls just perfectly! You recognize every single one of them immediately. Baby Spice with her typical pink dress, 90th white boots and of course the braids. I also grinned about her lollipop. Mel B with her beautiful wild hair and a dress with leopard prints – scary! Sporty Spice is wearing a cropped shirt – a thing which is en vogue again these days. Colourful hair, a union flag dress and red boots for Geri and last but not least a straight posh black dress for Victoria.
My favourites are Mel B and Emma – I just love the look of both of them!
Sophie: I wasn't a huge Spice Girls fan so this wouldn't have been a set I would have bought, yet I really enjoyed building them and thought they looked incredibly cute when built. I was surprised how many songs I could sing along to while I photographed them.
Victoria/Posh and Emma/Baby are very generic brickheadz in my opinion and on their own I wouldn't identify them easily as spice girls. Geri/Ginger, Mel B/Scary and Mel C/Sporty are all superb and true to their 90's icons.
I loved the details of the stripes on Sporty's trousers and that Scary's legs also had leopard print to them. The union flag of Ginger's dress is made up of two bricks and I was relieved it wasn't stickers!
Taking pictures of the Spice Girls
Sophie: Whilst I love building brickheadz, photographing them is a real challenge! They are difficult to get any kind of emotion from and they are really shiny/reflective when using any lighting. Initially I wanted to photograph them individually on a stage and when I had taken the images they weren't nearly as exciting as I had hoped.
They screamed out for a group shot but they were difficult to get all together whilst keeping it a portrait picture.
Alice: I felt a little bit like a paparazzi or a star photographer like Rankin. Who else gets the chance to take pictures of the Spice Girls that close? However it was indeed a challenge to place all five of them in a portrait picture. I wanted to shoot them on a stage since it feels most natural to me. But in comparison to minifigures there is nothing movable at Brickheadz. So I had to get a bit creative to capture the motions of a concert. I decided to put the camera at a lower angle to follow the view of a fan at a concert looking up to the stage. Also they stand a bit oblique as if they are dancing. Lastly, I chose backgrounds that represent the 90s and glamour.
When I saw the beautiful pictures Rankin took of the Spice Girls Brickheadz it inspired me to give a group shot another try.
Resume
The new Spice Girls Brickheadz is a Must Have for all fans and 90s kids. We both loved building and shooting the new Spice Girls Brickheadz Set!
And Alice could not resist to give them a Spice Power Build
Thanks a lot to Stuck in Plastic and LEGO who gave us the opportunity.
Sophie and Alice
💙 💛
Stuck In Plastic.
The creative collective of toy photographers.
Co Authors :