This weeks creative challenge was all about love and the upcoming valentines day. But Natasja added a little twist to it when she realized the creative challenge on Monday on our Discord.
What if Valentine's Day is only accessible for the zombies, the robots that are left in the junkyard, the wolves that are hiding in the woods, the misfits that in our eyes do not fit in the Valentine's world. They want to celebrate Valentine's Day too. Love to see dark and spooky and mystical photos about unrequited love between those creatures. And maybe a happy end after all?

Natasja, Week Six on Discord
Week Five and Half
And for those of you that keep track of all the crew may have noted that yours truly did not finish last week challenge. I even wrote a little blogpost earlier today on my personal blog after more than a year. And I can share here that I finished my Fungi Diorama images as well. I will share them next week. Back to the love story of the misfits and this weeks challenge.
The Misfits
I had to get back on track and get the story going.
The whole week I had seen creative images passing by on our Discord.
I knew I wanted to work with forbidden love, and so I collected my misfits together. Like a mood board of untold stories. Would I use Charlie Chaplin and Marcel Marceau. Or Princess Delicatessa and her secret lover. Maybe Lady Caseta and Mister Blaster – all characters of my little imaginary world that will (or not) play a role in this SiP goes Twenty.
And then it dawned on me.
Video killed the Radio Star (and LEGO Vidiyo)
The Vidiyo Unicorn.
A world famous rockstar that got thrown out of the system.
An outcast moved to the dungeons of the failed not so successful LEGO series.
Discontinued.
Yesterdays Hero.
Todays Misfit.
A true hero in my story of unforbidden love.
Love is in the air
Somewhere downtown in the music studio of a small town called – damn, I need a name for my little Legoville – we found our sound musician dreaming away of romantic nights with the starlet in front of him. He couldn't believe his ears when he heard the news on Vidiyo. She was his rockstar. His muse. His … no words could describe what he felt. She made him all mushy inside with her voice. And the way she handles the sax is pure magic. Oh, if only …
He is good with his sliders and little decibel meters, but the magic of her voice is something he can't capture. This is beyond digital.
If they could only be together … listen to the sound of silence under the open sky.
Feel each other and be one.
Let her heartbeat play a song of passion.
Unfortunately this was not possible.
It was not to be.
These things did not happen …
Crossfade to the other side on the tunes of a saxy melody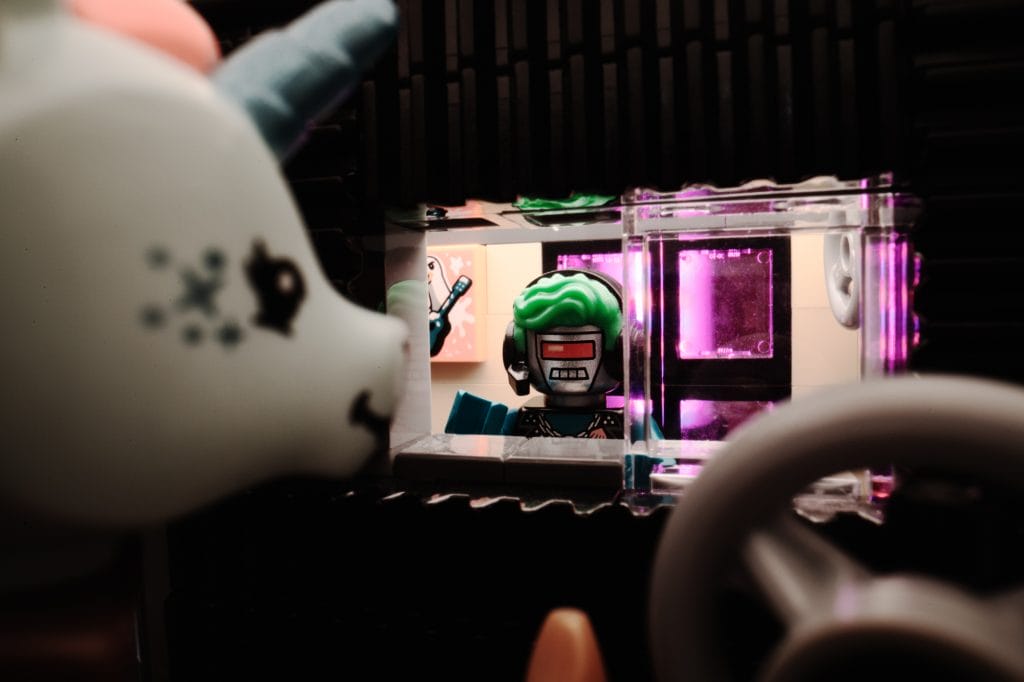 She could stand here for hours.
And sing and play her sax.
Just for him.
The way he looked at her.
And that smile of him, made her all electric inside.
She could care less there would be no new series of Vidiyo to put her eyes on.
This droid was all she cared.
She loved.
If only unicorns could date droids.
It was not done.
It was frowned upon by the citizens of the city with no name.
Or so she thought.
Two be continued.
Natasja only allowed us two images this week.
And so we will end with a cliffhanger here and leave it in the middle if there will be a happy ending in this little town for our two love birds seperated with a wall of sound between them …
And now it is time to get ready for a new week on our Discord.
Monday will tell what Natasja has lined up for us.