The SiPgoesTGIF weekly challenges have kicked off on Discord and Instagram. We are delighted that so many creative and enthusiastic toy photographers are joining in the fun. Our Discord channel is set up in a way that you can ask for feedback, show your behind-the-scenes process, or just chat to other like-minded people with a passion for toy photography. It really is a great place to learn and grow. We love the supportive and encouraging community that you have helped us create.
If you're not on Discord, don't fret. We've asked five members of our community to share their inspiration and/or process behind images they created for #SiPgoesTGIF_manifest and #SiPgoesTGIF_longexposure.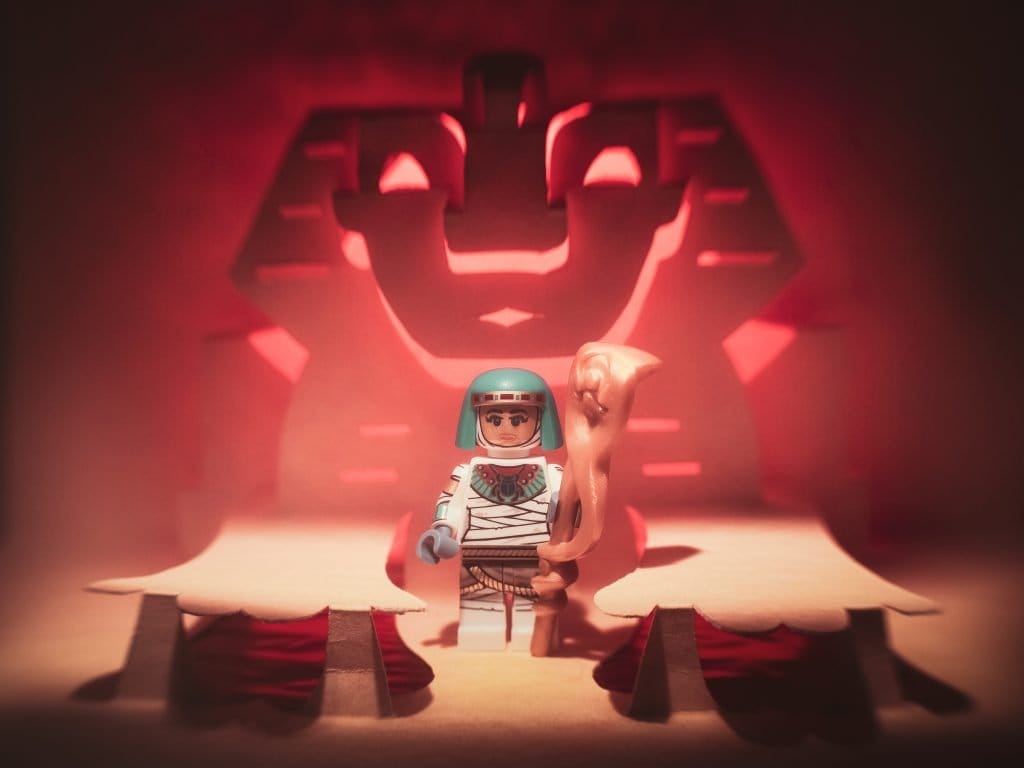 "I have always liked origami and have seen some wonderful creations made out of paper. I was searching online for instructions for something to fold when I stumbled on the Kirigami technique. This is where you cut and fold a single piece of paper into a 3D object. Similar to a pop-up card. As this technique was new to me, I wanted to start with something that was fairly simple. And something that would fit into my goal this year of creating a handmade item for each photo.
The Sphinx drew my attention because I was picturing an explorer standing on one of the legs and checking out his find. I found that the paper was not supportive enough for this idea. The Mummy then was the strongest personality and most fitting figure for the scene. After printing the pattern on a piece of A4 parchment paper, cutting and folding it following the YouTube video by @jrchiang_ig, I put a piece of red cellophane and a piece of packing foam behind the cut-out to diffuse the light from a small desk lamp positioned directly behind the Sphinx. I also used a couple of pieces of black card on each side to block off the light spilling from behind.
After positioning the mummy in place, I held a Lume Cube with a warming filter and a barn door modifier attached overhead and slightly in front of the scene trying not to spill light onto the background. The image only came together for me when I used a facial mister to add some atmosphere to the scene giving it a more tomb-like feel."
"My inspiration for my 2022 is my yearning for travel and adventure. I'm used to traveling often, and for the past 2 and a half years I've only been in my house, my parents' house or my parents in law's house. And even though they are all wonderful people I miss seeing something new and exciting. When I imagine what I really want to do this year, I see myself traveling. I picture an adventure, only this time I get to show it to my son for the first time."
"The photo of the fight between the knight and the ghost (knight) was one of several setups I shot for a similar long exposure theme some time ago, but never used. The goal was to create a ghost effect in one shot without using any big special effects in post-production. I had not yet really used the ghost knight figure from the CMF 19 series much and this seemed like a fitting theme. The image itself is a long exposure of 20 seconds. The figure of the "ghost knight" is removed about halfway during the exposure, to give the translucent ghost effect in one shot."
"When Suné came up with the idea of taking pictures with long exposure I instantly thought about doing an image with a ghost effect. A technique I wanted to test for a long time. Since I felt a bit nostalgic these days, I decided to show the ghost of a passed by ninja master at his former favourite place for meditation. His young follower often visits this place when he thinks of his master. Settings of my final picture: ISO 100, F/22, I set the exposure to 10 seconds and counted till 6 in my mind, then removed the master from the scene. The time till removal was a bit trial and error and depends on how transparent one wants the ghost to be."
Stay tuned for the next post. Scott Murphy aka @toyingwithlight will share some tips on how he creates his beautiful long exposure shots.
Stuck In Plastic.
The creative collective of toy photographers.