A few weeks ago, our good friends over at LEGO, sent us the newest and yet-to-be-released 42130 LEGO®Technic™ BMW M1000 RR for a photographic spin. Both Beverley and Natasja had the opportunity to take this ride out in the open air for amazing photoshoots, but the weather has not been kind to our two photogs.
Our one wanna be biker Bev brings you a little insight into what to expect followed by the official LEGO press release that launched earlier this week on the 9th December. And who does not like a juicy press release?
You can expect to see this superbike on sale January 1st, 2022 in a LEGO store near you.
A New Challenge for Bev
Some of you will already have seen that @bevvypix has been photographing a series of LEGO Speed Champions over on our weekly challenges in the #sipgoestgif series. So when she was offered the chance to shoot the BMW M1000 RR you can imagine, it began pushing her boundaries.
The package arrived and Bev's son who just loves to build, unboxed it. She began observing him divide the 1,920 individual pieces before he begin construction. Not really knolling, but close to it. Each time he added a part, the bike began to come together and it was evident this 1:5 scaled BMW superbike was something special indeed and well designed.
The Most Difficult Task
Once complete, the most difficult task was transporting this model to an outdoor shoot. And then deciding which location would be suitable.
I love seeing motorbikes and watching the freedom they give the rider, but I'm not a rider myself. So, I decided that this shoot would need to be authentic, just as authentic as the build itself. It looks so real.
The bike comes with two display stands and I opted to shoot using the back stand just for stability. To display at home the other stand provided is more suitable, plus it holds the technical data on a beautifully printed tile..
Having read reviews in the past about how LEGO aims certain builds to different age groups. This one really is aimed at 18+ and I believe it is to be a collector display model, displayed proudly in your home and not left in a garage so to speak. Saying this, it can perform with a working golden chain and movable wheels. The suspension is also pretty cool.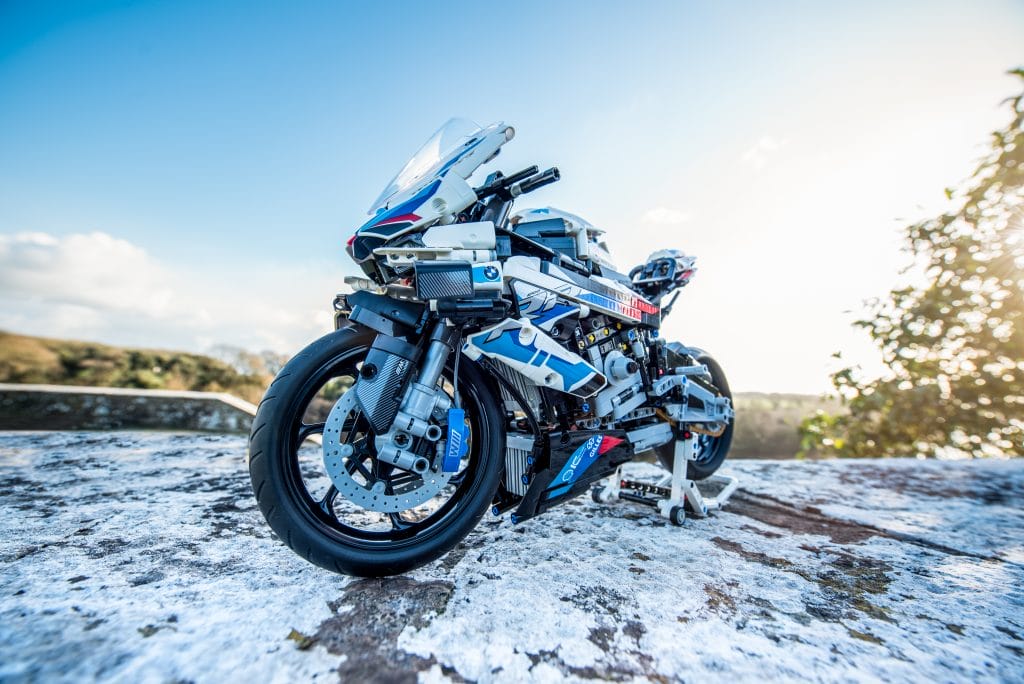 This model will appeal to motorcycle enthusiasts alike. For those of you wondering about the spec and the technical details, then BMW has provided their own Press Release accompanied by The LEGO Group official release which follows.
Enjoy the ride …
Born on the Racetrack: Build at Home
The Lego Group reveals The LEGO® Technic™ BMW M1000 RR
(ALMOST) OFFICIAL RELEASE: LEGO® Technic™ has unleashed the ultimate street and track champion motorbike, with the reveal of the LEGO Technic BMW M 1000 RR set. This incredibly detailed 1:5 scale set is a faithful replica of the supremely fast, technologically advanced BMW M 1000 RR motorbike.
A partnership in technic
The set is the latest in a partnership between LEGO Technic and BMW Motorrad. It gives fans the opportunity to own the first-ever BMW 'M' bike at a reasonable price. At least compared to the real deal. And it is a coveted badge that's steeped with heritage and synonymous with motorsport, engineering excellence, and attention to detail.
The LEGO Technic BMW M 1000 RR has several key features recreated in brick, making it technically accurate but also aesthetically stunning. These include a new and fully functional three-speed gearbox, front and rear suspension, front steering, a gold chain, three different screen dashboard options, a printed windshield. Designed for pure enjoyment, the set also comes with a racing stand, display plate, and over 70 genuine stickers for the sticker fans out there.
The accuracy doesn't stop at the design details. The 1,920 piece immersive build has been designed to follow that of the real product. It gives fans a glimpse of BMW's own production processes. (Something we also saw in the previous LEGO Technic power cars)
Samuel Tacchi, designer at the LEGO Group commented:
"It's been so much fun getting underneath the skin of such a significant model for BMW Motorrad. There's a reason why these beautifully engineered bikes are so universally loved by the biking community. And we are confident our LEGO Technic version is a winner like its real-life namesake.
"The set has a truly authentic design, features functional yet intricate working parts, provides a challenging build and is visually stunning. It's also the largest ever LEGO Technic bike set and we know the building experience will be just as addictive as the adrenaline rush from taking the real thing out on the track."
Ralf Rodepeter, Head of Brand and Product at BMW Motorrad commented:
"When BMW announced the first-ever M-developed motorcycle, the BMW M 1000 RR, everyone knew that the result was going to be something special. In the same way, the LEGO Technic team realised it would take something never-seen-before to pay true tribute to the M RR. The result is both a motorbike and a Technic model that are state-of-the-art within their respective fields."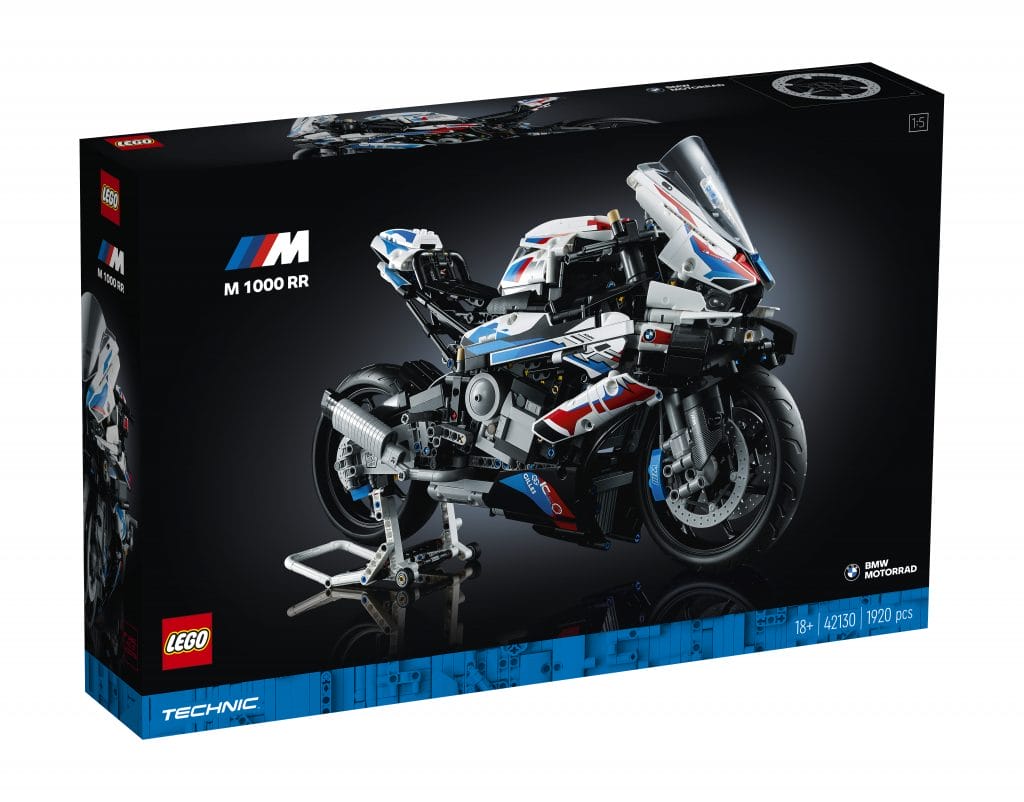 The LEGO M 1000 RR set goes on sale in LEGO stores and on www.LEGO.com/BMW on 1st January 2022 and other retailers on 1st March 2022 for the recommended retail price of €199.99 / $229.99 / £174.99.
Now, will you buy one, that is the question?
Bev