It's nearly time, after a long delay due to Covid restrictions, Denis Villeneuve's version of the sci-fi classic Dune finally arrives in cinemas across Europe this month.
Although we predominantly shoot LEGO here at Stuck in Plastic, a lot of us also enjoy all sorts of toy photography. Being one of those people, I thought I'd share my experience of tackling the first wave of the Dune action figures from McFarlane.
Released nearly a year ago to coincide with the film's original planned theatrical debut, not many people seemed to pick these figures up, and at the time of writing, you can still find them pretty cheap in a lot of toy store sales.
The first wave consists of four main 7″ scale figures, Lady Jessica, Paul Atreides, Duncan Idaho, and Stilgar with a fifth 'build a beast' Rabban figure built from parts that come with the other four figures.
Those familiar with the story will know that most of the tale takes place on the desert planet of Arrakis. Each character comes dressed in a Fremen Stillsuit, an outfit designed for the sun-scorched open deserts. I now had to find the equivalent of that dry desert landscape in the damp north west of the UK.
It was a little too far for a trip to the beach this time so I headed to the only local source of sand that I knew of… the local golf course and its bunkers!
Combining shots from both sunrise and sunset I added plenty of Atmosphere Aerosol spray for effect and managed to transform the boring bunkers into dramatic desert scenes.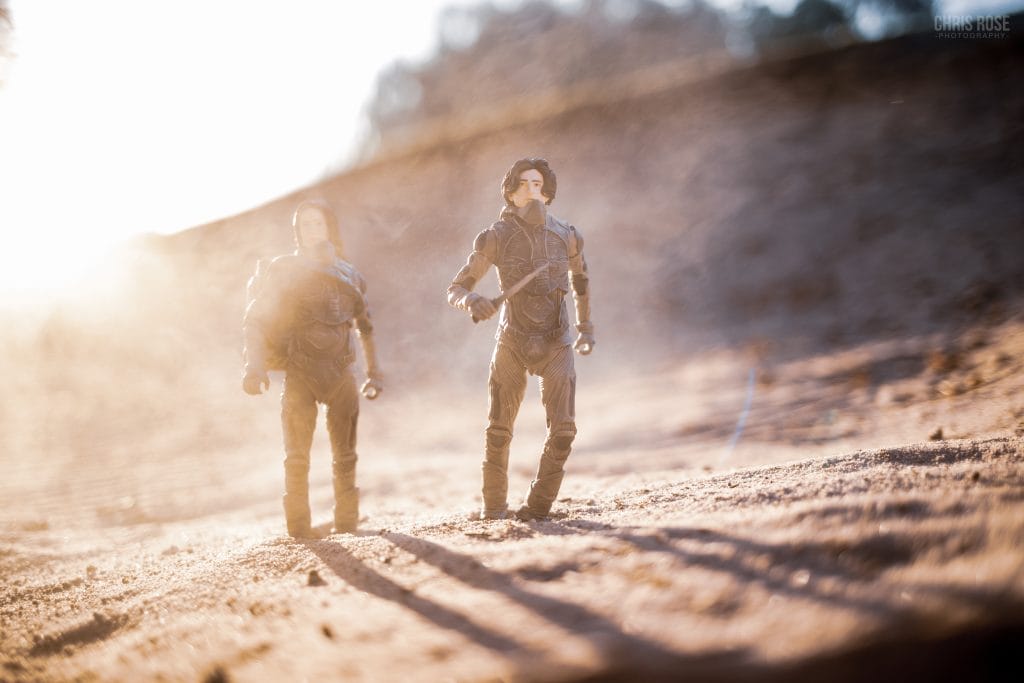 Now all I need are tickets for the local Imax to catch the real thing in the cinema!
Check out the latest trailer below.
Dune is released in UK cinemas on October 21.