Have you ever been? You know that place that's been nicknamed The Big Apple or commonly known as New York City. As a photographer, I have been inspired by some of the greatest photographers who have walked the streets of NYC. Especially those such as Alfred Stieglitz who has timelessly captured these iconic buildings. One building in particular stands out in my mind, the image of the Flatiron captured in black and white.
Sadly, I have not had the pleasure myself to visit. But hey, one can dream and imagine what it feels like to walk those streets at any time of the day or night and find those hidden treasures.
And hidden treasures are what I have recently discovered when I was asked to review the Briksmax LED lighting that are compatible with LEGO.
New York, USA
New York City is made up of five boroughs and they are Manhattan, The Bronx, Queens, Brooklyn and Staten Island. In order for The LEGO Group to design this set, they had to decide which iconic buildings would best represent New York City.And as familiarity goes, you can all probably guess which five iconic buildings were chosen just by looking at this wonderful set.
The New York Architecture set 21028 is a pretty impressive build and the more I look at it, the more I fall in love with NYC. However, I knew this set could look spectacular if it were to be illuminated.
New York has been a long standing location that has appeared in many famous movies. And Spiderman is no exception. Often we see dramatic night scenes in which the city streets would light up. Majority of the times we catch a glimpse of The Empire State building standing tall and the Chrysler Building glowing in the dark. Then there is One World Trade centre that reflects the morning sun. And The Flatiron building just blending in along with the lady Liberty standing proud, holding the torch as a symbol of enlightenment, lighting the way to freedom.
So, when the Stuck in Plastic crew were asked to review a lighting set, I answered the call. My contact was a representative from @lightailing. He directed me to the link to make a purchase for the BRIKSMAX Led Lighting Kit for LEGO Architecture New York- Compatible with Lego 21028 Building Blocks Model- Not Include The Lego Set. And all I had to do was write an honest review.
The Review
The transaction was easy and delivered within a short period of time, I think it was about a week. I chose to order the Briksmax lighting kit for the New York Architecture set. At this point, I must emphasis that LEGO do not endorse these products and they are not sold by The LEGO Group. I am merely writing an independent review.
The packaging contains 5x warm white dot lights and 8x white dot lights. 2x 8-port expansion board, 1x connecting cables, a battery holder that requires a separate purchase of AA batteries (rechargeable are a good choice) although a USB is also included if you wanted to run it from your desktop? Adhesive squares were provided to stick the expansion board to the back of the set and instructions.
At first the step by step instructions are not as clear as I would have preferred. But, once I got my head around how these lights were going to work, they were pretty easy to install. They are small, very delicate and at times fiddly, but the end results are just beautiful.
My build was already erected and I did originally think the whole thing needed taken apart. I was wrong. Certain elements on the Empire State, The Chrysler building and the Statue of Liberty will need removing, so you can place the small dot lights onto the Lego brick. Then you replace the build parts and continue to add lights in this way. All LEDs have a uniformed light pattern and the cable connectors fit nicely together.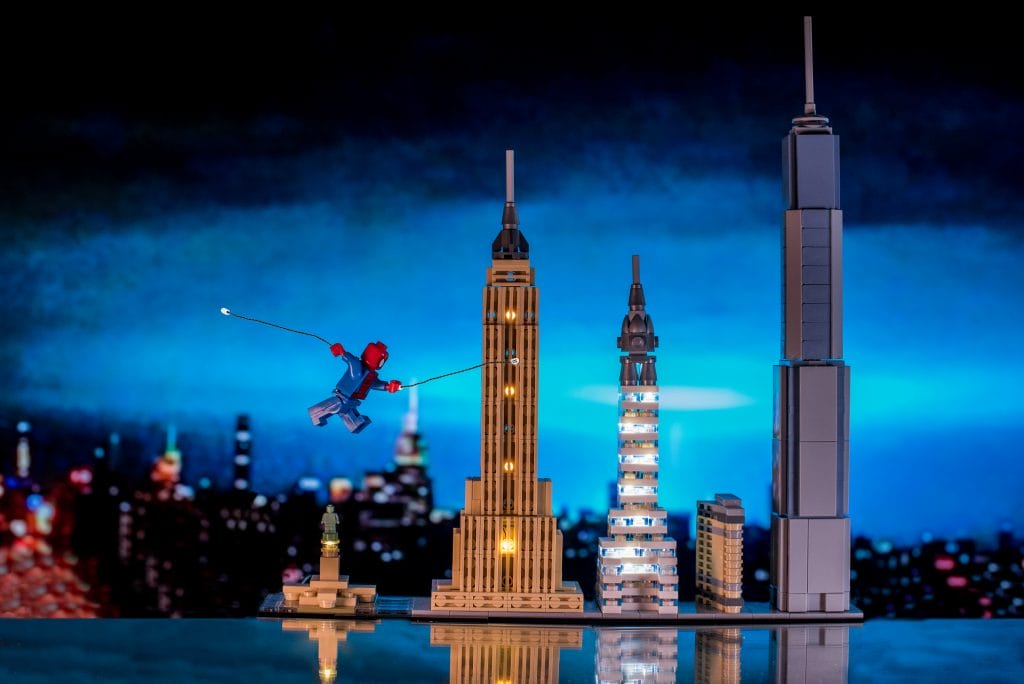 Lights Out
After putting the lights in place, I wish I had attached the connecting cables to the expansion boards before hand and tested the lights. You know that feeling when you put all the lights onto the Christmas tree and one bulb just doesn't work!
Nevertheless, I made contact with Briksmax via the email contact form on their website and sure enough, a replacement was sent out once they had the corresponding packet number. When I received the small package, it made me smile. Inside were not only one but extra replacement bulbs and your friendly neighbourhood Spiderman. "Nice personal touch by the way Briksmax with excellent customer service."
Extra Magic into LEGO Architecture
I personally love my New York City magically lit up. To be honest, It's nothing more than spectacular. Yes to purchase everything including the set alone at £44.99, and then the lights retailing at £29.99, it's not such a cheap option. However, if you are in a position to spend that bit extra then do not hesitate to order yourself a set. Trust me you will not be disappointed.
Spiderman now sits patiently ready to save the world. And every night my world is Illuminated as I proudly display my skyline. And as a bonus, these lights save you buying a lamp for your living room, home office, bedroom or even in your kitchen, as they produce a good amount of illumination.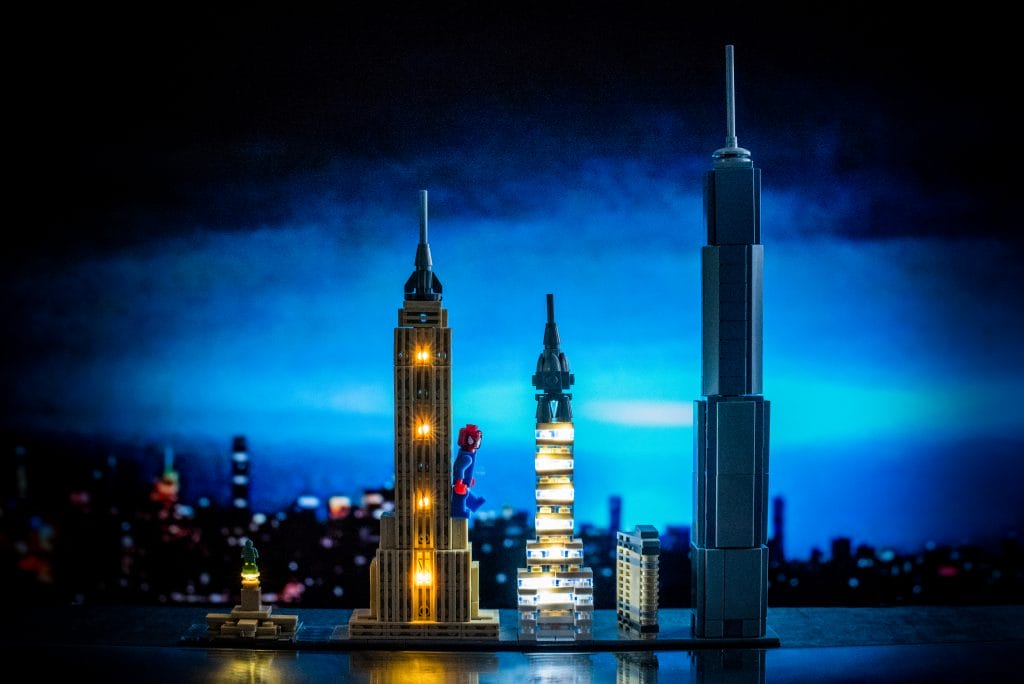 I Love New York
Special thanks to @lightailing for providing me with this kit. Not only do I love the LEGO Architecture set representing New York City. Now I love the Briksmax lighting kits. Having reviewed this kit, I have ordered more for other builds. On that note, I will be back with another review, along with a few friends from around the world. Be sure to keep an eye out, as Stuck in Plastic are gonna take you places you may never have been.

And as New Yorkers say, this set is "lit" or just simply awesome.