A few weeks ago, Beverley and Natasja were asked to get creative with the latest Everyone Is Awesome set created by the Vice-President-Design, Matthew Ashton. Having both received the packages from our dear friends at The LEGO group, it was evident that these were going to be special sets. They were to create something that could be suggestive of the designer's intent without knowing the backstory about the set and adding their own creative story in the mix.
Everyone is Awesome
The brand new set comprises of 11 mini-figures, the colors of the rainbow along with some monochrome. Each mini-figure represents the waterfall of colors on the base and the background, walking towards an imaginary brighter future.
However, who says they have to stand on their own colors? Or even be stuck in their own colorful world. When Beverley photographed it in the UK, she thought it would be good to mix it up a little and place the figures on the different colors. Then when Natasja photograph it in the Netherlands, she went all in and mixed up all the body parts. Just showing that everyone is awesome is more than a display set, and can be used in many different creative ways.
Natasja's Review
Wow! So many colors, that was the first thing that I thought of!!!! And then the text "Everyone is Awesome" what a wonderful statement that LEGO is doing for the LGBTQIA+ community. And that wonderful monochrome minifigures each with a generic hairpiece! Well, all apart from the purple figure and her beehive.
For me (Natasja that is) it was a really special set because a few months ago I was following Matthew Ashton on Instagram and when he was giving a hint on his account that he would be the guest jury on the Dutch/Belgium LEGO MASTERS grand final …. I thought it has to be this way.
In an official interview, Matthew tells fans about his set and how that acceptation begins with the children and I think he is right …
Children are pure and innocent and they do not form an opinion as grown-ups do … but I think there is a task for the grownups to do … because they are the examples for the children while growing up …
We are all responsible to tell our kids how to have no judgment.
About how others feel, love, doing, dressing, loving or color.
We are all the same, just different.
That is what I'm telling my boys too.
If they gonna have a girlfriend … a boyfriend … another skin tone … feel themselves a girl/ boy? Then it is all gonna be love from me as a parent …
So that they won't have boundaries or fear that they are not feeling themselves.
I think that is the basis of acceptation.
The set is nice to build … and it looks wonderful with all the colors as background!
Beverley's Review
As Natasja has pointed out, people/parents are responsible for teaching the next generation about inclusivity. On reflection, I would like to think, that over time I have set a positive example of my acceptance of others to my own boys and that they continue to live by that knowledge throughout their lifetime.
We will never all share the same views and opinions, life would be boring for sure if we did! … Indeed, we like and dislike different things.
Perhaps, I like red!
You like green!
He likes pink!
She likes blue!
It really shouldn't matter and I don't believe I have the right to judge how others continue on their path of life. What matters is how you treat, respect, and accept others for the colors of light they shine, that's far more important.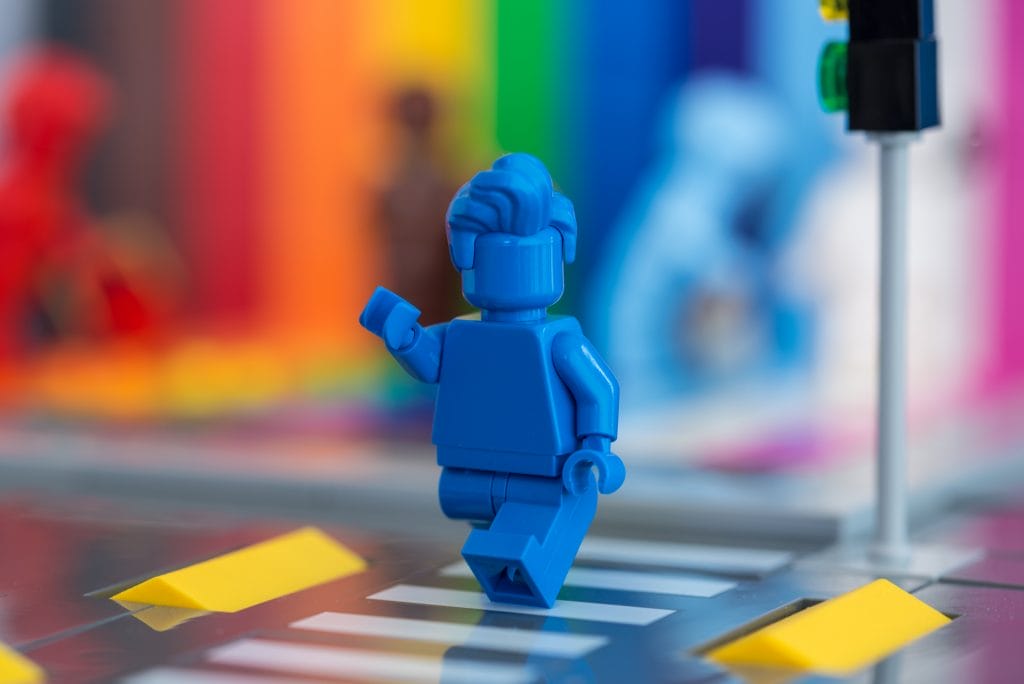 This idea behind this set is such a perfect way to celebrate how diverse we all are and to especially represent the people in the LGBTQIA+ community. Many who have had to face obstacles in life that they shouldn't have had too.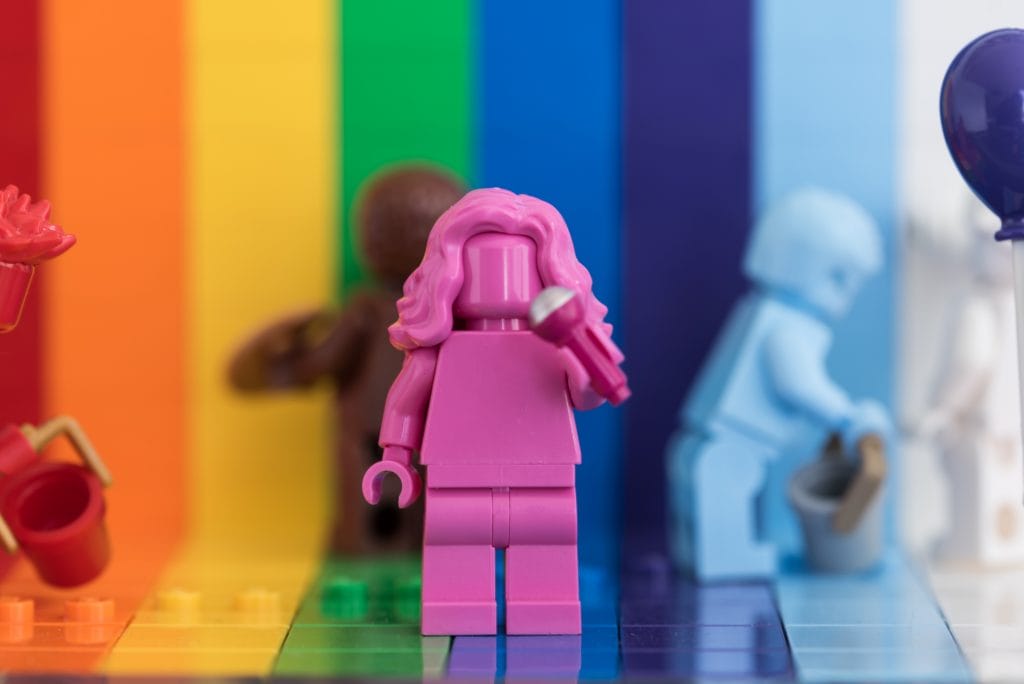 Thinking about how I was going to photograph this awesome set, I started to see ways in which I could bring together different groups and genders helping to raise awareness of different identities. Not only does this set, send out a powerful symbol of pride but it is a way of proclaiming who individuals are.
Because everyone is awesome.
Tag Us
The set goes on sale June 1st, the start of Pride month and has a big thumbs up from Bev and Natasja.
Here at Stuck in Plastic, we would love to see a colorful representation of everyone's photographs of this awesome set.
Tag us using the hashtag #SiPgoesAwesome and spread the love.
Stuck In Plastic.
The creative collective of toy photographers.