A Bunch Of Friends
When I heard that a minifigure sized Winnie the Pooh set would be released by LEGO I knew I had to have it! And what a great surprise when it was decided that I could review it for Stuckinplastic!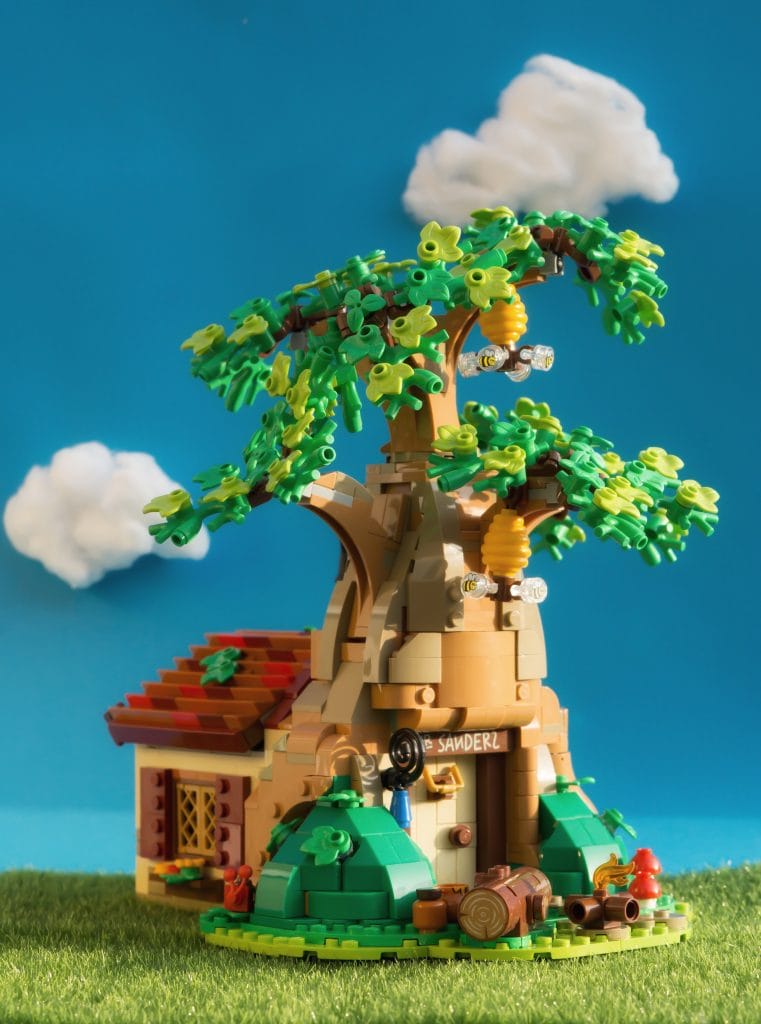 In The Beginning
Where does my  love for Winnie the Pooh come from?
In my youth I was not raised with Winnie the Pooh but I already knew a long time ago that he was a super cute little bear who is always looking for honey.
And I also knew his friends: Piglet, Tigger, Eyore and Rabbit.
But wait, Winnie the Pooh really came my way when I had babies myself.
My boys played the DVDs on and on.
What is a dear story for children with beautiful characters is also a wonderful representation of human traits in daily life for parents and adults.
The Gang
Winnie the Pooh: a bear with an open mind.
Eeyore: a donkey that has not been too lucky in life.
Piglet: a young pig and Pooh's best friend. A bit scared because he is oh-so-small.
Tigger: a tiger. Very busy and present, but everyone loves him.
Rabbit: a rabbit that considers itself VERY Important and who is always busy.
You see, typical human traits. But together they make a great team.
The books by A.A.Milne are also great to read and the decorations by Ernest H. Shepard are very recognizable and fantastically drawn.
But now about the set…
It's A LEGO Ideas Set
Ben Alder, the fan designer of the Winnie the Pooh set, lives with his wife Louisa and their 2 children in Suffolk, England.
He has 2 passions….Winnie the Pooh (he grew up with the stories his parents read to him)
and building with LEGO.
When he became a father himself a few years ago the basis was laid for this wonderful set.
The set consists of:
5 minifigures: Winnie the Pooh , Piglet, Tigger, Rabit and Eeyore. (On a side note: Had they included Christopher Robin as well it would have been the max. But then I'd probably have wanted Kanga and Roo in, too).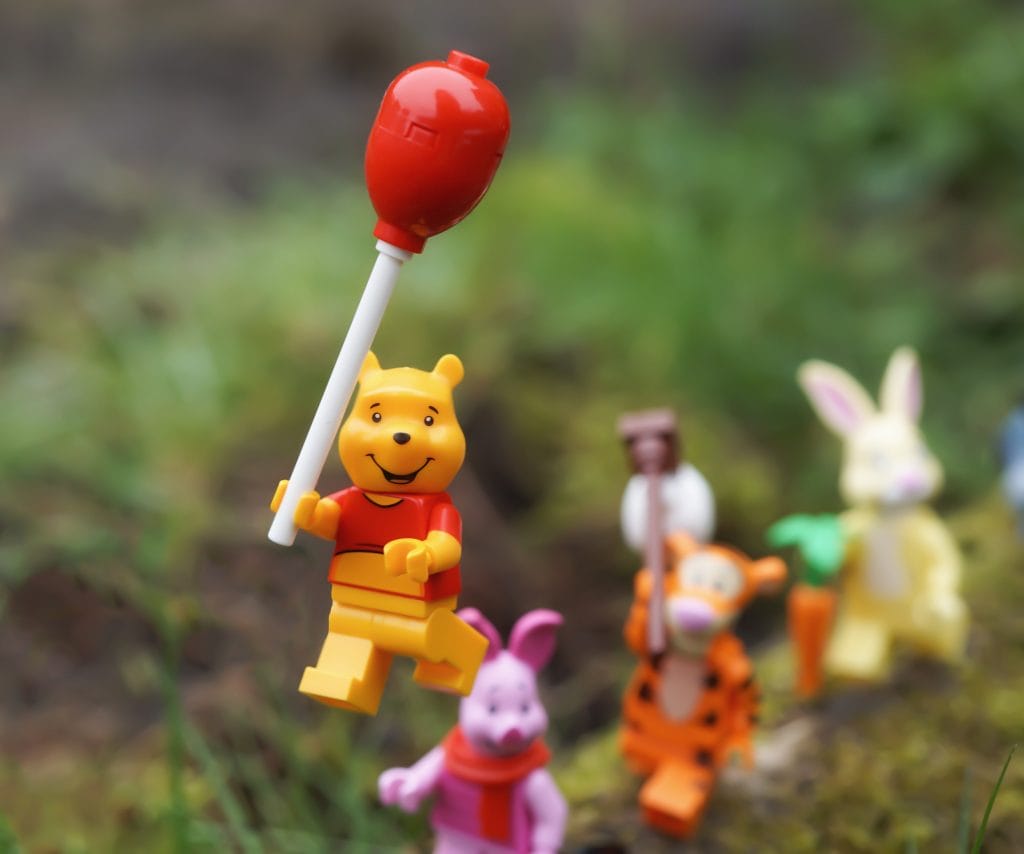 That said, the set is fantastic. The tree is beautiful and that little house with all its teeny-tiny details. There's a sign with that reads "100 Acre Wood". There's a box of Poohsticks. The honey bees (too cute, words fail me) and a lot of honey jars round the set up.
Construction Techniques And Details
I love how the tree is built. Very cool to see that you can skew parts in this way.
What is also nice is that you can open and close the house which makes it very playable.
What also surprised me are the branches ade of coral elements and leaves. Seems it's a great year to discover so many different shapes and designs of trees.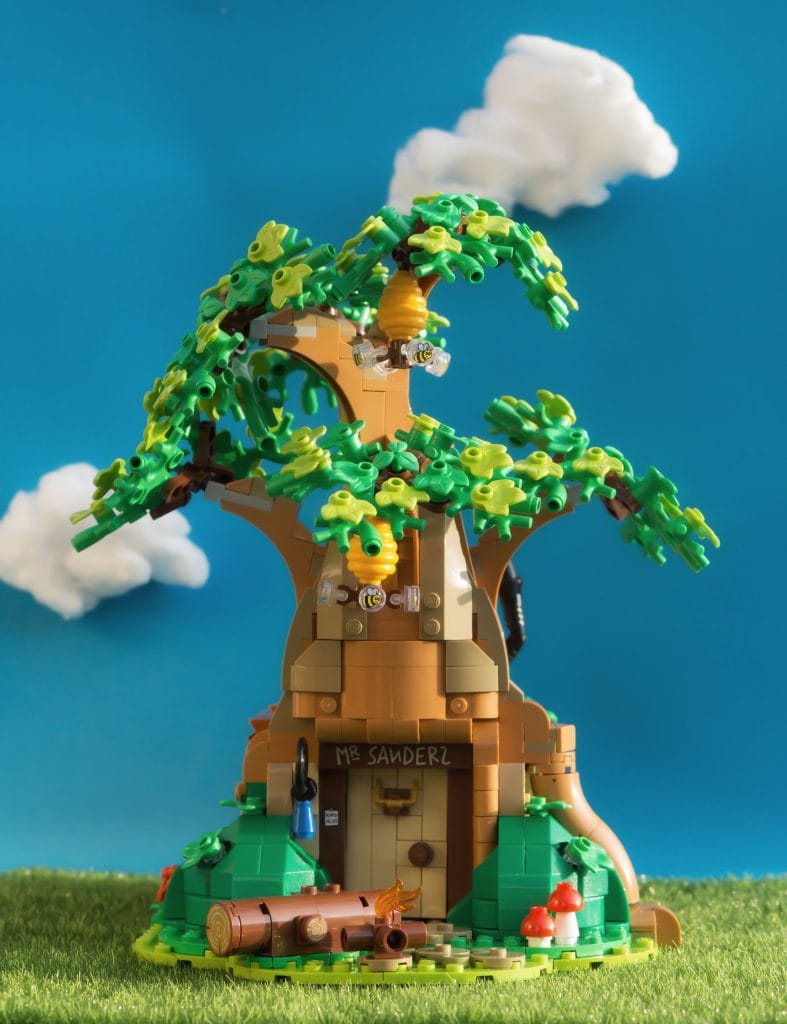 There are many details in the house and its interior. My favourite of those will have to be the mirror!
All the bees buzzing aroung the hives are not just a pleasure to discover but also make a great addition to the beekeeper minifigure from CMF 21.
What a fantastic set to build. I do love every detail. The sign leaves no doubt about who is living here….the doorbell…. the window sills with flowers and even the little snail.
But heej…..who doesn't love Winnie the Pooh???
Let me end my review with a quote from the book :
"It's a very funny thought that, if Bears were Bees,
They'd build their nests at the bottom of trees.
And that being so (if the Bees were Bears),
We shouldn't have to climb up all these stairs."
-A.A. Milne-