Dear All
A most interesting year is coming to an end. It has been extraordinary in many ways. To some, it was a very busy year. Most everyone will have had to change their plans more than once. Others may say it has been a slowed down year with a low pace, less work (or none), and way too much social distance. We are all hoping for twenty-one to come along with more safety, more health, and more freedom than twenty did.
A Special Project
Looking back this year had a lot going on for us. Too many reviews to mention here, our first-ever virtual toy safari or our Xmas card exchange which received incredible response were just some cornerstones. Personally, I will probably remember twenty-twenty as the year when I was offered the chance to work on a very special project.
Back in April Boris told us at SiP that the AFOL Engagement Team had reached out to him to see whether someone was interested in shooting a Xmas set. As often, no details were given upfront and everything was strictly confidential. First forecasts of a warm summer had been made but I thought taking pictures of a winter-themed set during that time of year could be fun and challenging. Little did I know then that I was perfectly right about that…
Along Came The Mailman
Moving on to June and the mailman brought an interesting package to my doorstep. It was not the long-awaited cardboard box but a round plastic bag instead. After I had carefully removed all wrappings another plastic bag was laying in front of me. On its' inside I could see several smaller bags with numbers. As I'm not the most experienced builder I couldn't imagine what these elements were meant to result in.
Shortly after this, I received an email with a document and some pdf files. The pdf's were the instructions for what the document announced as the official employee gift of 2020! This set was to be photographed to become the image of the employee Xmas card. Here's an excerpt from the letter:
"The 2020 LEGO employee gift model celebrates the 40th anniversary of the establishment of LEGO Education and the 50th anniversary of the first universal LEGO gearwheel. The designers have brought these two occasions together and created a fun, educational model full of magical mechanical movements based on Santa's Workshop."
What A Surprise!
After having read the letter at least two more times I happily went on to the instructions. Only to getting stuck rather soon (and not in plastic this time). All the needed elements were there; just not all of them in the right colours.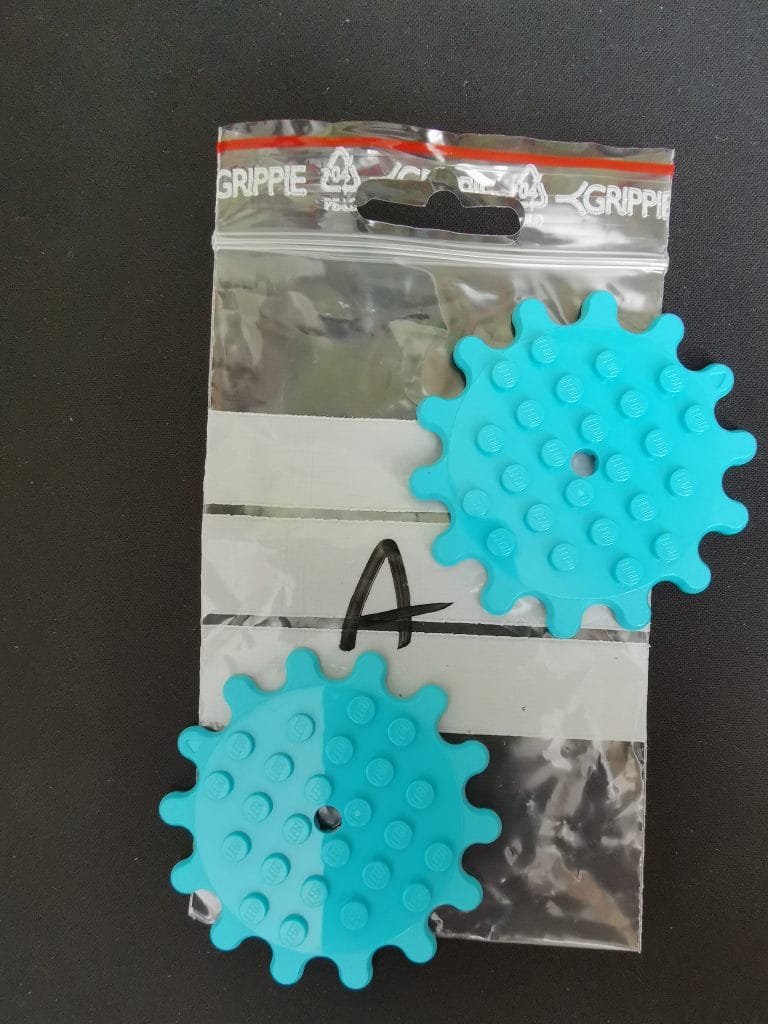 As it turned out the model was still super-duper secret in order not to spoil the fun of surprise for anyone. So the usual quality controls must've been passed by and some elements of a different colour had made it to my coffee table secret laboratory. I was able to finish the build. Still, I wasn't too happy with a Christmas tree with blue branches and other curiosities. I emailed my "secret contact" at TLG (who by that time hadn't seen the finished model either) and asked him for some spare parts.
Some Mailmen Ring Twice
After some days all the correct elements were shipped to my place and I could finally start taking my pictures. Or so I thought.
Another obstacle for myself occurred fast. Never before had I done a photoshoot with a (more or less) clear briefing. I thought about the "client's" ideas and wishes, the occasion of it being a Christmas card as well as a celebration of LEGO Education and the anniversary of the gear wheels for quite some time. And then some more. I tried many different angles and various set-ups until I finally got to an image that I was happy with.
(It may not come as a surprise that it was late August already. Feel free to imagine a mostly dark studio, 34 degrees Celsius temperature outside, and myself in shorts and t-shirt listening to my personal Xmas list on Spotify to get in a festive mood.)
The Waiting
After I had uploaded my shots it was a nerve-wrecking and long waiting game. The only person I could talk to about this project was Bevvy, who had been working on the same set some 1300+ km further west. It turned out that she had put at least as much thought into this shooting as I had myself. By the end of August, I finally received a short email confirming that the Kristiansen family itself had chosen my image to be the one for the LEGO employee Xmas card of 2020. I only performed a little happy dance as I still couldn't share this news with anyone around me.
Today is Christmas
I'd like to thank three people in particular: Bevvy for being a partner in crime and a great friend, our ambassador and endless source of creative powers that is Boris, and Pieter H. Lammens of the AFOL Engagement Team.
Now the waiting is over. All the LEGO employees around the world will hopefully have gotten their cards and gifts. And today I am happy to share with you my favourite image of this extraordinary year.
Merry Christmas to all of you, your loved ones and friends from all of us at StuckInPlastic. May your next year be one full of health and happiness.
A Non-Belgian living in Hamburg, Germany. Curiosity-driven and mostly to be found on tiny adventures and great journeys.