The Golden Age of Film Noir
Last weekend the crew, along with old and new friends. we hung out together on our virtual toy photography safari. While the heat was on to make the deadlines, we sadly missed the scheduled post for our movie theme. So, here we are, one week the late introduction to this month's theme, Film Noir.
This genre was prevalent in mostly American crime drama's and regarded as the "classic Period" of film Noir between 1945 and the 1950s. However, the Noir style still continues to date with one particular movie that comes to mind. Typically known as Neo-Noir is Sin City. The style of filmmaking was characterised by such elements as stark lighting, cynical heroes, frequent use of flashbacks, intricate plots, and an underlying philosophy.
Some examples of the classic noir style to name but a few include, The Postman Always Rings Twice (1946), The Maltese Falcon (1941) with Humphrey Bogart, Kiss Me Deadly (1955) a novel by Mickey Spillane, or Orson Welles's baroquely styled Touch of Evil (1958). Even though it is hard to classify some movies into this genre, the turn of the decade brought about the Neo-Noir. You are probably more familiar with films such as Brad Pitt immensely successful Seven in 1995 or Quentin Tarantino's popular movie, Pulp Fiction.
How you interpret this theme is completely up to you, perhaps you might want to create your own plot and play around with artificial lighting.
Lighting
Low key lighting was used to enhance these dramas and the darkness often reflected the disenchantment of the times. These lighting effects were used in Hollywood by cinematographers to name one or two such as, Gregg Toland (Citizen Kane, 1941) and Sid Hickox (The Big Sleep, 1948) and to heighten the sombre tone of the film, they were shot in black and white.
With this in mind, the classic images of noir, include rain-soaked street in the early hours of the morning, or street lamps with shimmering halos. You might like to include flashing neon signs inviting you into bars, diners or an apartment. For the purpose of a bit of special effects, the endless streams of cigarette smoke blending in and out of the shadows all add to the dramatic story line. Perhaps you can include that tension and suspense, as the audience sits eagerly waiting for that impending doom.
White Heat
A typical classic film noir, also includes a gangster and a prison scene. Starring a quintessential example of a noir femme fatale is Virginia Mayo, who plays Verna Jarrett, aside of James Cagney (Cody Jarrett) in the Film Noir, White Heat. Jarrett is the leader of a ruthless gang of thieves. Cody is saved by an undercover cop, who befriends him and infiltrates Cody's gang. In 1949, this type of movie was cutting edge technology and White Heat is one movie that I am familiar with.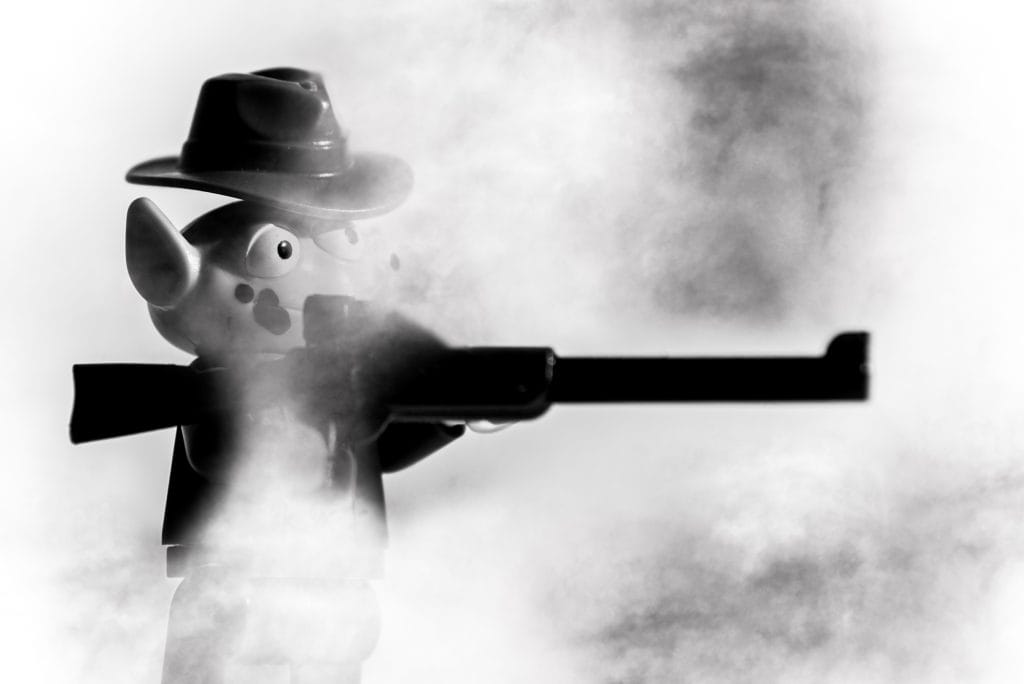 The Song dedicated to James Cagney
Growing up in the '80s and listening to the music chart, you may have already become familiar with the White Heat movie. In 1986, Madonna release her fourth single 'Open Your Heart' from the True Blue Album. Inspired by the 1949 Warner Bros film, she dedicated the song and included one of Cody Jarrett's famous quotes at the start of her music video. A copper… How do you like that boys?
Join us and recreate your take on this iconic era using the hashtag #SiPgoesTT_Film Noir and #SiPgoestt