Some Weeks Ago…
Submissions for the #SiPgoesCinquecento are in and wre still debating about our very TWO favourites. Results should be here tomorrow. In order to make the waiting more bearable, here´s a related article to water your mouth a little more. A littel earlier this year Chris had the pleasure of taking the latest Creator Expert Car for a test drive. Here's his side of the story:
An Italian Job In The UK
It's that time again – another Creator Car release. This time it's another classic – the Fiat 500 – a symbol of effortlessly cool Italian style. My assignment for Stuck in Plastic wasn't going to be an easy one: How to show off that kind of style on the streets of a northern UK town.
Up And Away
After an extremely pleasant and satisfying build, I had a full day to spend shooting the car. Despite weeks of heavy rain and flooding in the UK, the forecast was for clear skies so I headed off to what was fast becoming one my favourite locations – Manchester city centre.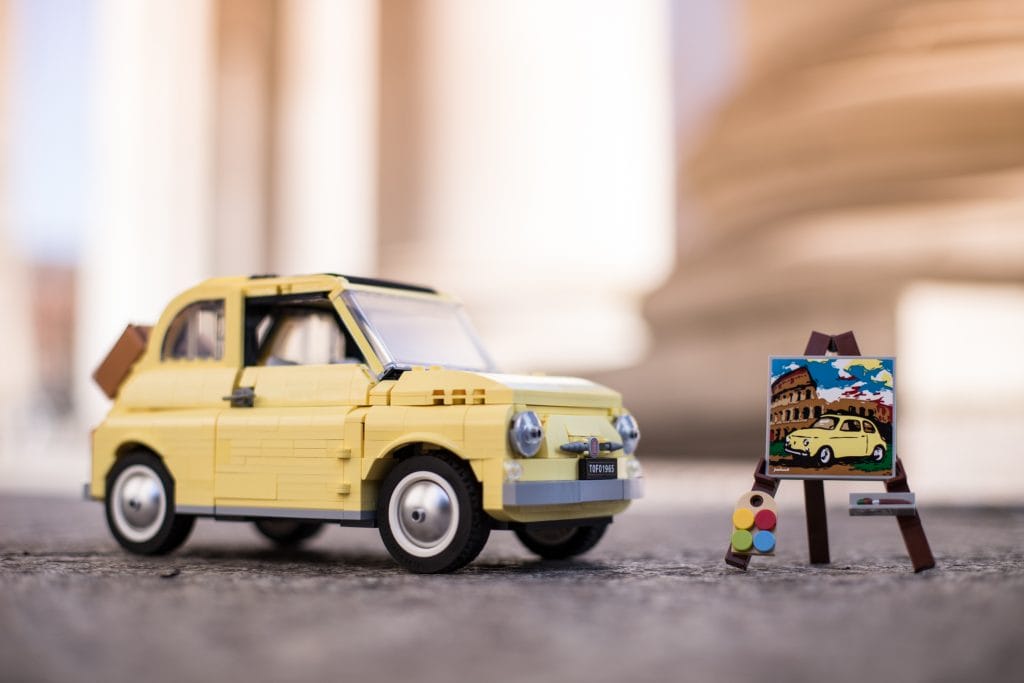 Manchester has a rich history for stunning architecture, but what could I use to try and complement the Fiat? I headed over to the central municipal library building and tried out a few shots around the columns outside the main entrance. My intention was to try and emulate a 'Roman' look. The sun came out, and so did my makeshift reflector (fashioned from a piece of white A4 card) to bounce a little light back on to the car and fill the shadows.
I had decided to stick with just one lens – my 50mm 1.8 – which is wide enough to pick up the Fiat and plenty of the background. After finding some chic-looking bistros in the back streets, I set the car on the pavement opposite and took some shots with a wider aperture to blur the signs, to give a beautiful bokeh, and to help to give a hint of the scenery rather than the details.
One of the perils of shooting in public can be the unwanted attention you inevitably receive such as concerned security guards and curious tourists. By placing the car down within feet of the main doorway of a city centre library, you might think that I had it coming, but in this day and age it can also be pretty dangerous! Lots of people blindly stride towards your delicate Lego build whilst staring at their phones. There were numerous occasions where I had to swiftly pick up the set as it was about to get stood on or kicked down the street by unsuspecting boots.
Rome Or Anywhere
Overall the weather and the mix of architecture in Manchester had helped me out on this assignment, and I came home with plenty of shots that I was happy with. Hopefully you'll get to see more of them over the coming weeks. More importantly, though, I found that this beautiful set is more than at home in any surrounding.