A few weeks ago, Boris told me about the opportunity to review a LEGO Creator Expert set part of the Amusement Park series. I was a bit surprised as these used to be released in spring, and after the Roller Coaster, I wasn't expecting something else in that series.
Nevertheless, I decided to accept the challenge. I had no idea what the set was, and was afraid it would be another set too big to easily transport outside. But I thought that if that was the case, then it would force me to take some indoor studio photos for a change.
Fast forward one or two weeks later, I get a shipping notification from our friends at LEGO. Two hours later, once back from work, I see on multiple LEGO news websites the official announcement for the new Creator gingerbread house. So it meant the set that had just been shipped from Billund was actually the gingerbread house.
I was partly disappointed (no new amusement ride for my city) and partly relieved (no struggle finding a place a place for it in the city). I was also partly excited (winter is coming!) and partly scared… It will take a few weeks before the first snow comes here in the North. This meant I had no choice and would have to put my (rusty) indoor photography skills to the test.
The outside of the house
I won't tell you about the build. It's a fun set to build, but it's what you expect from a Creator set and the building experience doesn't particularly stand out. You can read more about it on Brickset or Brothers Bricks.
That doesn't mean I don't love it. Since I got the promotional gingerbread house (which cost half the price of this new Creator set on Bricklink! :O) in 2015, I've been wishing for a minifig size version. This one looks fabulous and better than anything I would have expected.
The front looks really nice, and I do love the windows made from glitter transparent bricks (which so far have been mostly used in Belville sets). They are great for creating cool light effects. There is also a light brick included in the chimney that lights the fireplace.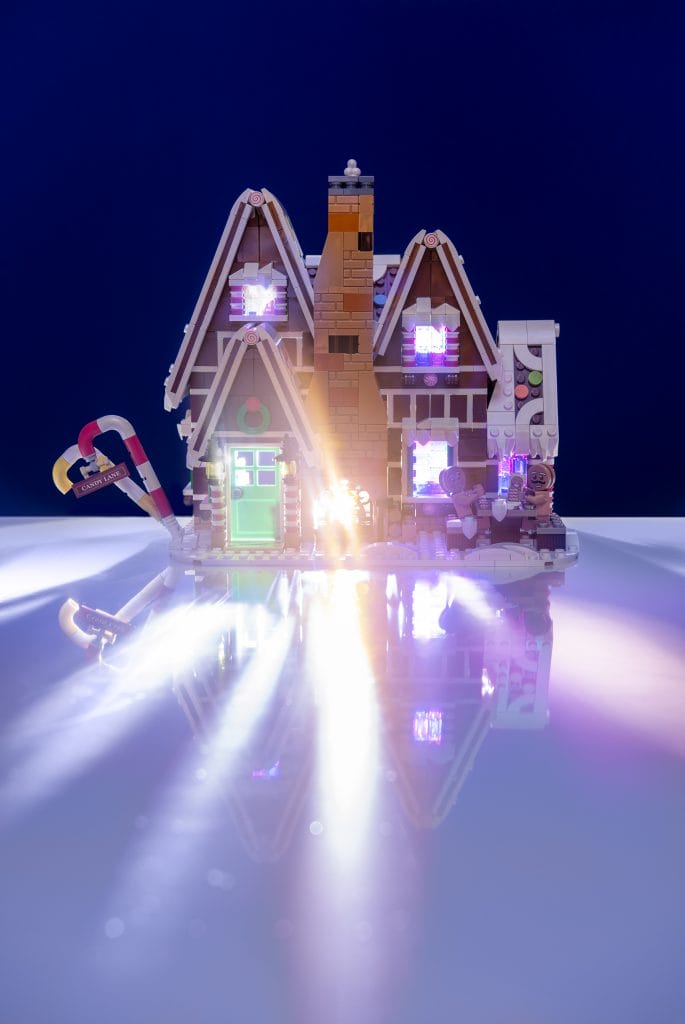 One minor complaint about the set is the table outside. If you follow the instructions, you can't have a minifigure use the seat properly. (The back of the box shows Gingermamma sitting with her skirt on in a very weird way). This is really strange to me as it just requires turning by 90° the inverted slopes on which the table rest, and minifigure can sit normally.
The inside of the house
The house is open on the back and is furnished with small details. It provides easy access for photography. Moreover, the bottom floor is completely tiled, something I particularly appreciate as it removes distracting studs in photos.
The upper floor is a bit more of a challenge. No tiles on the floor and it offers much less space. So everything is cramped with both the bedroom and bathroom located in a small attic. I particularly love the bathroom which has a brick-built bath that can be used by minifigs. As soon as I built it, I knew I'd have to use the shower guy from the new CMF series.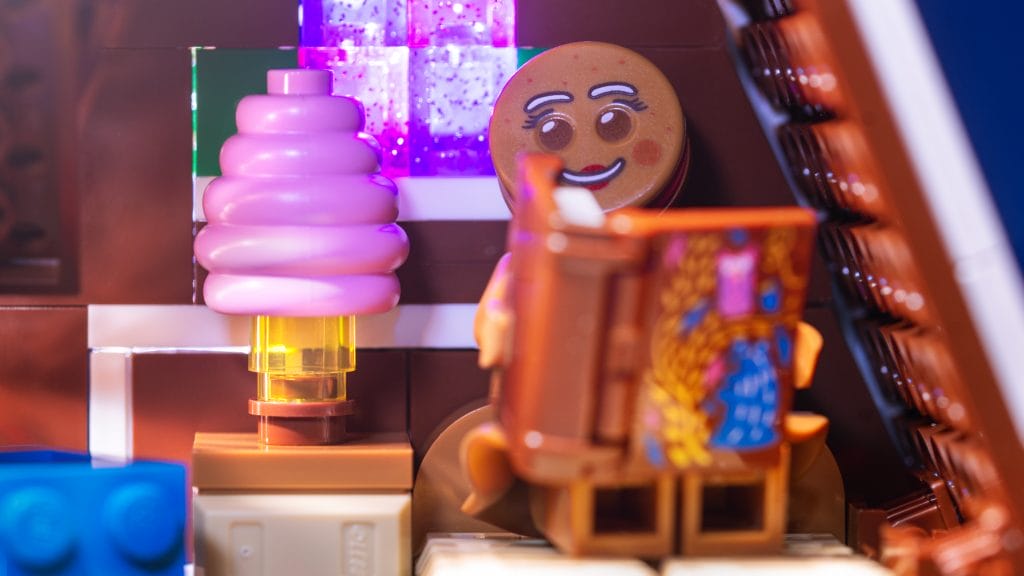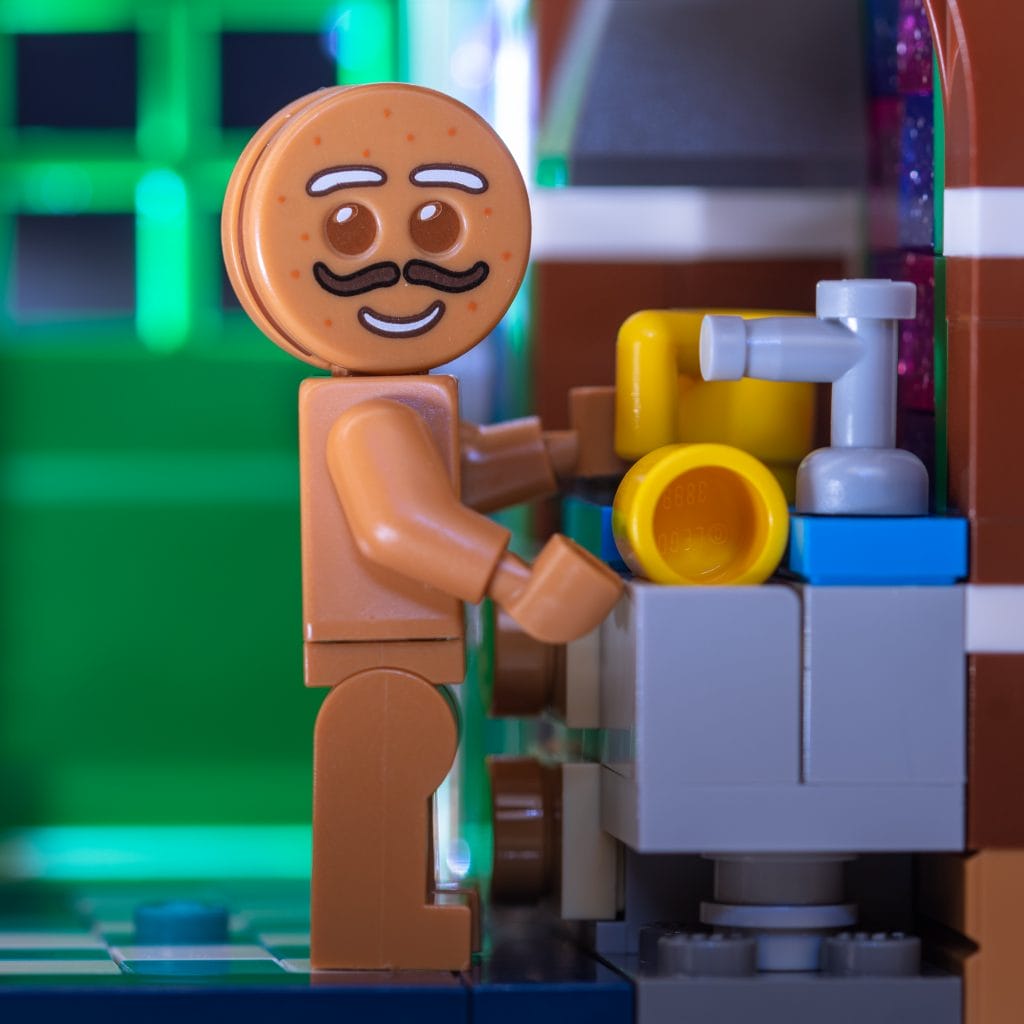 The minifigs
The set includes only two minifigures. This is much less than the previous winter village sets but it doesn't bother me. Considering it is a gingerbread house rather than some functional building part of a village or city, it makes sense to only have a gingerbread family. Also, the winter village sets usually come mostly with relatively generic minifigures you can easily find in other Creator or City sets. I'd rather have a set with two cool minifigures than with a lot of generic ones I'm unlikely to use.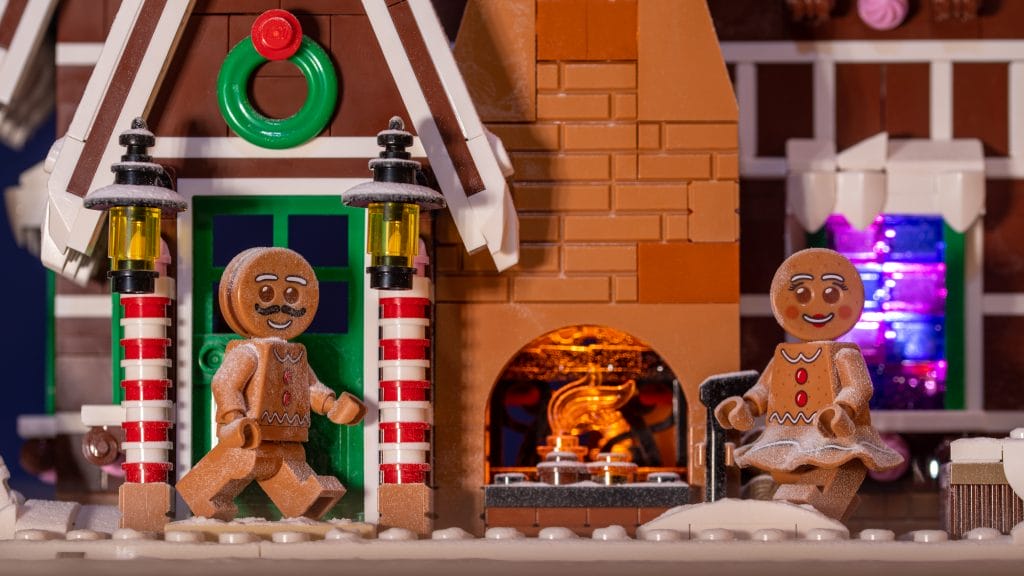 In the official description of the set, it says there are 3 figures included. This is because the set includes a baby gingerbread… Printed on a tile. In my register, a printed tile is not a figure. As a toy photographer, I can't ignore that detail. To me, it's what prevents this set to be rated 5/5. I understand it might have required to create a new mold for the baby's head, but I would have been fine with a regular baby head recolored in brown.
This is all very strange to me because the set includes several small builds, like the usual Christmas tree and gifts, but also several that seem perfectly fit for a baby minifig.
I guess I'll have to resign myself and just enjoy this great set without a tiny gingerbread figure. Or maybe I should give making custom minifigs a try…
Sharing the Adventures in The North of my Plastic Friends.