Summer is reaching an end in the Northern Hemisphere. Here in the North, temperatures are dropping and the days are getting shorter fast. Last week, the first snow fell in Northern Lapland, and with a bit of luck, the first snowfall could happen in less than a month here in Oulu…
I'm thrilled and excited at the idea of winter coming. It's for me the start of the toy photography season. I recently ordered a pair of photography gloves for winter and now I'm left waiting for winter to come so I can try them.
I'm also excited about winter because it's going to be time for our now traditional card exchange. It's a precious experience to spend time making a photo, printing it and sending it. And then receiving cards from all around the world.
So to occupy myself while waiting for the snow, I decided to already start with the preparation for this year's card exchange. While there is still plenty of time, I decided to make this post so those who are as excited as I am can already register and start thinking about the photo for their card.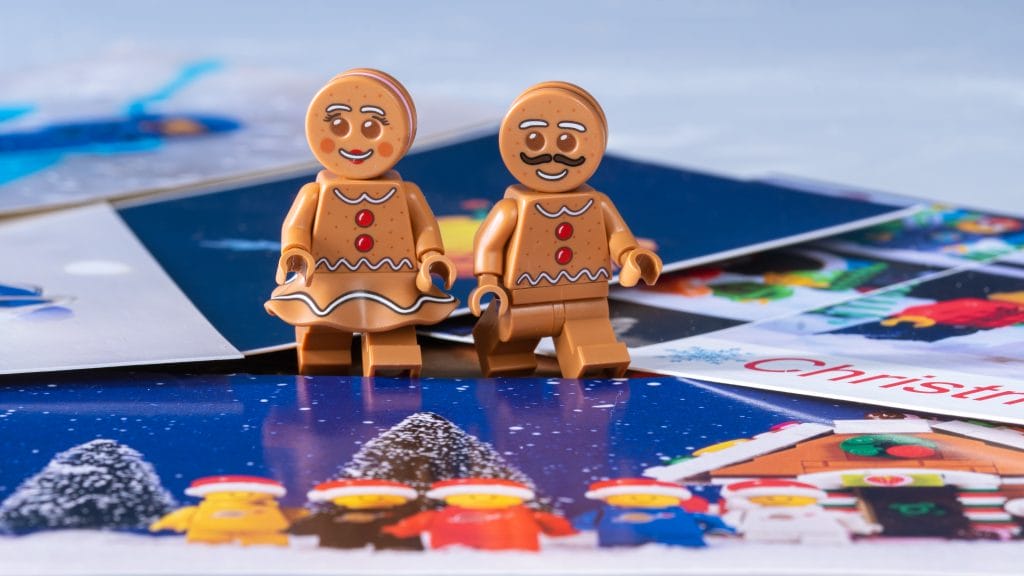 The 2019 Stuck in Plastic card exchange
To participate in our postcard exchange, the process is the same as last year.
8 Easy Steps
Sign up today.
Create your own toy photography postcard.
Order 24 postcards.
Share with us who you will make very happy.
Handwrite your 23 postcards.
Sit back, relax and start receiving beautiful handwritten postcards from all over the world.
Smile as you know that special one you selected is getting some beautiful cards in their mailbox as well.
Wrap them all together with your own card in a small booklet and share them with your Xmas and New Year guests.
Are you ready?
Sign up now.
Final sign up date is November 24th.
The slightly more elaborate steps.
First, sign up by completing the Google Form. The final sign up date is November 24th. But the earlier we know who is in, the earlier we can provide everyone with the addresses where to send postcards. Waiting until the final moments makes our lives a little harder.
You create your own toy photography postcard. Take a new picture, or choose your favorite from the ones you took this year. Print it. There are a lot of good and creative print agencies out there. Boris likes Moo. But there are a lot of alternatives. Let us know in the comments which agency you will be using.
While registering, you gave us your address and the address of a friend or family member who will also receive a postcard from everyone. From last year's experience, people value the surprise of receiving toy photography postcards from all around the world, so we made it mandatory. You just opted in a shared humanity.
We raffle this whole exchange up so that there are no more than twelve creative photographers in a group. This means that you don't have to worry about how many cards you have to send. We guarantee that you will have to send no more than 23 postcards and no less than 11 (and you will receive between 11 and 5 postcards, full math details below*).
On December 2nd the latest, we send you the list of your creative cluster photographers and their friend's address. By now you are well underway to get your fresh set of cards delivered to your doorstep. Don't wait too long with ordering. Everyone likes to get them under the Xmas tree.
You handwrite your cards and post them in the mail between December 3rd and December 14th, making sure your cards arrive at their final destinations under the Xmas tree or at least before 2020 kicks off. (We can't stress out enough the importance of handwriting the cards. It really makes the outcome a lot more personal!)
You start to receive individual handwritten cards from all over the world and hopefully a bear hug from your friend, colleague or family member you bestowed the gift of getting beautifully hand-signed pieces of art in their mailbox.
Last but not least. You have now a beautiful book of cards from all over the world and you add your card to the set. A book of twelve(*) or so awesome images.
(Be sure to also check the post from two years ago as it contains additional tips on how to print the card and how much the whole exchange can cost at most.)
And of course, any questions, you can ask here in the comments, or in the special forum topic, we have created for the occasion.
We all can't wait to exchange photos with you all.
Maëlick,
The SiP Mail Elf on Duty.
PS. The math behind the postcards
(*) Here is the math behind the 23 postcards and the cluster of twelve.
If we have a cluster of twelve, you have eleven other creative toy photographers and eleven nominees that will get a card, plus your own nominee = 11+11+1= 23 cards. Let's say we are 10, we all need to send 19 cards. Fourteen? Two groups of seven it is. Each sending 13 cards (with 6 people being the mathematical minimum). A great success and we end up with 30 or more? No worries, three groups of ten, so 19 cards each, but no more than 23 cards. We like clusters of twelve, and so if we end up with a round number of 12, 24, 36 on between November 19th and 24th, we reserve the right to close the sign up earlier. Just saying, don't wait until the very last moment as you may end up in the standby queue.
Sharing the Adventures in The North of my Plastic Friends.