This week our SiPgoes53 human being is Carrie Fisher and it's not a coincidence. We decided to celebrate Star Wars Day by featuring photos of Carrie Fisher or Princess Leia from various toy photographers.
A slightly different image from my 'VIP Red or Dead' series this year for SiPgoes53 and a new unreleased photograph especially created for this blog.
Growing up in the 70's, I was fortunate to be part of the frenzy that swept the galaxy in 1977, it was The first film in the original Star Wars trilogy and the beginning 'A New Hope IV'. The Jedi masters took us to new worlds and encouraged our imagination, we were introduced to the force and the power between good and evil. I am sure you know the rest and then there was Carrie Fisher best known for playing the heroic role as Princess Leia. She was the daughter of Debbie Reynolds who was also an American actress and famously known for staring in the iconic 'Singing in the Rain'. Carrie Fisher was 21 years old when she appeared in the role as Leia, a role that would define her career. The former princess of the destroyed planet Alderaan later appeared in 'The Force Awakens VII' as General Leia Organa and Luke's twin sister. Sadly in 2016 on December the 27th Carrie Fisher passed away and her death nearly changed the plot of 'The Last Jedi VIII' in 2017. An iconic actress who legend lives on in this galaxy and in the next, she may have never known that she became an icon that young girls could look up to and realise we all have the power of a Jedi if we just believe in ourselves…
May the Forth be with you!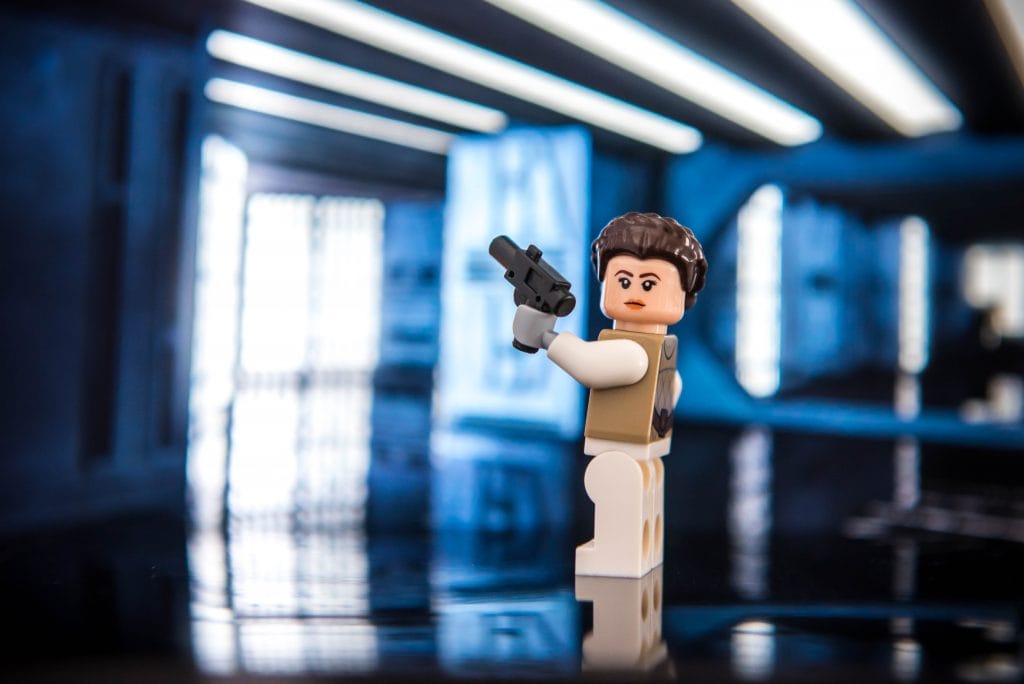 Carrie Fisher embodied woman being in all its sides. Strong as leader of thousands
of soldiers, fragile in her relation with Solo, a mother with Kylo, a child with Ewoks, a
source of desire when a slave to Jaba… I like to imagine what she might have discussed with the Millenium Falcon team.
For your general, raise your lightsaber Jedis!
I've never met Carrie Fisher in person, but as a little kid watching Star Wars, I always imagined her in real life with the same playfulness and kindness she showed Wicket when they first met. I think if I ever had met her, that feeling would have been confirmed.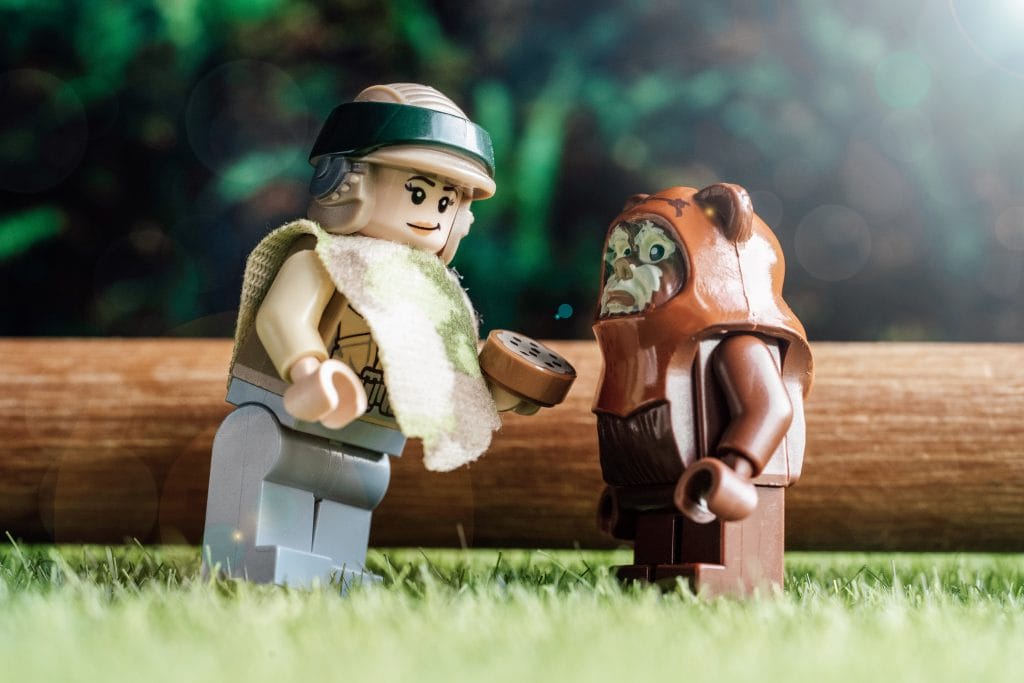 Carrie Fisher is an actor I first heard of way back in the original Star Wars, She was an essential part of all those movies
Blues Brothers is another all time favorite movie of mine. It is such a shame her magic ended before it's time.
Thanks for the movie memories Princess Leia!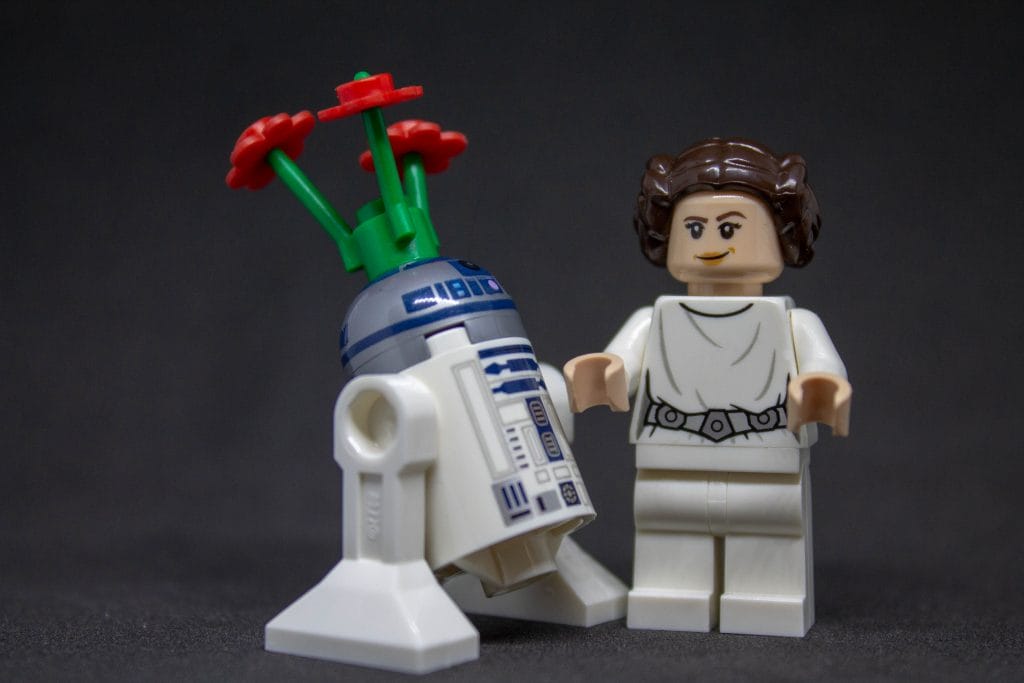 I have always loved the original Pulp Fiction poster featuring Uma Thurman as Mia Wallace reading on her bed, pistol just at arm's length and so wanted to recreate the scene using Princess Leia. Instead of a novel, she's looking over the Death Star plans, with a trusty blaster by her side.
In order to get her into a position, I had to use some minifigure posing techniques. I used white tac to attach her head at an angle to her torso and positioned her legs so they appeared crossed. I then shot at an angle that helped disguise it all.
From Tantive IV to the battle on Crait, Carrie Fisher played our beloved Leia Organa. Since "A New Hope" in 1977 to "The Last Jedi" in 2017 Carrie did a spectacular job at playing the princess. She fought battles, lead rebellions, and strangled a giant slug. Above all, she led the way for more female characters like Jyn Erso and Rey. Carrie Fisher died on December 27, 2016. She was a true princess and will always be remembered.

I remember when Star Wars first came out in 1977. Leia instantly became my favorite character. I was in awe of her strength and the way she stood up to Darth Vader. She wasn't afraid of anyone or anything. I wanted to capture her fearlessness by recreating this scene from A New Hope. I like to think that Carrie Fisher will always be with us. Her memory will stay alive through the movies and through our photos.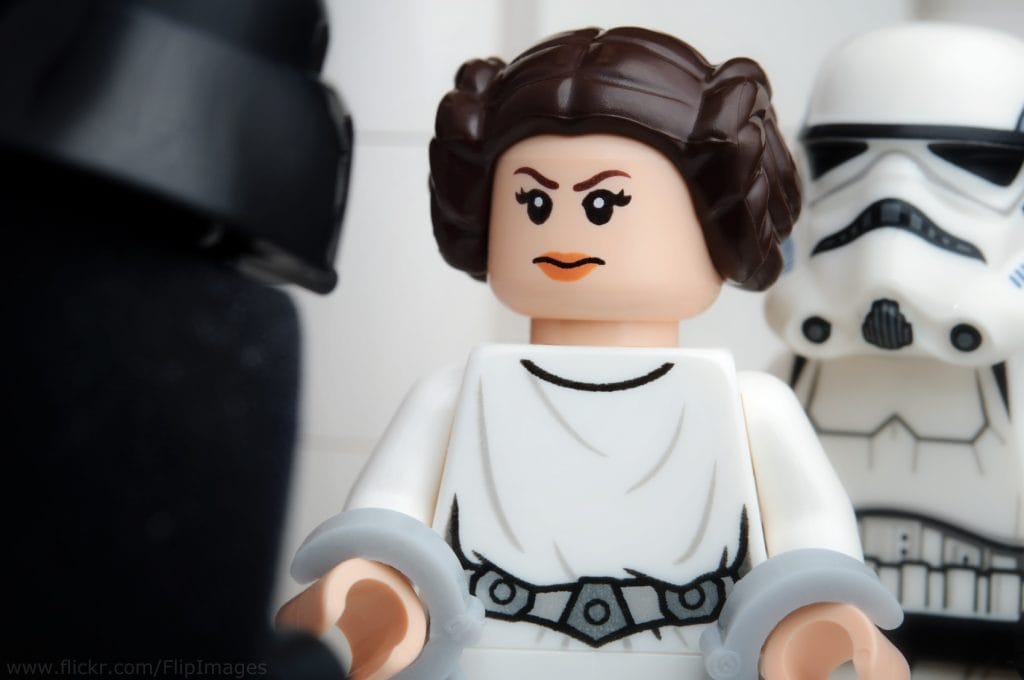 My LEGO Elves version of Carrie Fisher, strolling through the Finnish Forest of Endor.
My daughter Helena liked Princess Leia Organa at first sight. And even earlier, because before I showed Star Wars movies to her, I told her a bit about the heroes of the saga. Avoiding the spoilers of course.
Right after she watched "A New Hope", Leia became the favorite character of my older daughter. She wanted to be in Leia costume at the school carnival party. So we made her a special dress, basing on Carrie Fisher's photos and my wife made a Leia's silver belt. Helena even saved the money to buy a Leia version of Barbie doll. – you know, dad, it's a special edition! Special edition! – she said proudly.
That's why my photo couldn't be different. So we arranged a Tantive IV-like set and took our version of one of iconic scenes from the movie.
When I asked Helena what she likes most in Leia, she replied with her characteristic sincerity: because she fights in space with the stormtroopers, and at the same time she is a princess.
And this is, I think, a great merit of Carrie Fisher – she was able to create a characteristic, strong female character and full of grace at the same time, a character who inspires and fascinates long time later, in a galaxy far far away…
Stuck In Plastic.
The creative collective of toy photographers.