Last time, my first post about the new Disney minifigures was about relatively new Disney characters. Now it's time to look at older characters. In particular, the ones from my childhood.
One of my favorite Disney movies, if not my all-time favorite, is Aladdin. Mostly because of its villain who fascinated me during my childhood.
Upon the release of the first Disney series, my disappointment was strong to see Aladdin and Genie, but no Jafar. I had no hope to see him as part of a second wave. Yet it happened. (Most likely thanks to the live-action adaptation to be released in a few weeks.)
Jafar
Jafar. My favorite Disney villain. Dark deep voice and all dressed up in black, he is to Disney animation what Darth Vader is to Star Wars. While he is by far not the most iconic villain (I would probably pick Maleficient for that), he has always been one that fascinates me visually.
I initially had mixed feelings about this minifig. Indeed, while he's superb with the cape, dress, and hat, I find the facial expression used by default a bit off. However, Jafar's alternate expression is spot on.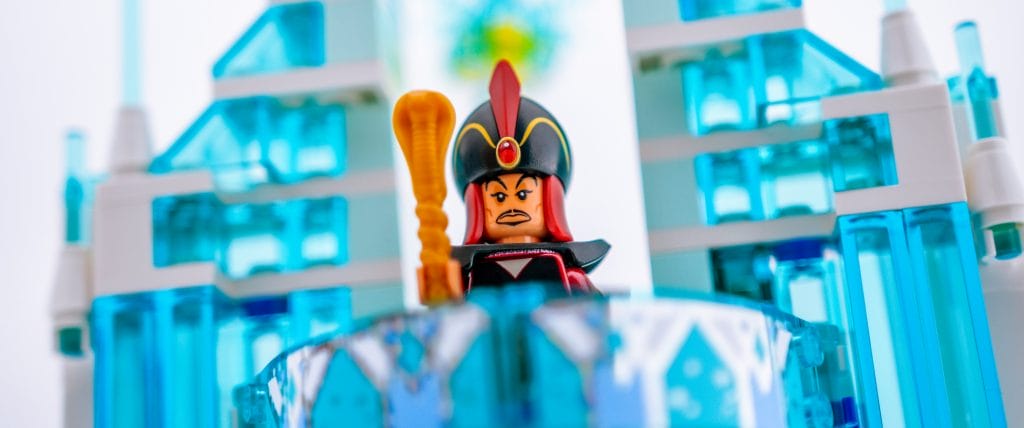 Jasmine
She makes the gang complete, at least when it comes to the humans… Iago and Abu are still missing. She's also a superb minifigure coming with a fabulous hairpiece. Unfortunately, contrarily to Elsa and Anna, I don't have any minidoll to compare her but it seems the hairpiece is the same as the one coming with the minidoll. (I wish I had bought Aladdin and Jasmine's Palace…)
The band
It's becoming a tradition: for the previous two CMF minifigure series, I made a music band with the figures I received. This time it was a bit more challenging with characters that are quite the opposite of each other.
The challenge
Photographing these figures in an outdoor environment was a challenge. They're quite the opposite of the Frozen characters and it's hard to make them fit in Northern Finland. Particularly when most of the land is still covered with snow.
Like with the Disney Castle and Frozen, I had frames from the movie stuck in my head. Unfortunately, none of it could happen. I have to admit that the Belgian seaside would have been better to create the photos with sandy dunes I had in mind. I guess you can't have everything in one place…
(I'm also waiting for LEGO to release a big version of Agrabah's palace :D)
Sharing the Adventures in The North of my Plastic Friends.