Something Strange This Way Comes
Boom! The rumours could be heard here and there- and recently all over the place. Last night rumours became reality, when the new LEGO set 75810 The Upside Down was released exclusively in London´s Leicester Square LEGO store with a release event. Time for us to have a closer look at the set and the story it tells.
Stranger Things- What It´s All About
Will…….Will…..Will…..where are you?
Will is missing……where did he go?
Mystries. And questions. Quite a lot of them.
The Vanishing Of Will Byers.
Will is one of four boys who are best friends for life. They all live in Hawkins, Indiana, a small town where nothing ever happens. The time is the beginning of last century´s eighties.
After a whole day of playing their favourite role game in the basement of Mike´s home it is time to go home.
At the intersection the friends all go their own way. And so is Will Byers. He cycles past the Hawkins National Laboratory U.S. Department of Energy when suddenly he sees something terrifying. Beneath the trees and government buildings a sinister secret lurks through…
The Next Day
Where did Will Buyers go? Not a single trace of him can be found. Only his bike indicates that something terrible must have happened. Just as Will´s disappeared there´s a new kid in town. A mysterious girl whose name is Eleven. Where did she come from?
We´re soon to learn that Eleven is a girl with psychokinetic skills. She crosses paths with the remaining friends. As she´s on the run from evil people. Mike, who feels an instantly strong bond, gives her shelter in the basement of his parent´s house. Dustin and Lucas refuse to trust her because of her strange ways. They also feel she can´t just fill the gap Will left.
Connecting The Dots
Soon they all discover that Will´s disappearance and the arrival of Eleven are connected somehow. They understand that some dark forces are at work and that the government is trying to hide the truth.
A body is found in a lake and the public is made believe that it´s Will. His mother Joyce is convinced that he is still alive and trying to get in contact with her by the use of flickering bulbs. She´s hanging up all her Xmas lights to keep the connection up but everyone else thinks she´s gone mad. Some mysterious incidents later his friends, Eleven and the local Sheriff also believe that the missing boy is still out there somewhere. This somewhere turns out to be the Upside Down version of our reality; a creepy place where Will is being held hostage and chased by a Demogorgon.
Happy Ending?
After eight chapters of season one of Stranger Things Will is back home. Home with his mother Joyce and his friends- but Eleven is gone after having defeated the monster that is the Demogorgon. The whereabouts of Eleven are just one topic of season two. Will is back home but suffering from what is believed to be panic attacks. Of course that´s not all there is.
Fans of the Netflix-show Stranger Things are happily anticipating the airing of season three on July 4th later this summer. What better way to spend the time until then but building this set?
About The Set
The LEGO set 75810 is called "The Upside Down" and comes in 2287 pieces, all packed in many bags (and another box). The build is divided in two manuals: one for the real world and one for the Upside Down. Both manuals also contain some facts about the show, the designer Justin Ramsden (who also designed the LEGO versions of the Yellow Submarine and The LEGO Movie 2 ´s ApocalypseBurg, to mention only two…) as well as some facts about details of this series.
The set also comes with eight minifigures:
The Chief´s Chevy Blazer police car and Will´s bike are also included.
The Build
The instructions are easy to follow and make building this set a pleasure. Along the build one can discover lots of details. Among my most favourite are Joyce´s telephone, the letters on her living room wall and some movie posters. And a lighting brick!
Two sheets of stickers are added. While many people will complain that these days bricks should be printed I like to see it as a reference to LEGO sets from the early eighties, where this show takes place.
While most of the set is clearly taken from season one, the house(s) also features a room from season two.
And while the real life house contains lots of details, the darker side is equipped with many plant elements and, well, a darker version of most everything.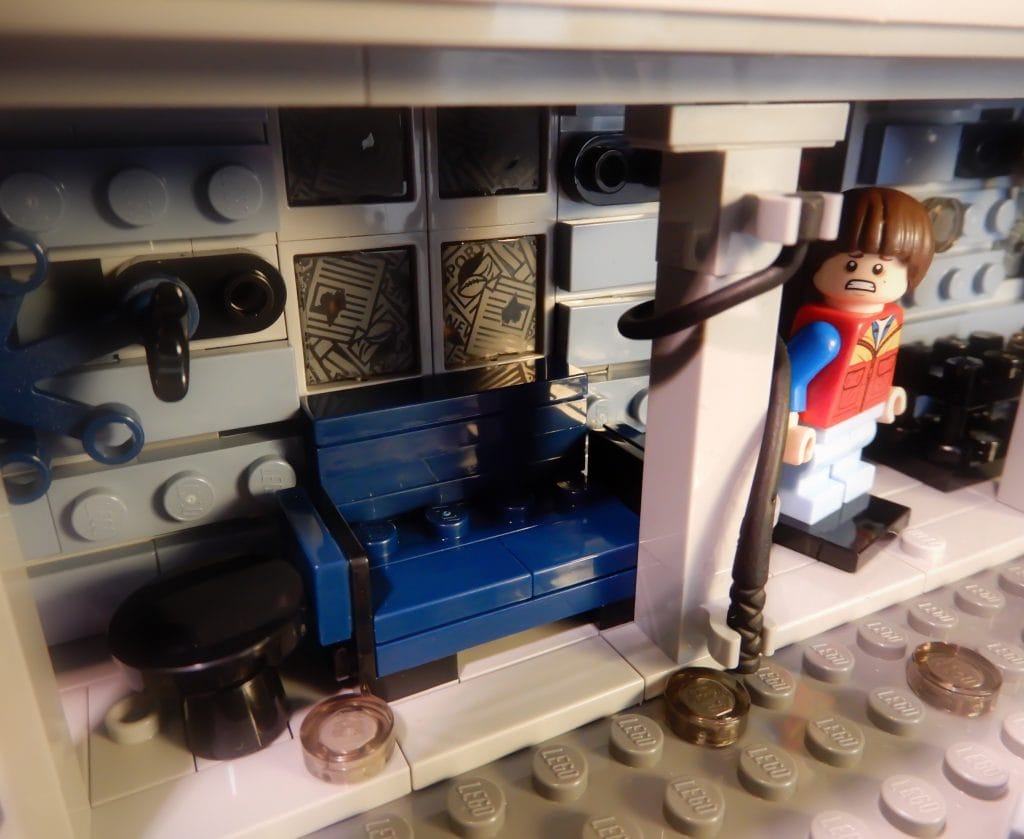 All In All
I think this is a very unique set because I love the idea of two houses in two different settings connected to each other, standing on the trees. It´s just such a clever idea! You can create another world simply by turning the build upside down. Dustin´s hairpiece and his shirt totally rock!
The only downside (!) to me is a missing short hair wig for Eleven- and a missing alternate face with a bleeding nose…
In my opinion this set is fantastic. It was great fun to build and shoot. Thank you to The LEGO Group for providing this set for reviewing.