I'm almost ashamed that a few weeks ago I wrote about how I was tired of pop culture. Yet I have to admit that I've been pretty excited just thinking about the upcoming Disney movie releases. The live action version of Aladdin, the remake of the Lion King, Toy Story 4 and Frozen 2.
I'm a huge Disney fan. Needless to say that for me, Disney nostalgia goes hand in hand with toy photography. I grew up in the 90s and the Disney animation movies from the second Disney golden age had a strong influence on me.
After the first Disney CMF series, I thought we would soon get a second one… But it didn't happen. When the new series was announced, I was truly thrilled. And excited when I saw that some of my favorite characters were part of the series.
But before writing about those characters, I have to finish a work in progress project that was started in December.
Reviewing sets
At the end of last year, Boris asked me if there was a big set I wanted to review for the blog. I wasn't really sure what to answer.
With the exceptions of the Collectible Minifigure Series, I usually prefer to review sets that I've bought myself. It gives me 100% freedom. I don't feel pressure to take photos. If I can't come up with photos that I judge good enough, it's fine and won't review it.
When I write a review of a set it's because it inspires me to take pictures so much that I have to write about it. But with a set that is given to me, there is a pressure to perform. If I get it for free, I need to come up with pictures. And I don't want to just write a review that you could read on Brickset or Brothers Bricks. I want to show and tell what inspires me to take photos. If inspiration is not there, I can't do it.
Last year, after our weekend in Paris, I gave up on the idea of buying the Disney Castle. However, thinking about large LEGO sets I don't own yet, it was the only one I could foresee any photographic interest. If I had bought it, I would just have kept it at home and I wouldn't take any photo of it. But getting it for review meant I had to photograph it.
But I didn't want to take some detail shots of the Castle, or take some photos of minifigs of the inside of the castle. I wanted to take photos of the Castle in its entirety… Outside!
For over a year, I've been forcing myself to photograph large LEGO sets outside. As the second tallest LEGO set, the Disney Castle would be the Ultimate challenge.
Pre-visualizing the photo
Most of my photos are improvised. I go out with toys, and let myself be inspired by them, the light and the outdoor environment. However here, taking a decision about a set I would have to photograph and review meant I had to have some idea in advance. Choosing to review the Castle wasn't about deciding which set to get, but rather deciding what photos to make.
I would go out with it. Here, near home on the lake that serves as my "winter outdoor studio". Take a photo of the castle lying on the snow in front of the trees at sunrise or sunset. All inspired by the Disney Magic that nurtured my visual (and musical) language ever since I've been a young child.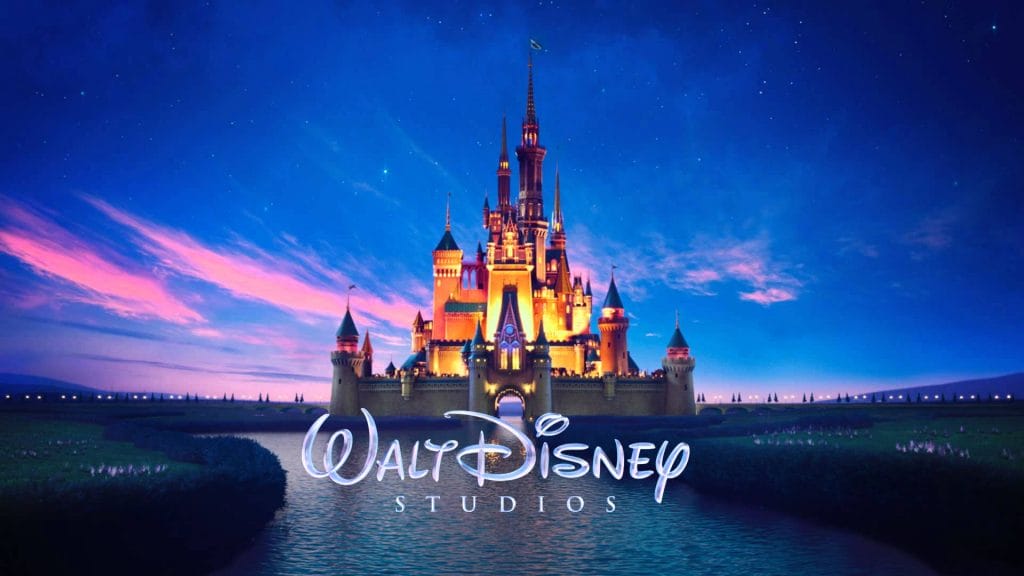 The photographic challenges
Photographing the Disney Castle as the main subject of a photo and not as a backdrop for minifigs comes with several challenges. This will be the subject of another dedicated post, but the two most obvious are transports and composition.
The Castle is big and tall. With 74 cm tall, it is the second tallest LEGO set, only surpassed by Saturn V. Its base is also wide, 48cm. It can be disassembled in three parts which simplifies transport. But still, I couldn't find a box big enough to perfectly fit the base.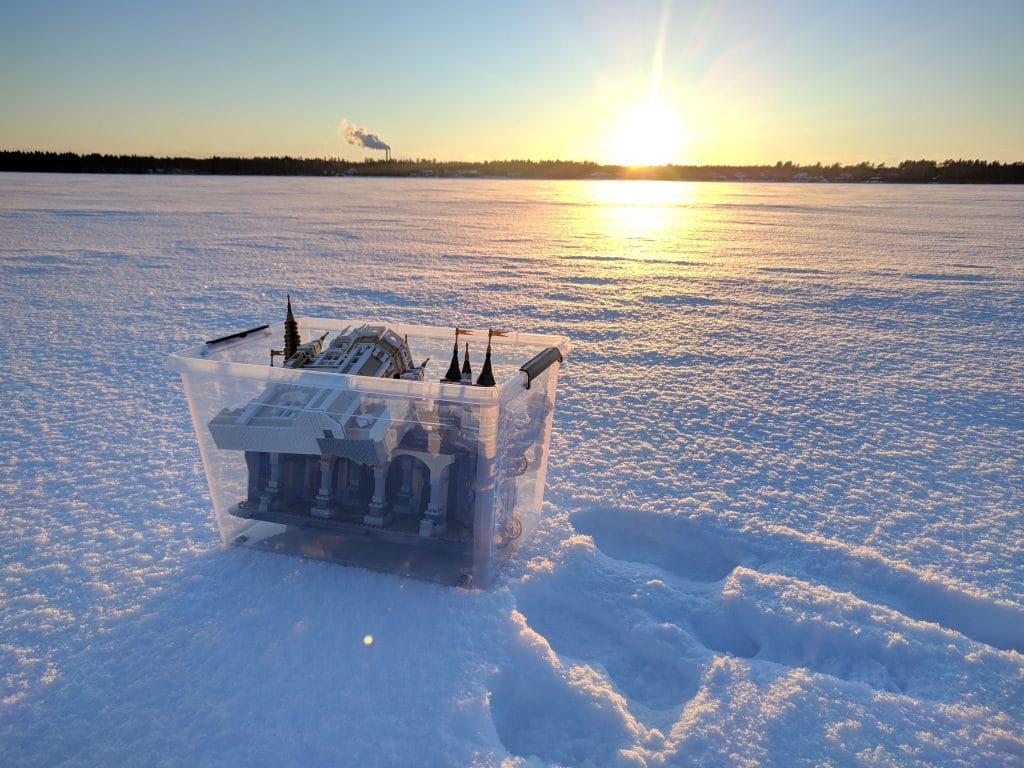 Besides its size, the other difficulty is composition. The Castle is open on the back for playability. It's great for taking photos of the inside. But it means that taking photos of the Castle itself is limited to the front.
Photo composition
In the end, taking the photo of the Castle outside was in many ways more similar to traditional landscape photography than toy photography. And on a lake with a completely flat landscape, there aren't a lot of compositions.
My main composition tool ended up being sunlight.
The sun as a keylight
This is a composition I actually didn't use a lot. Somehow it seemed too simple and I know the result isn't what I'm looking for. But the idea would have been to have the sun behind me and shine directly on the Castle.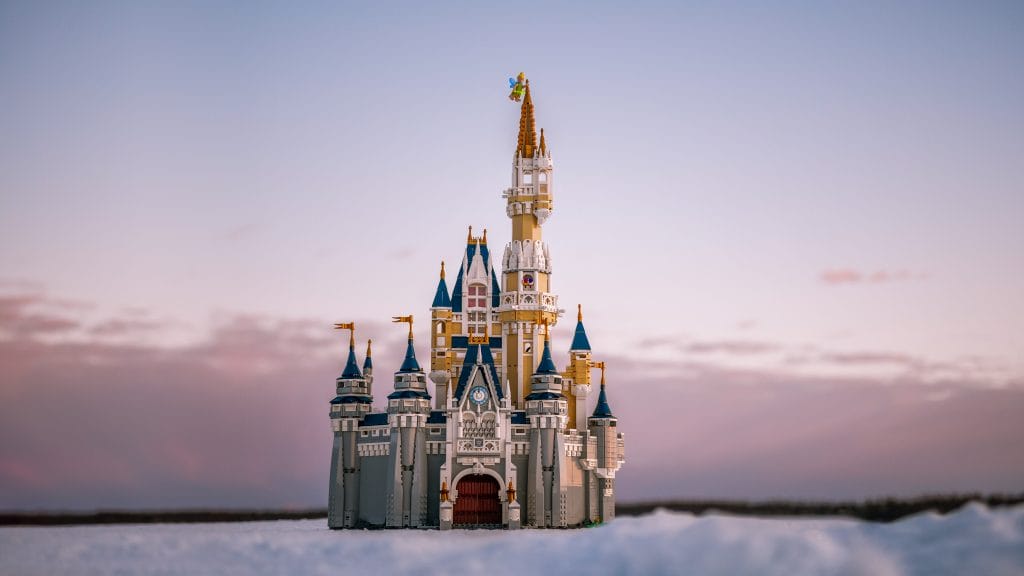 The sun as a backlight
I love pointing my camera against the sun. It's the composition I tried. And the one I spent the most time playing with. I can position the sun on the side of the castle, either next to it or out of the frame. I can also place the Castle in front of the sun.
Every photo taken can be different and time is important as the sun moves.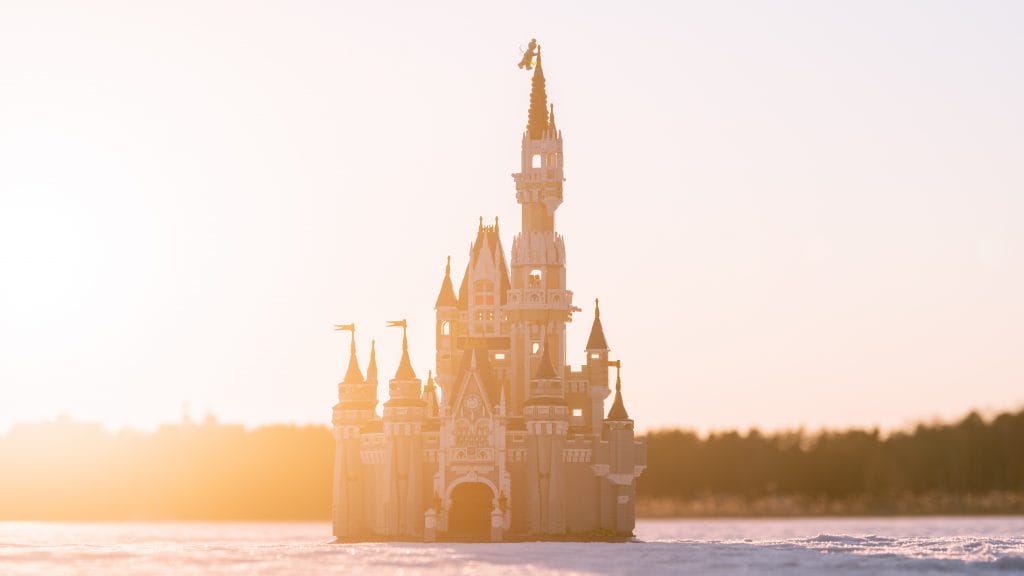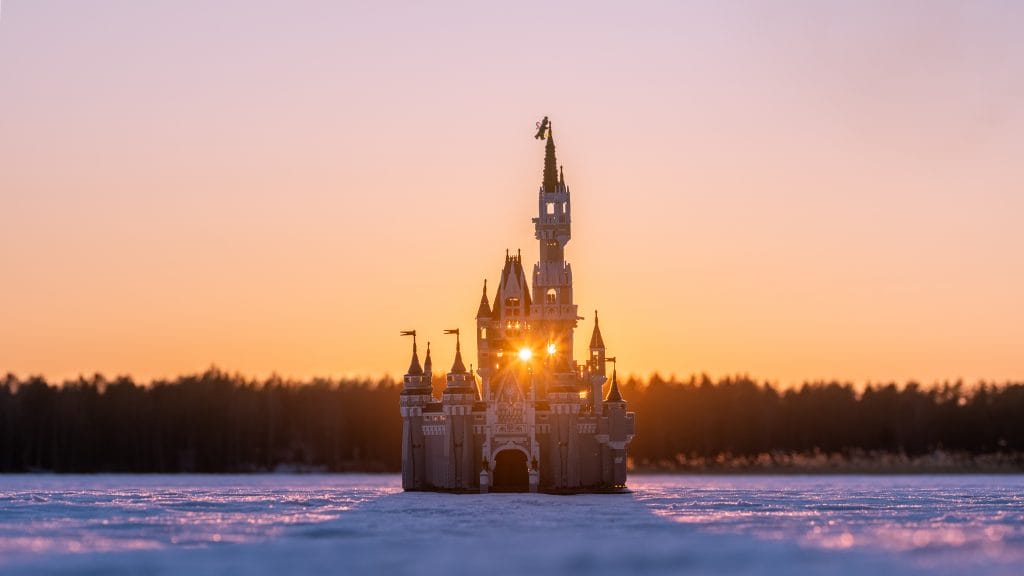 Twilight
Eventually, the sun goes down below the horizon, but it's not over. Using the sun as a backlight gives a very warm light. What I love about the twilight in winter is the beautiful pinkish-purple colors on the snow and in the sky, and the very soft light. There isn't much change here with time, it just gets darker. But the colors are some of the prettiest in nature.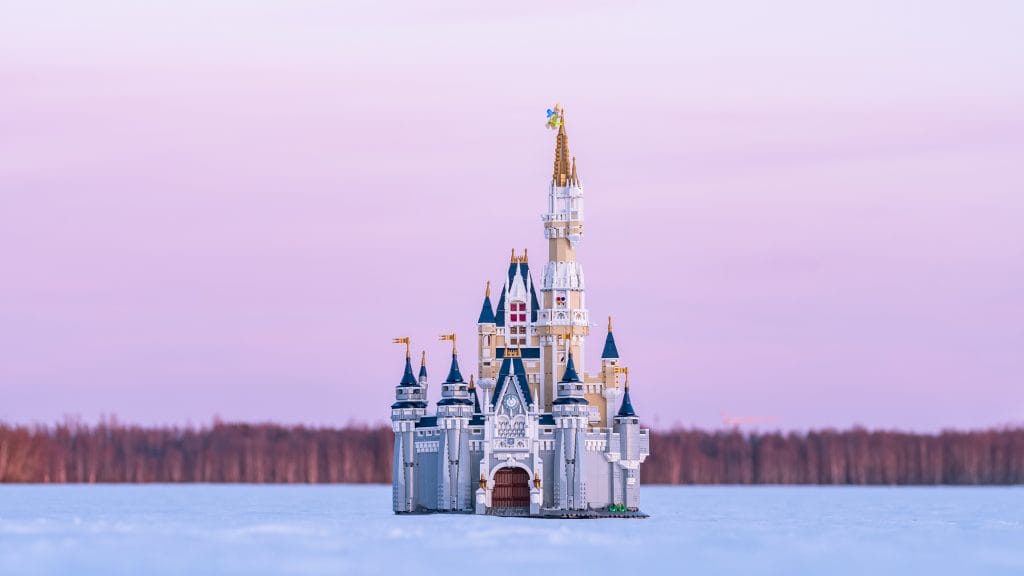 Towards more photos?
So far, I don't have any plan for more photos of the Castle. Taking it out is challenging because of transport. Moreover, I feel like I've exhausted the photos I can take here. But I have hope that eventually there will be more. I have images that haunt my mind and need to eventually become real.
It's actually while travelling in Southern Germany that I took my first photos with a DSLR which led to buy one for myself and eventually photograph toys. One of my very first photographic subjects was Neuschwanstein Castle, the one that was used as inspiration for the Sleeping Beauty and Cinderellas castles.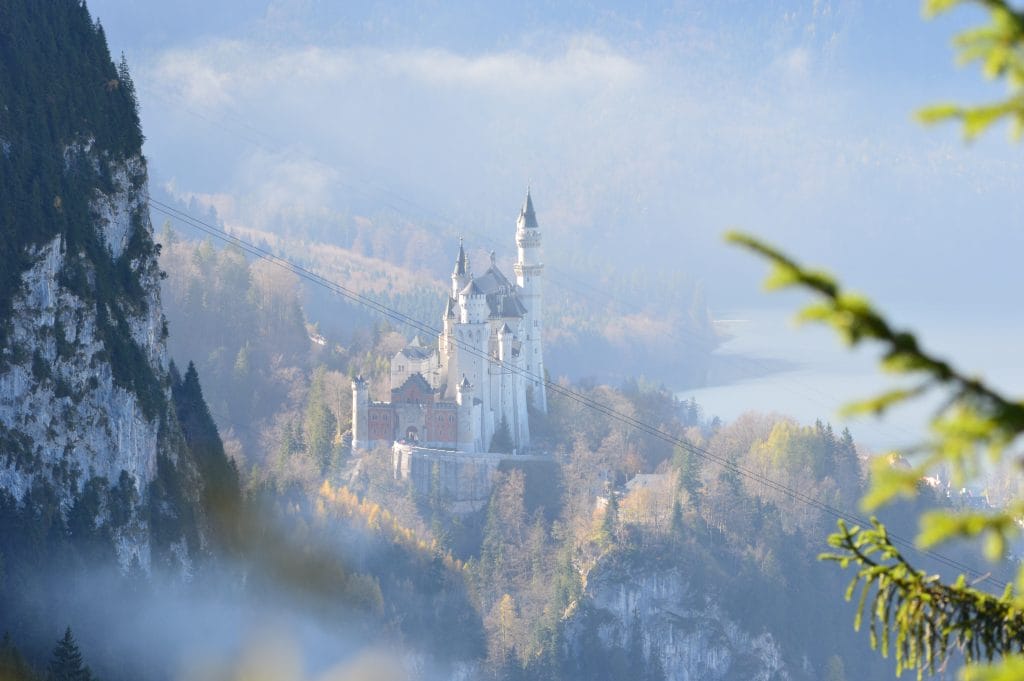 The idea of a castle stuck between mountains is constantly on my mind. Taking such a photo with the Disney Castle feels like the Circle would be complete. Unfortunately, this won't happen in Oulu, one of the flattest cities of Finland.
Another image that haunts my mind is the one of Elsa's Ice Castle in Frozen… But this is the topic of another post.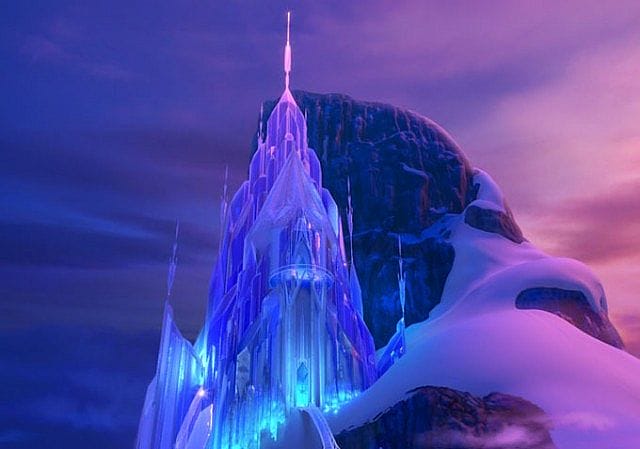 Sharing the Adventures in The North of my Plastic Friends.