Mickey Mouse is the mascot of The Walt Disney Company. He was created in 1928. Almost after a century, he's still a popular culture icon all over the world.
I only hope that we never lose sight of one thing – it was all started by a mouse .

Walter Elias Disney
Ideas set and minifig comparison.
LEGO released an Ideas set depicting the short movie Steamboat Wilie, using a monochromatic colour scheme (certainly not so common). It contains a boat and the minifigs of Mickey and Minnie Mouse. Those two minifigs also appear in the new Collectible Disney series with some minor changes. They only lack a few silver highlights. Mickey's and Minnie's torso are solid black and they don't wear white gloves and they have hats. Mickey carries a light bluish grey ship's wheel while Minnie comes with a white life ring.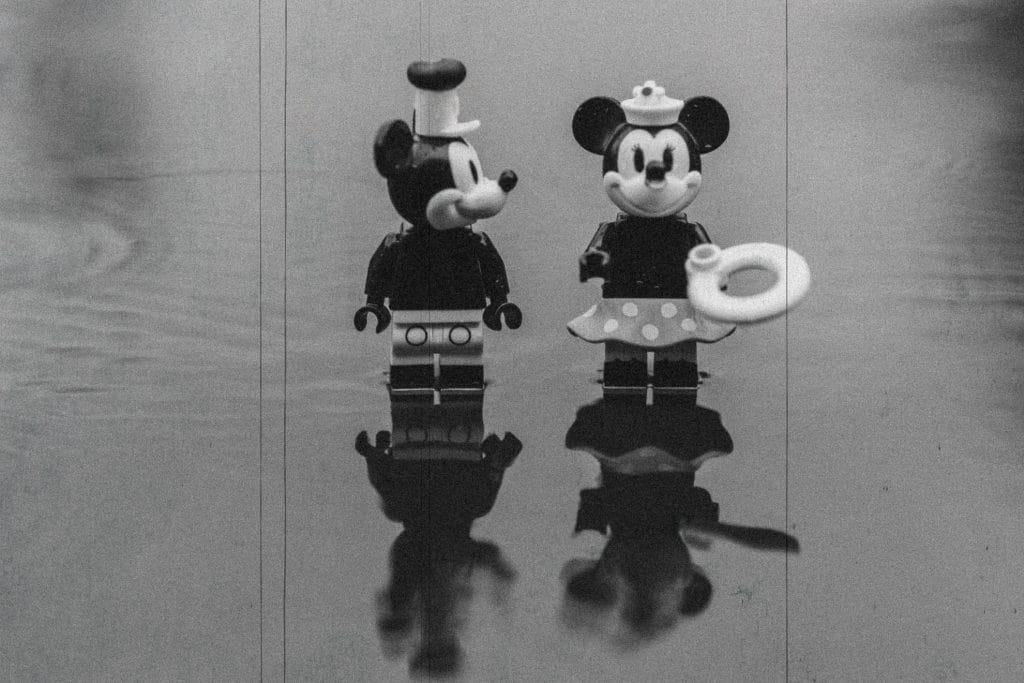 In search for inspiration.
The first time I discovered those two new characters, they become a challenge, because toy photography and LEGO are a colourful world for me: so how could I portrait them? How could I build a story with them?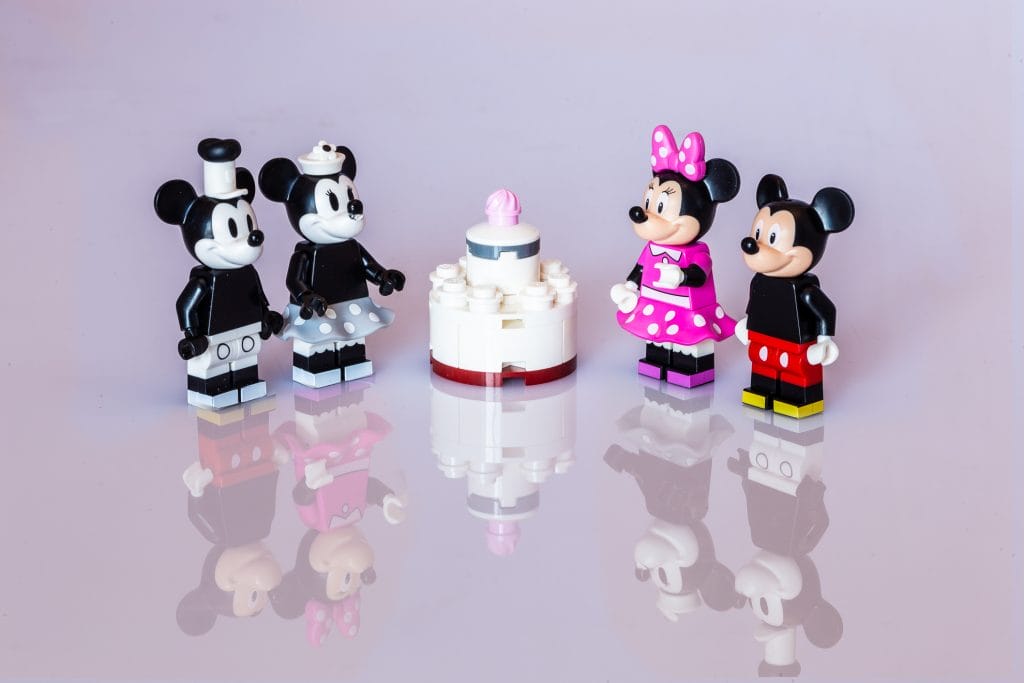 I started to read about early Disney's short movies and imagine to shot some behind the scenes pictures.
The photo shoot.
Mickey was first seen in a test screening of the cartoon short Plane Crazy, on May 15, 1928. He was trying to fly an airplane to imitate Charles Lindbergh, and he asks a young mouse girl, Minnie, to join him for his first flight.
Steamboat Willie was first released on November 18, 1928, and is notable for being the first Disney cartoon with synchronized sound, including character sounds and a musical score.
In Mickey's early films he was often characterized not as a hero, but as an ineffective suitor to Minnie Mouse, as we see in The Barn Dance (March 14, 1929).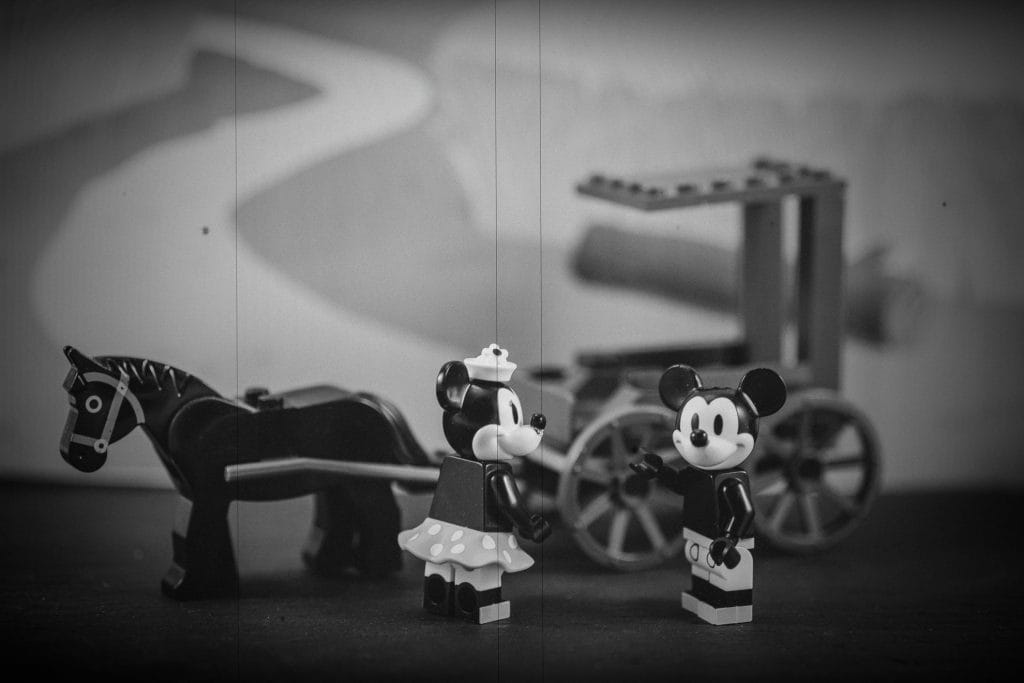 The Opry House (March 28, 1929) was the fifth short to be released, and it's the first time in which Mickey wore his white gloves. Mickey wears them in almost all of his subsequent appearances and many other characters followed suit.
The Karnival Kid (1929) was the first time Mickey spoke. Before this, he had only whistled, laughed, and grunted. His first words were "Hot dogs! Hot dogs!"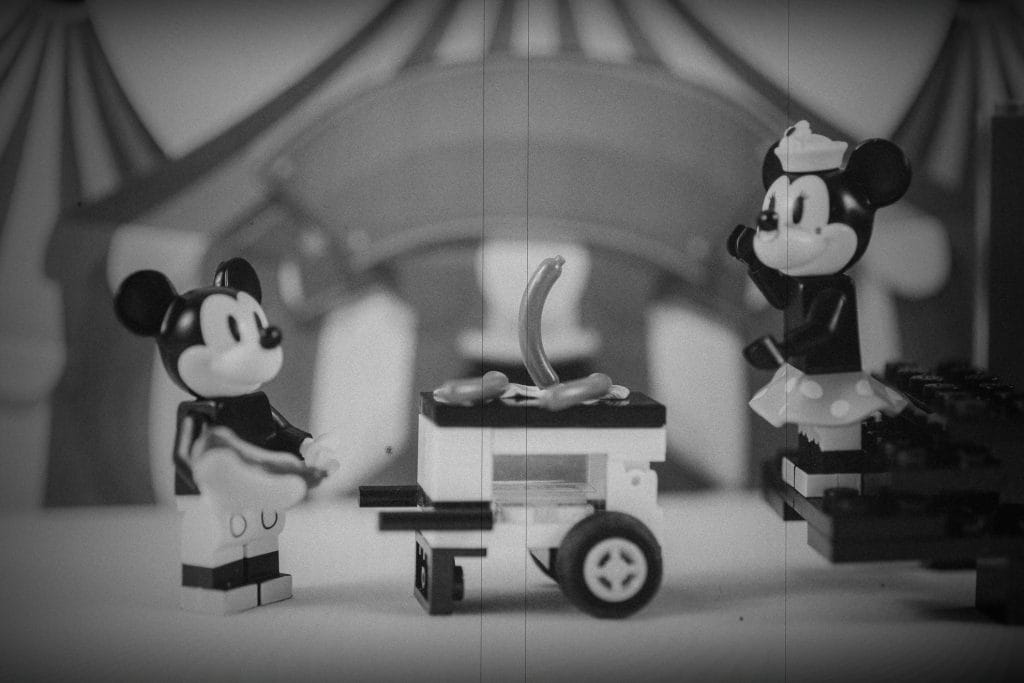 The Haunted House is a 1929 short film and Mickey's first cartoon with a horror theme and led the way to later films such as The Gorilla Mystery (1930), The Mad Doctor (1933), Lonesome Ghosts (1937). On a dark and stormy night, Mickey Mouse takes shelter in a house that he is passing and soon discovers that it is haunted: When Mickey enters the house, the door locks itself!