Annie Leibovitz is an American photographer, most well known for photographing John Lennon on the day of he died.
She made her debuts as the chief photographer of Rolling Stone magazine, her career led her to take photos of celebrities for the cover of magazines like Vogue and Vanity Fair. From touring with the Rolling Stones (the band this time) in the 1970s, to the controversial photo of Miley Cyrus in 2012, without forgetting the iconic photo of John Lennon naked next to Yoko Ono, taken a few hours before being murdered.
Annie's style
In the spirit of Steal like an Artist, I tried to look around what defines Annie Leibovitz' photographic style. One key feature of her studio portraits is the heavy usage of very soft light and Rembrandt lighting by placing a big light source close to her subject.
If you want to learn more about technicalities regarding her style, there are many people who talked about it online (way better than I could ever do). For example, there's an article on Fstoppers, a three-part blog series (1, 2 and 3) and several Youtube videos.
Rembrandt lighting with LEGO
Imitating Annie Leibovitz with toys, and in particular with LEGO, is not so easy.
Plastic doesn't reflect light the way human skin does. Moreover, a LEGO Minifigure (or Minidoll) is relatively flat and smooth. There aren't much of facial features (like a nose) to create interesting shadows. And plastic is subject to create disgraceful reflections. This is a problem the creators of the LEGO Movie ran into.
(And while Minidolls are made of a less shiny plastic than Minifigs and have more facial features, I still occasionally run into the same problems.)
Although I find the type of atmosphere found in many of Annie's work truly inspiring, it's not something I've ever desired to include in my own photography. Maybe this week could be the opportunity for me to experiment with Rembrandt lighting with Minidolls?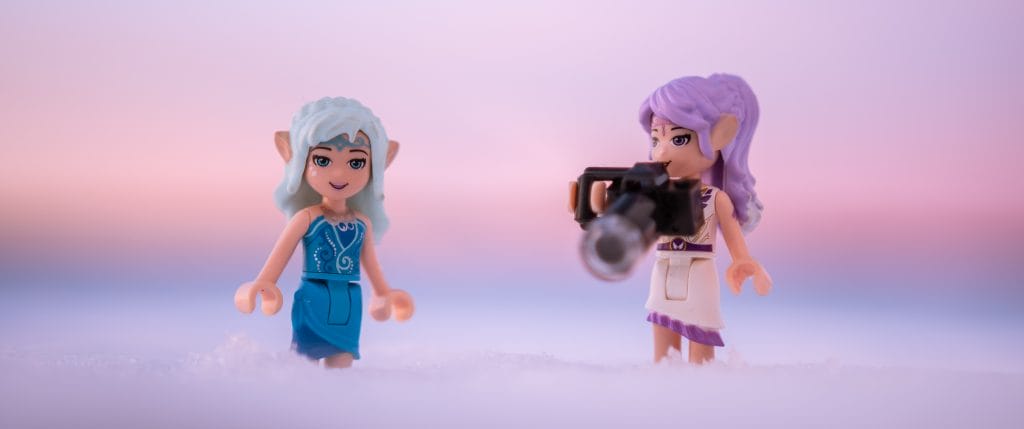 Have you ever tried to imitate studio portrait lighting techniques, like Rembrandt lighting, with toys? If so, do you have tips to create interesting shadows and cope with disgraceful reflections on Minifigs heads?
Sharing the Adventures in The North of my Plastic Friends.