This blog post is part of a series about the new LEGO Movie 2 Collectible Minifigures Series. Thanks to the folks from LEGO for providing us a box of Minifigures that we sent to 9 creative toy photographers to review for the blog.
I was so happy when I found out that I would get to review some of the minifigures from the new LEGO Movie 2 Collectible Minifigure Series! I was secretly hoping that I would be able to get the tin man, but to my surprise not only was I sent the tin man, I was sent all four of the Wizard of Oz minifigures.
I remember as a kid being petrified watching the Wizard of Oz. That wicked witch really got to me! However, as an adult, I have really grown to enjoy the movie. I marvel at the effects that they use in it. They had no computers. No green screens. No Industrial Light and Magic. Yet they executed some amazing things given the time period. Then I think of today and how much technology we have literally at our fingertips. We have smartphones and apps that can do amazing things.
A couple apps that I have been incorporating into my toy photography lately are Werble and Pixeloop. With a few taps you can create some really fun affects like this.
I'll touch on these apps and how to create these fun effects at the bottom of this post, but for now, let's get into my review of the minifigures. I love what I have seen so far of this new wave of collectible minifigures, but I think these Wizard of Oz characters might be my favorite.
The Figures
There were a few small surprises or new things that I noticed as I opened these figures. LEGO has made some changes from previous sets in a few small ways.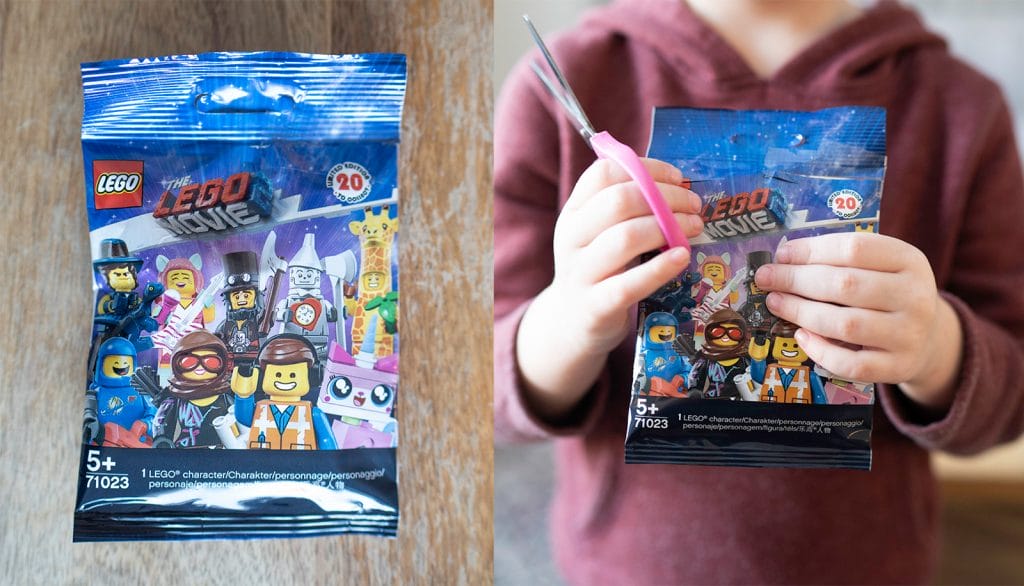 The packaging is slightly different. Honestly it feels a little cheaper, but it's not at all disappointing.
Inside the bags the figures are actually in another small poly bag. Don't worry it was still pretty easy to feel for certain pieces.
Each minifigure in this series comes with a white baseplate instead of black or series 18 orange. Some people seem upset they changed this, but I could really care less.
The sheet of paper that comes with it displaying all the minifigures in the series is slightly larger than before, but also folded smaller than before and now taped together.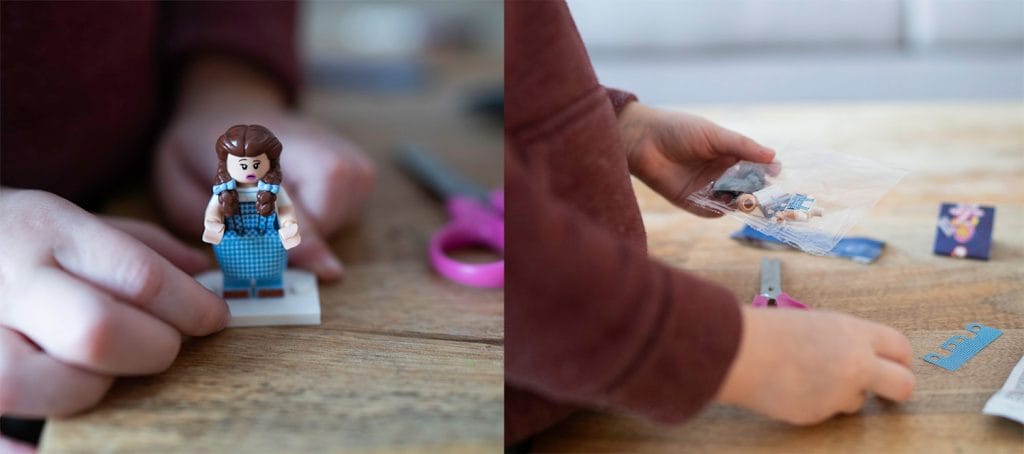 I asked my kids what were their favorites were and their initial reactions upon opening them. Here is what they had to say.
My 9-year old daughter – "I love the lion the most because his head and mane look awesome and he comes with a medal!" I would agree with her. They did an amazing job on the mane mold. The textures look great and it really does personify the Cowardly Lion well.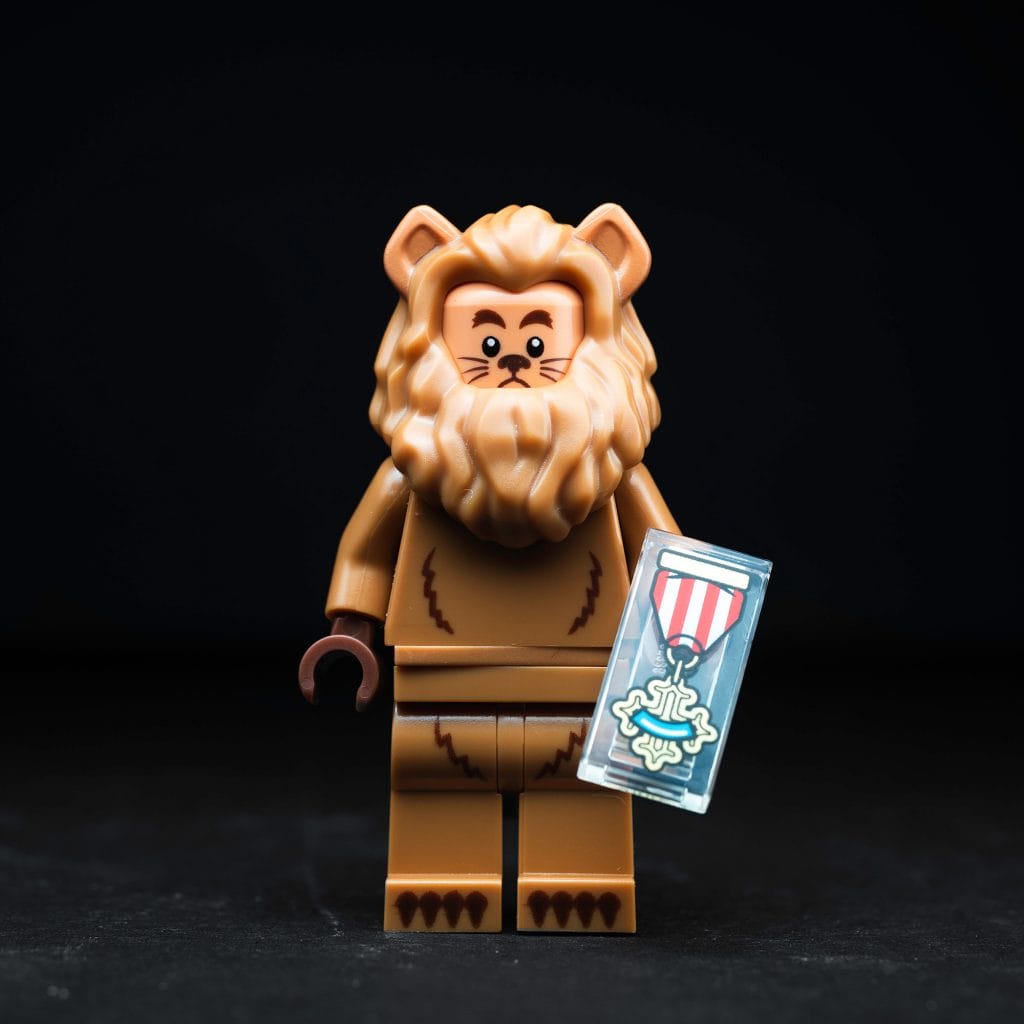 2. My 6-year old daughter – "Oh my goodness dad, that dog is so so so cute!" She absolutely loved Toto which of course comes with Dorothy." I can't blame her it is one of my favorite lego dogs for sure and I think Dorothy looks amazing. Every detail down to the ruby slippers!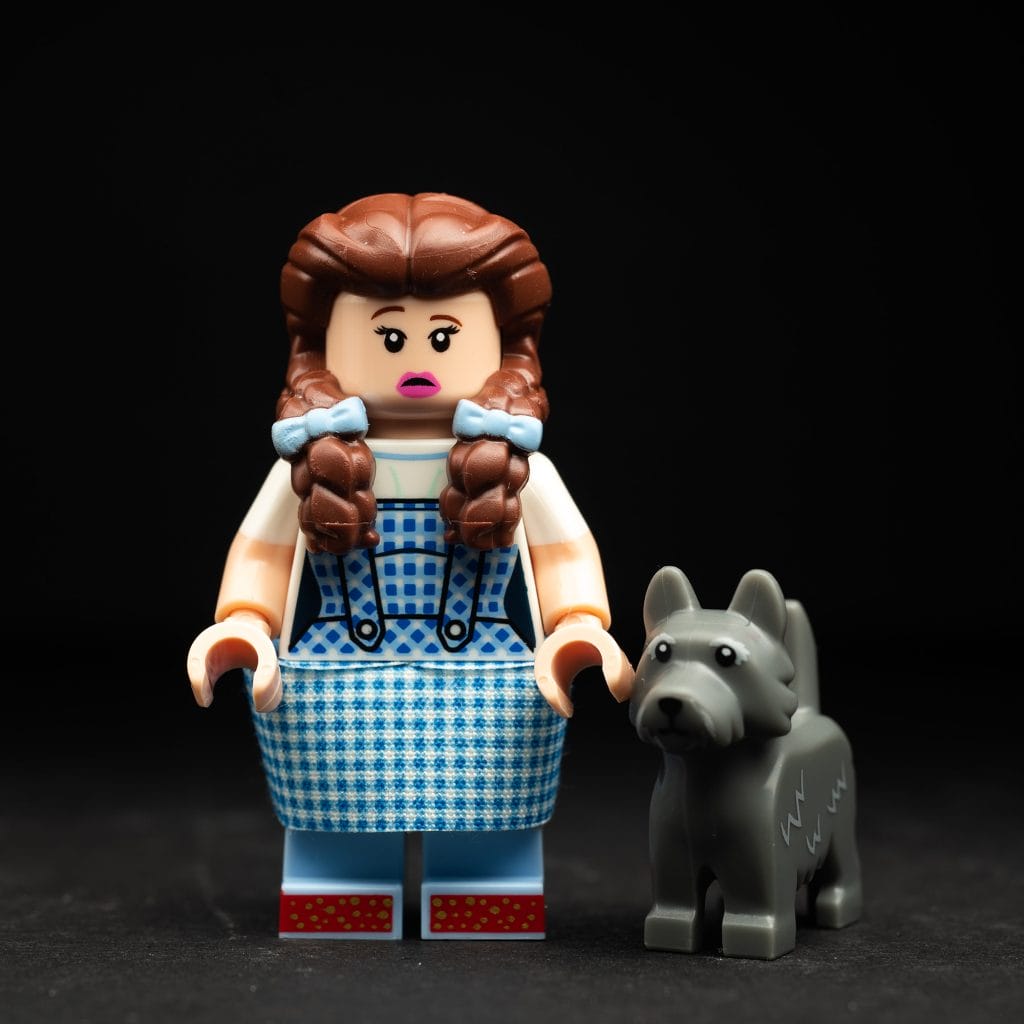 3. My 4-year old son – "I love the silver guy! That's a cool heart that comes with him." The Tin Man might be my favorite. The photos don't quite do justice to show the reflective paint that is used on certain parts of him. Also mine came with an extra heart clock and two extra silver bow ties. I love when you get extra accessories you can use elsewhere.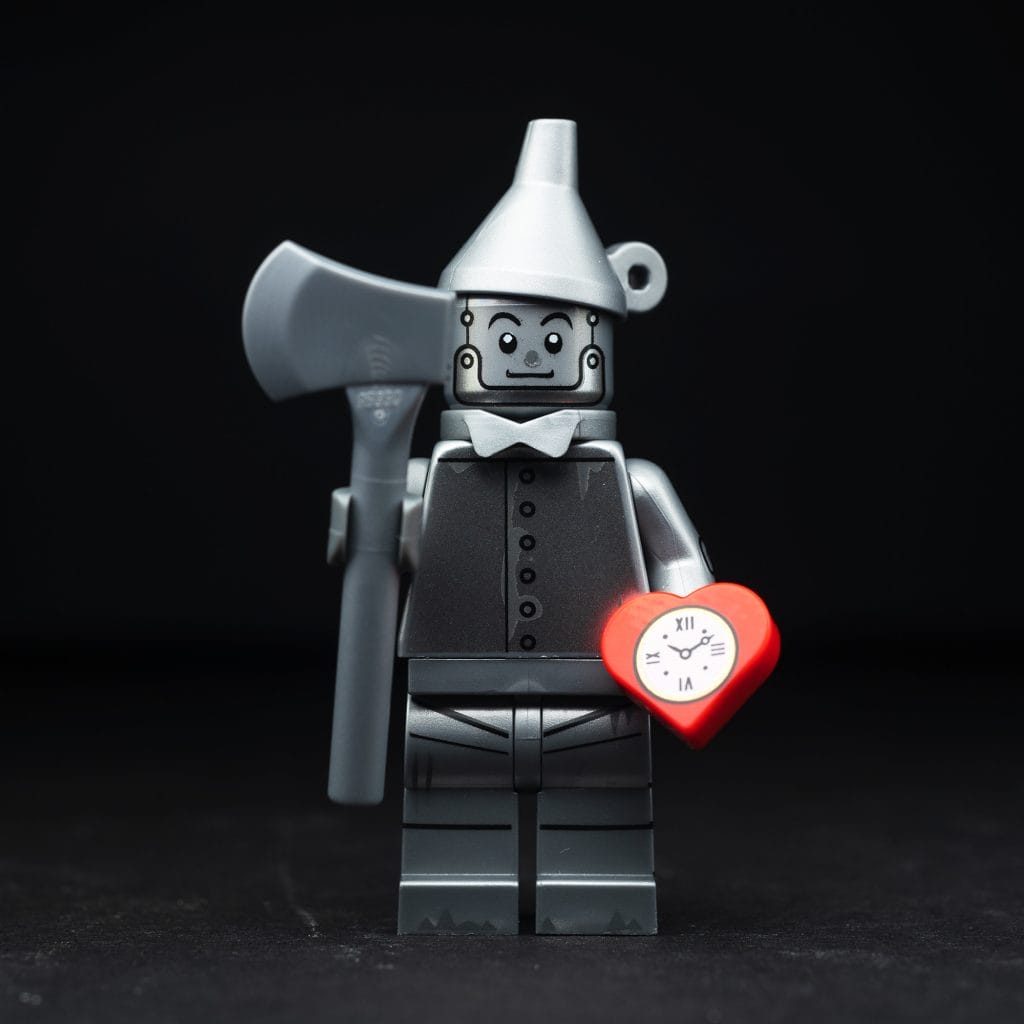 Last but not least is the scarecrow. Yet another amazing figure. The scarecrow may be my favorite character in the movie and his minifigure representation is right on! He has the most detailed printing of any of the characters from his hat to all the lines on his face to all the wear and tear on the legs and torso.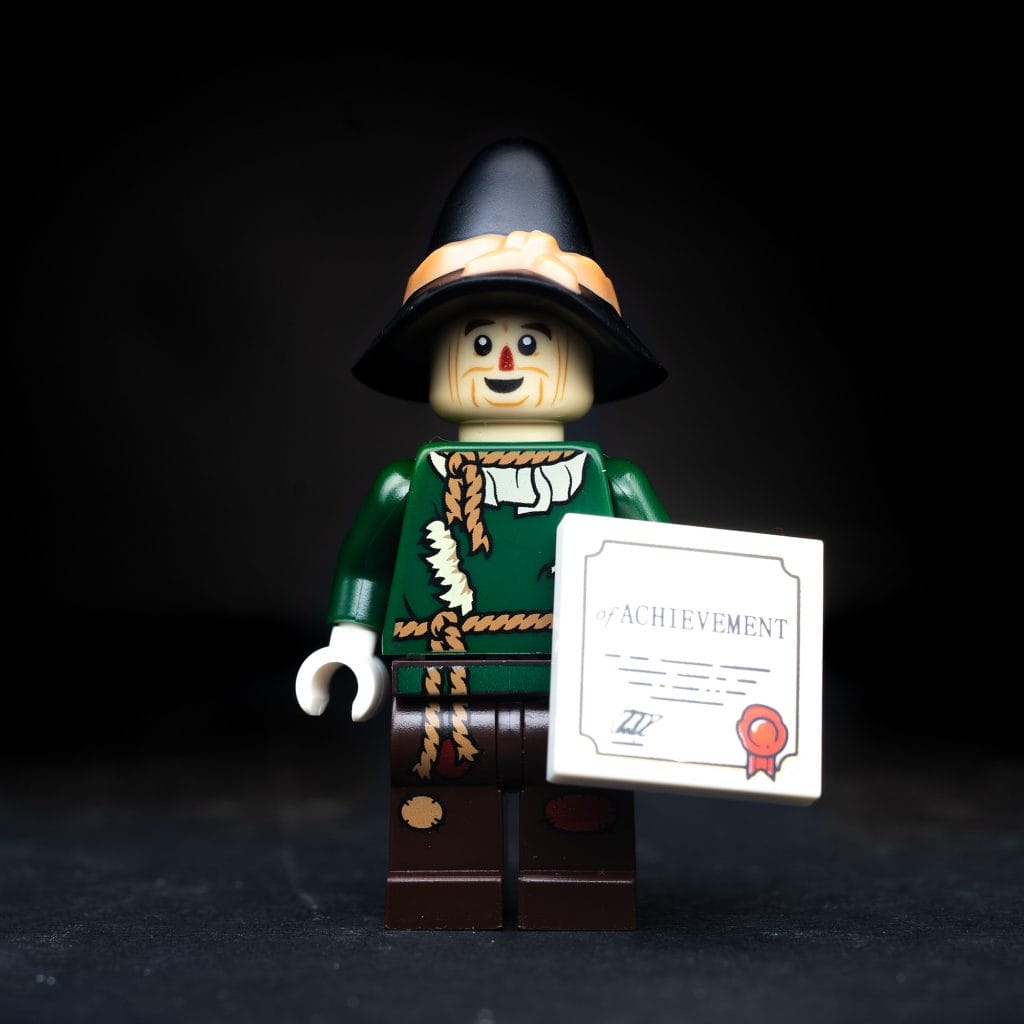 These minifigures definitely did not disappoint and I think any LEGO or Wizard of Oz collector should certainly add them to their collection.
Here is a final group photo of the gang.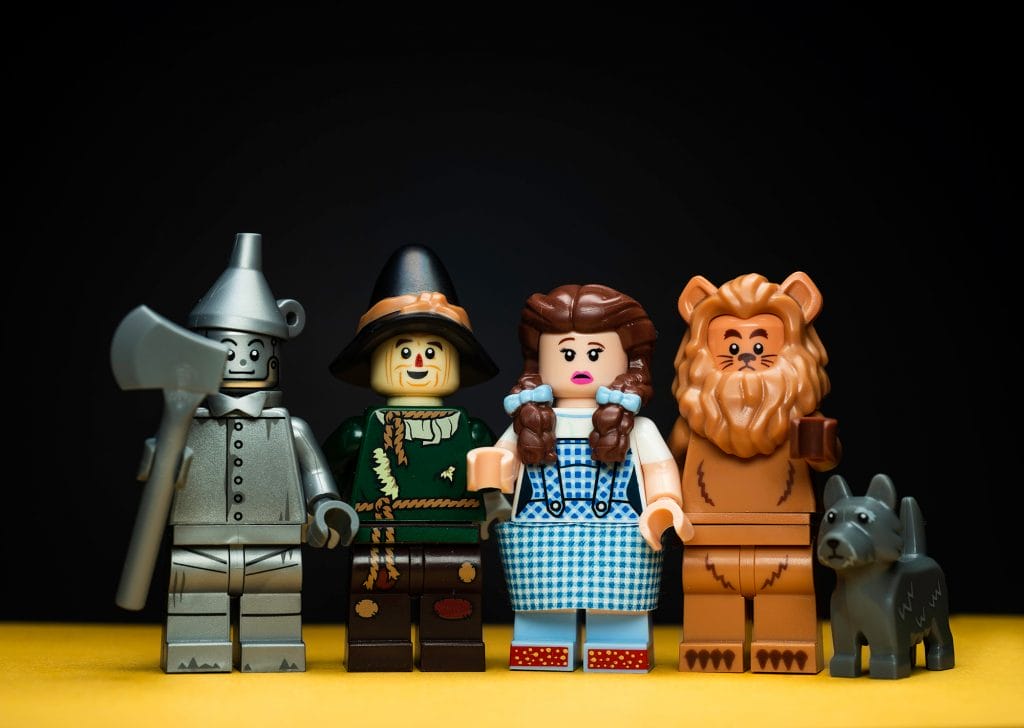 Apps for Special Effects
This is the photo I used for a few different animations using the Werble app. The first was the simple one at the top of this post with some smoke coming out of the Tin Man. I also put together a few more that are a little bit more extreme.
It's amazing to me that we've come from the days of no computers and special effects to having something so powerful in the palm of our hand! I think it's great when you can appreciate what they did back then, but also benefit from all the advances in technology and the resources we now have.
What technology, apps or resources have you all embraced with your toy photography? Sound off in the comments below…