The LEGO Movie Two Minifigure Series has arrived. Officially in stores as of February 1st. Yet the internet is buzzing with shops that have put them on shelves and so maybe you are one of the lucky ones that got their hands on the new crew already.
We got our review box from TLG on Friday, and we could not wait to unwrap it on IG and share a first impression with all of you. Now it is time to take a quick sneak peek inside the box, give our first impressions, while we wait for the nine creative reviewers to report back on their impressions.
The Packaging
First of all, LEGO changed the packaging. The aluminium bag is thinner (which should be a good thing for the environment) and feels cheaper. It is just a feeling, and we will soon forget how the previous bags felt, but still, the touch was slightly different. And so was the inside.
Six out of the twenty sets have a double bag inside (5, 7, 10, 15, 16 and 17) and while some folks mentioned this was to make the feeling more difficult, I doubt it. As an example, the very distinguished rocket like crayon of Minifigure number 5 is outside the bag. Some strange A/B testing of TLG. We will ask them for sure.
The paper inside.
We all have come to know the paper waste of the collectible minifigure paper inside the bags. This time the paper is thinner (good, as I anyway throw it away and there is a massive saving laying here), but they are taped together, which in a few cases ruined the paper when trying to open one. I am sure this will trigger some complaints with TLG in the not so distant future.
A peek inside
This is not the creative review. We shipped the bags to 9 different creative toy photographers, waiting what they come up with. This is a first impression in the Studio when unboxing the goodies.
Emmet it is.
Emmet is still our number one hero looking at the leaflet (it would have been cool if Wildstyle took number one) and he is still as happy as ever. He got a new headset, a mobile phone with "Everything is Awesome" playing and a white, nondescript coffee cup. To be honest, this felt boring. And while the dual side head makes for some interesting new faces, overall it is a slow start of the series in my book.
Wyldstyle
Wyldstyle is number two and her hoodie with inbuilt desert goggles starts pushing things up a notch. The interesting piece here for me was that the hoodie actually conceals the "thing in between the head" to keep the arrows in place. No bow, only binoculars inside the bag. Wildstyle is the first to feature a gloved hand and a natural (yellow) hand. While I have never been shy of replacing hands to match my photographic needs, it is very refreshing to see the different hands in this box.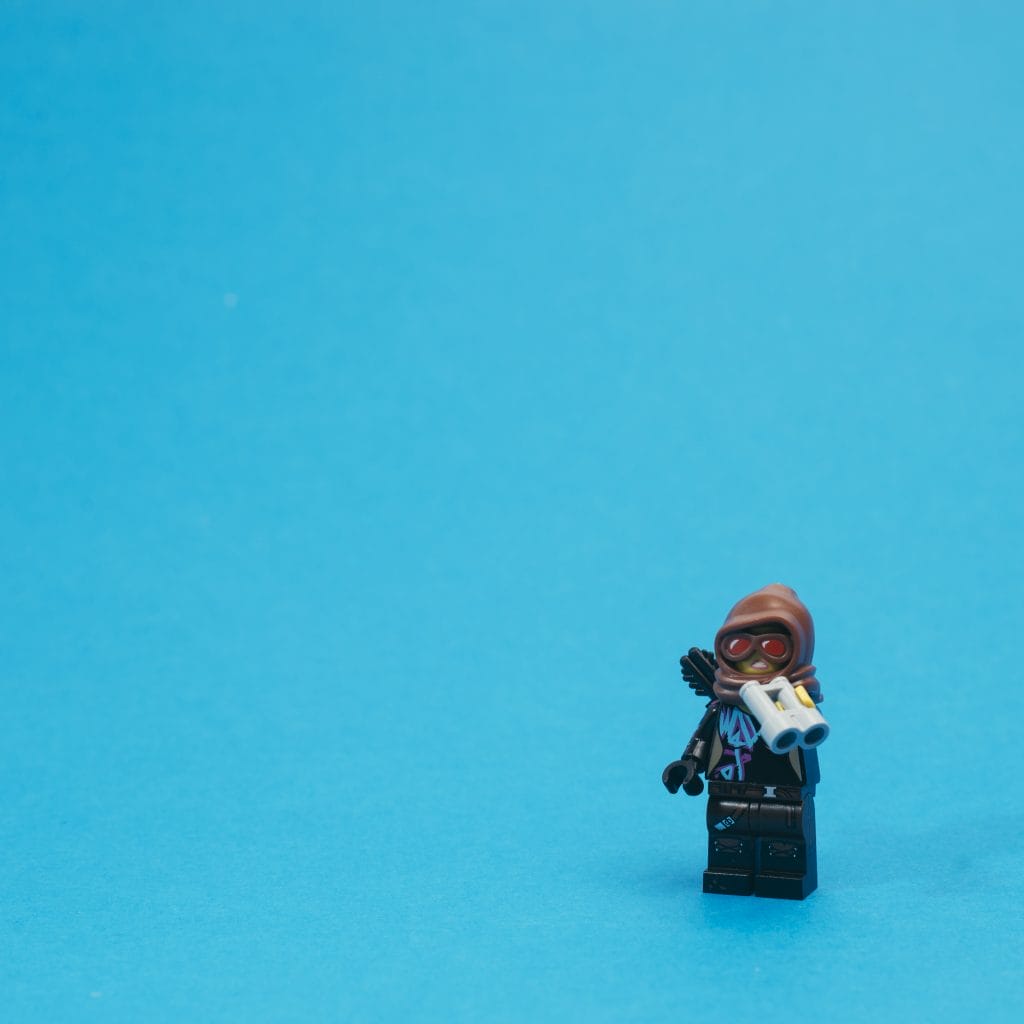 Wyldstyle's headset can be removed but there is no corresponding hairpiece in the same bag. During our little peek-a-boo shoot, Wyldstyle grabbed the hairpiece of "Everything is Awesome" minifigure nine, who could be Wyldstyle's sister (we did not see the Movie yet, and the hairpiece differs from the black that we knew from the first series and also being featured in the Apocalypse).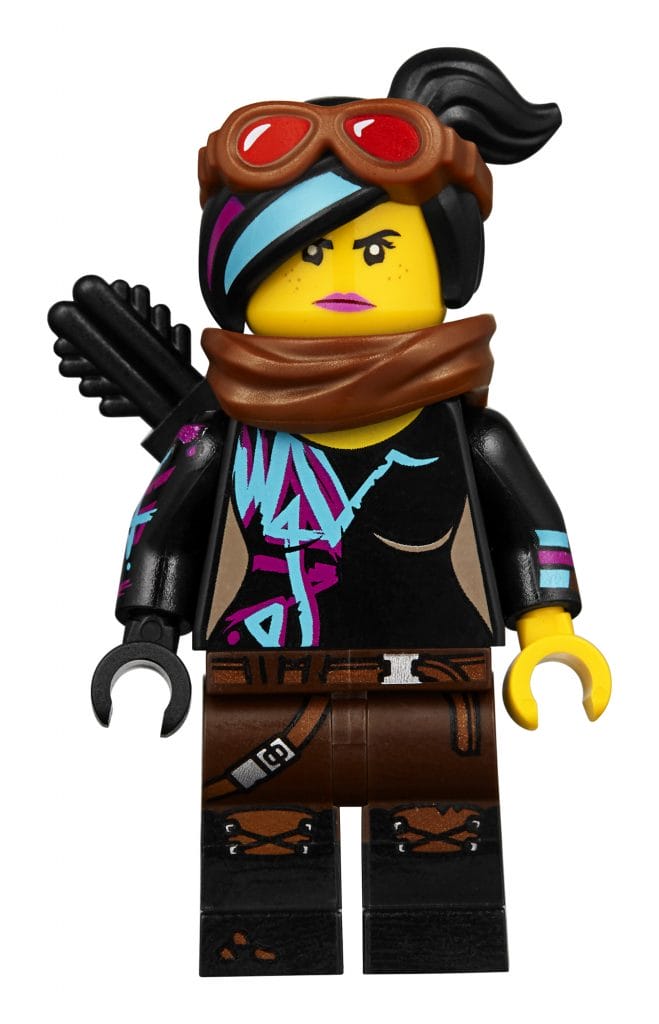 Benny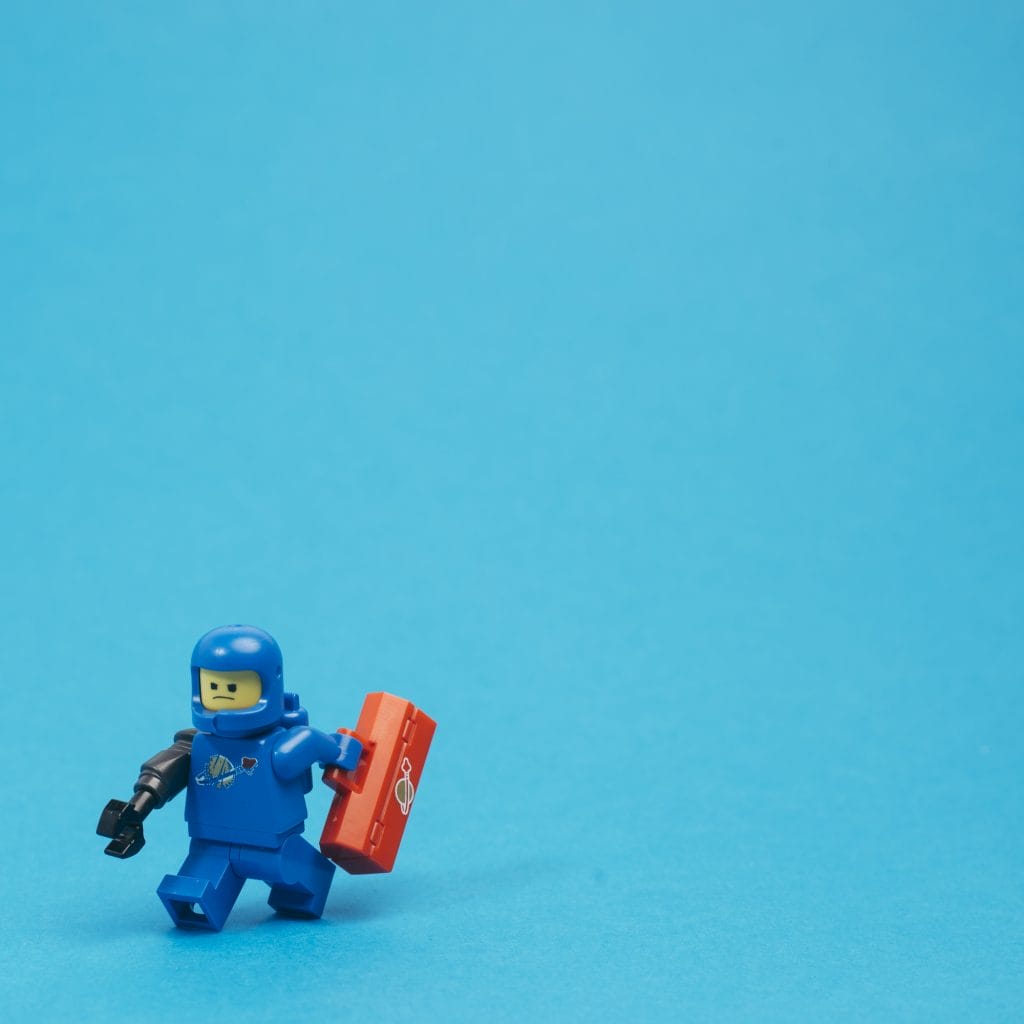 Somewhere along the journey, Benny is gonna lose his arm (and maybe get it back). Bag number three contains an angry Benny, and this is kind of an overarching theme in TLM2. A lot of the minifigures are "angry" or having an "angry" side to it. And yes, I know we are having an Apocalypse, and we are in some shape or form living in an apocalyptic world, but I as a concerned parent, I feel a little bit worried. My kids are starting to turn into AFOLs themselves so they are old enough, but there is a lot of anger in these faces. And that will turn into the play. For young kids. And I am slightly concerned.
Don't Worry
And just while I start to get worried, Crayon Girl, Giraffe Guy and Watermelon Dude turn the universe in a happy place.
Sherry
And then the anger is back. Sherry Scratchen only has one face, and she is angry. I love the cat. And I can't wait to find out what the world has done to Cat Lady Scratchen.
Everything is awesome
The bag contains four five rockstars. Flashback Lucy, or Lucy twin sister I would say, Candy Rapper (one of my favourites), Kitty Pop, Hula Lula and Unikitty.
And our little box contained four Flashback Lucy's while normally there is an even spread of three sets in one box. Now everything is awesome!
President Business Gone Golfing
Well. You cannot ignore the link to the real world apocalypse where presidents fight in the media about their golfing time. I love the prints on this one. But it is very close to real politic I would say.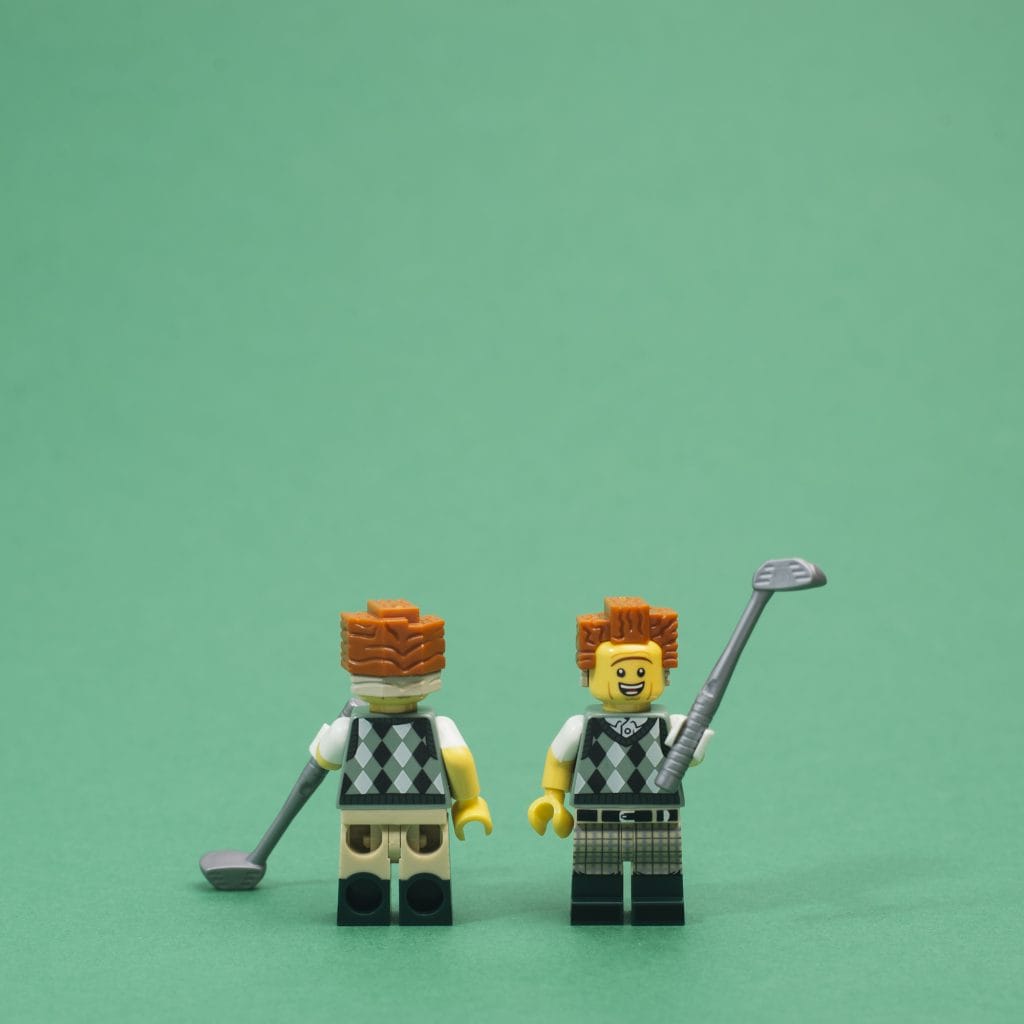 Draining the swamp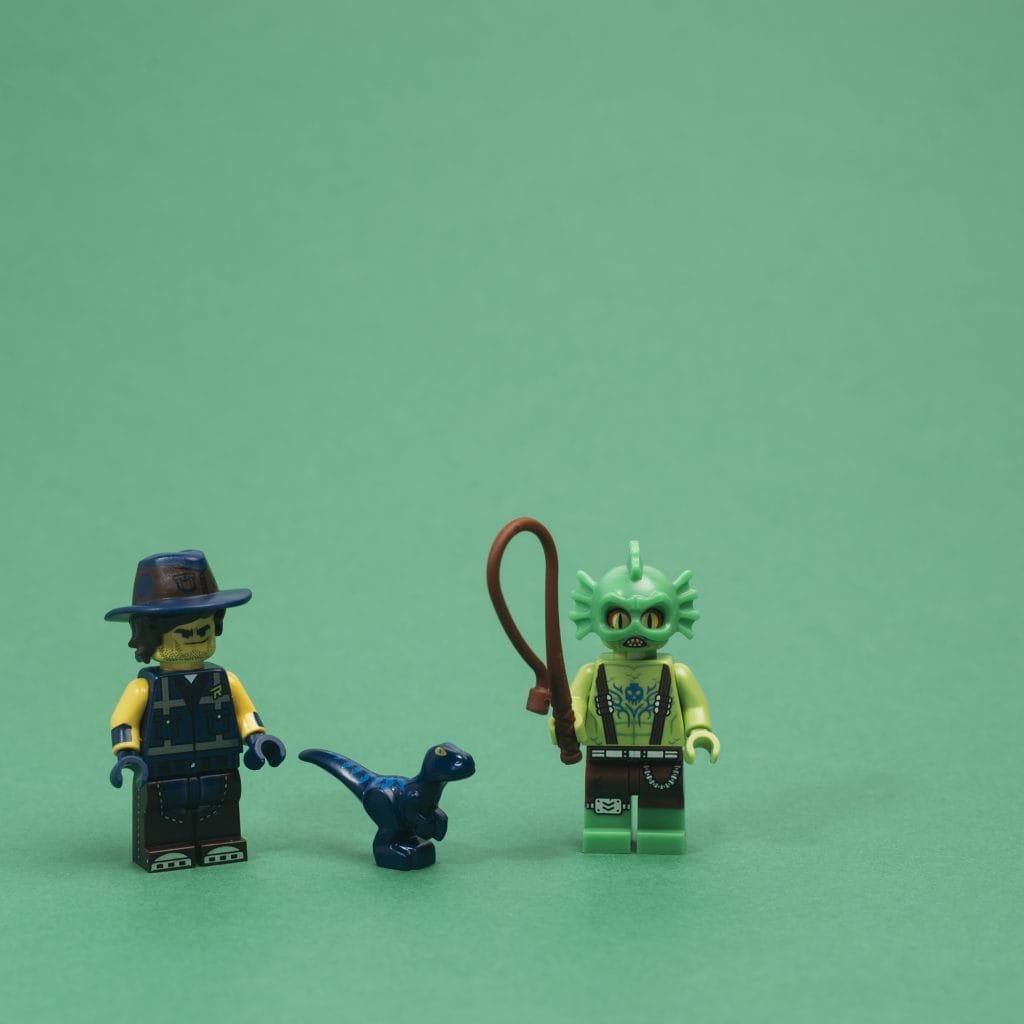 And then there is the Wizard of Oz.
This box contains an additional licensed set, and it is not Batman. The Wizard of Oz is making it's introduction and we can't wait to see how this plays out in The LEGO Movie Two.
The storyline of the Wizard of Oz is well known. A tornado rips through Kansas, Dorothy and her dog, Toto, are whisked away in their house to the magical land of Oz. They follow the Yellow Brick Road toward the Emerald City to meet the Wizard, and en route, they meet a Scarecrow that needs a brain, a Tin Man missing a heart, and a Cowardly Kitten who wants courage. The US Congress called it "America's greatest and best-loved homegrown fairytale" and I am very curious to see how this will play out in the Apocalypse.
A quick peek wrap up
A most interesting box. With lots of creative potential and I cannot wait to see what our creatives bring back to us. I also cannot wait to see the movie. A movie that seems to be promising a strong AFOL inner monologue. Not everything is awesome.