Now that we're reaching the end of Week 4 of SiPgoes53, we thought it was about time to create a gallery of photos from those who took part in SiPgoes52.
The main point of SiPgoes52 (and SiPgoes53) was not necessarily to make 52 photos but to find inspiration around a theme. We've asked people who shared a picture for at least 12 of the words to send us their personal favorite photo (or word) of SiPgoes52. The one that inspired them most. And to tell us why.
Interestingly, (almost) everyone chose a different word…
@ballou34 – Confidence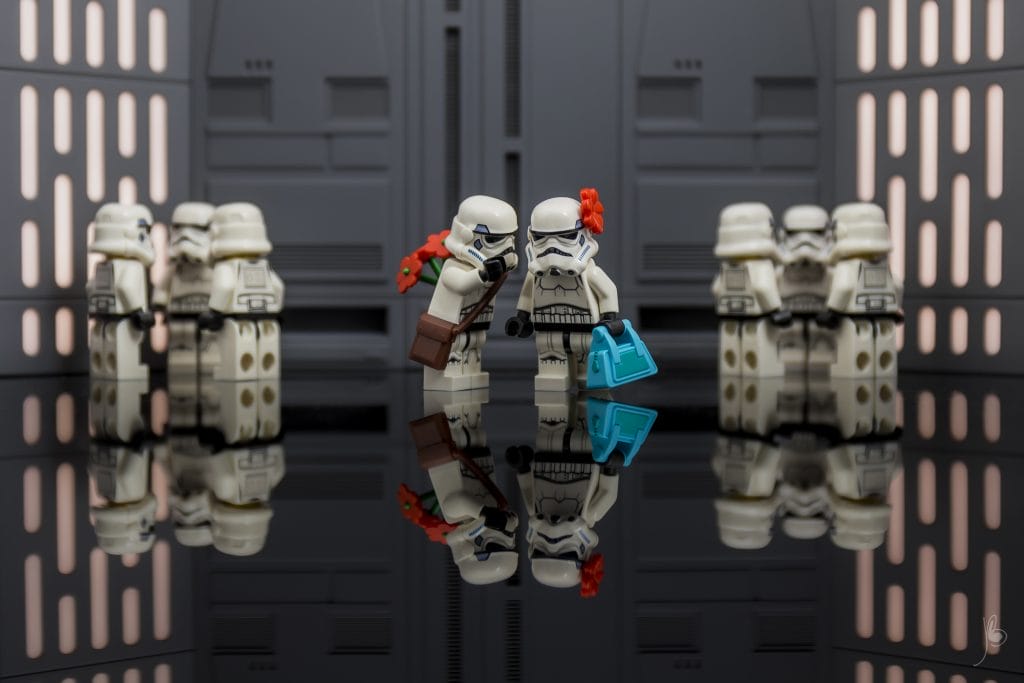 I really like this one because it was not my initial idea for the word. And it was at that time I decided to create some characters and develop their story all along the project.
Julien (AKA @ballou34)
@bevvypix – Family
I have to say when I started SiPgoes52, I was not sure if I would complete the challenge. The previous year, I completed a personal project of 365 and felt I may need a break. During that time, I started following the Stuck in Plastic group, why I had not followed them during my 365 I really do not know! I came across them whilst looking at images on Instagram. They released a list and I thought do I join in? But then week one arrived and I was buzzing with 'Creativity' and needing to join in. The response from week one was great and it spurred me onto week two where I figured 'I can' do this. Each week I looked forward to seeing everyone's interpretations of each value, which I have to say were great and I felt I was becoming part of something exciting.
The weeks went by and the values kept coming, some weeks harder than others. The challenge was certainly a challenge in itself, just how do you promote emotion in what is a plastic LEGO minifigure where only certain parts move and you have limited flexibility? I think I achieved what I intended by the end of the year. So after much thought, the word I chose is Family… Why? During the year I was asked to produce a write up that appeared on Stuck in Plastic's blog and I was asked some questions, one question was which value am I looking forward to the most? My reply was Family, not because it was the final word to complete sipgoes52 but because I have my own family whom I love dearly, so I created Family-ties and titled the image as Family, the word I looked forward to the most where love never ends and your life becomes a reflection of your future!
My idea now is to use them as a teaching tool to the young children whom I teach photography to. What a better teaching aid than LEGO?
@blueberryhillsforever – Confidence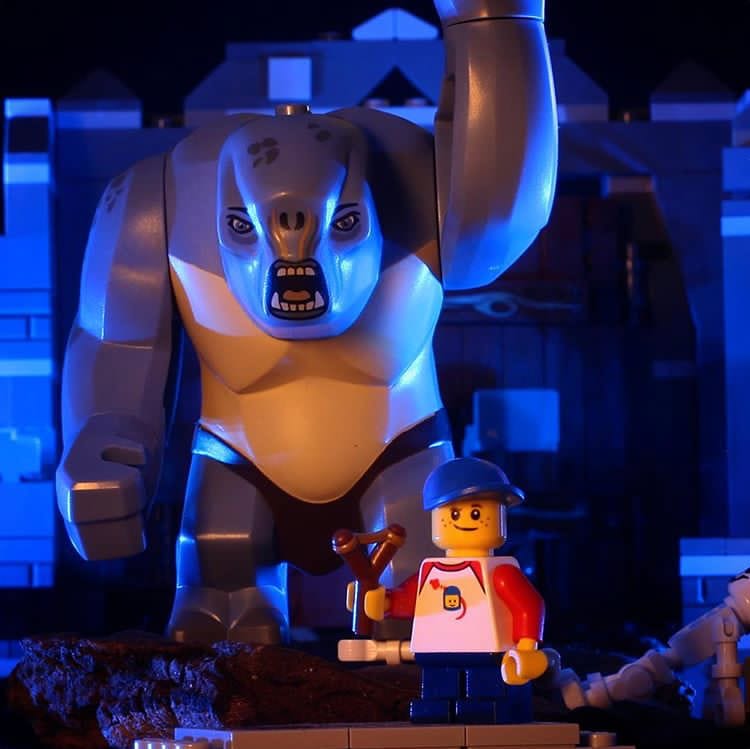 "I think one needs a big portion of confidence while fighting against huge monsters only with a slingshot"
I really enjoyed the SIPgoes52 challenge. It was so interesting and self-reflecting for me to think about the words and how to show them in pictures. Most of the weeks I thought several days until I took a decision how to proceed and until I took the picture. Unfortunately I failed after several weeks because of some reason I can't remember clearly, most probably it was lack of time. And after being out for two or three weeks I never started to join again…
I think confidence is not only helpful if you are fighting big monsters, but it helps every single day in one's life. In the German translation "confidence" can have two meanings, first one is like trust and the second is like self-confidence. I interpreted it more as self-confidence in my picture and also here now. If you are self-confident you can reach many of your targets, people are reacting in a totally different way if you're in contact with them and I think life is easier in many different situations. Don't wanna be too philosophic…
I've chosen this one as my favorite because of the following reasons:
I'm pretty happy with the overall result (even if it could be more focused in the area of the boy's face).
I like the (blue) light, the details, and the background. Additionally, I think the size difference between the boy and the orc represents in a great way the (self-)confidence the boy must have.
Alex (AKA @blueberryhillsforever)
@eatmybones – Fitness
I like this picture because it's funny and colorful (and I don't like fitness haha). I wish I can do more funny picture like that with my skeletons but I will need more free time to do it.
Karine (AKA @eatmybones)
@frog_101 – Bravery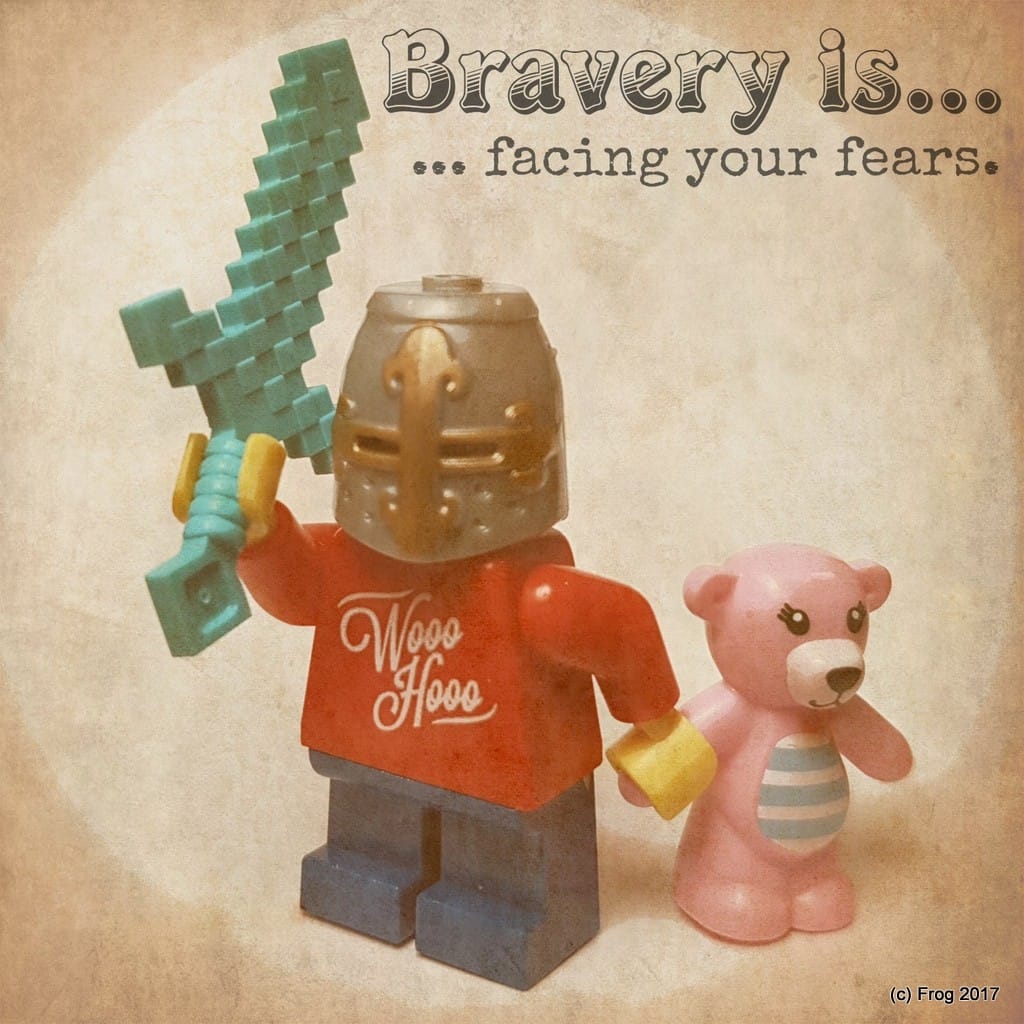 I chose Bravery for my image; I liked the idea that we all have fears, some of which are in our imagination.
@fubiken – Reason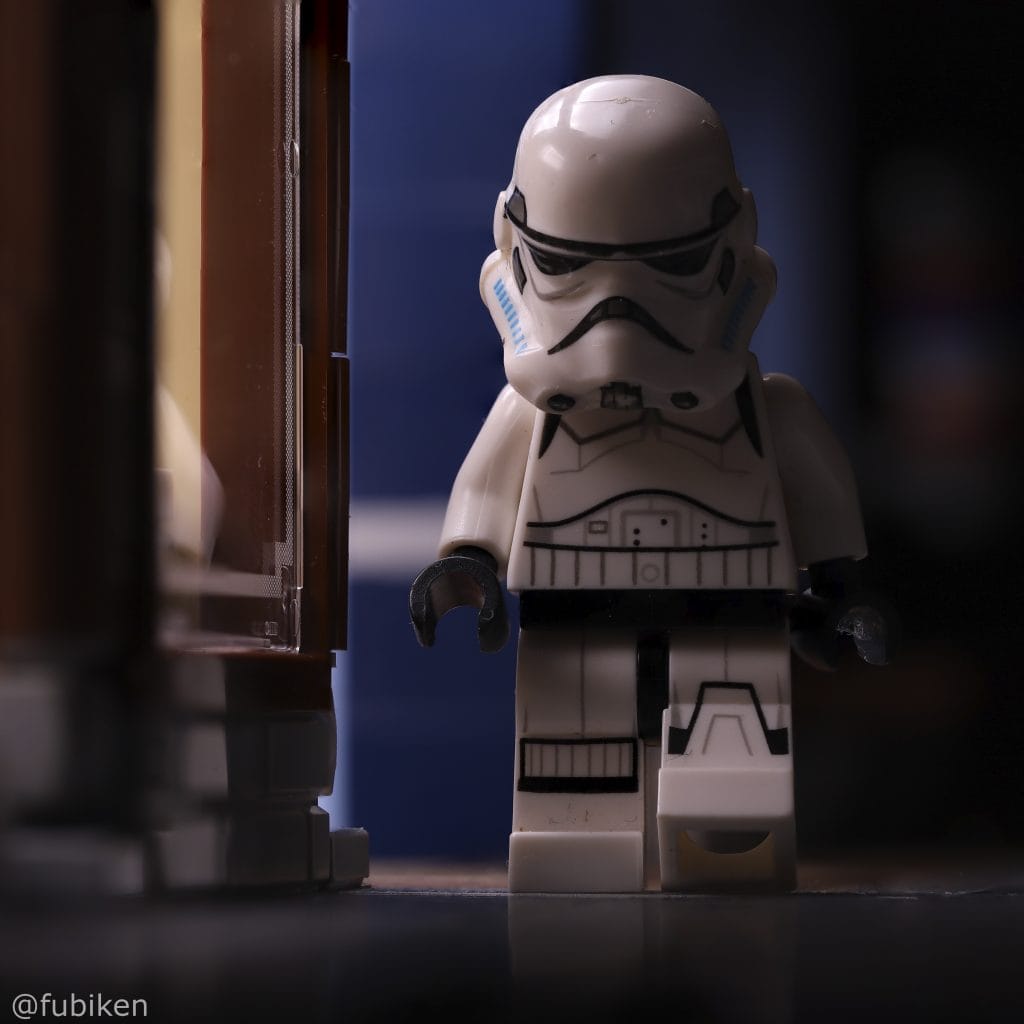 I am in a period with a lot of thinking about "why?", "what if?" and "what's the reason?" I wanted to show how it can feel when there is too much going on in the mind.
@herrsm – Leg Godt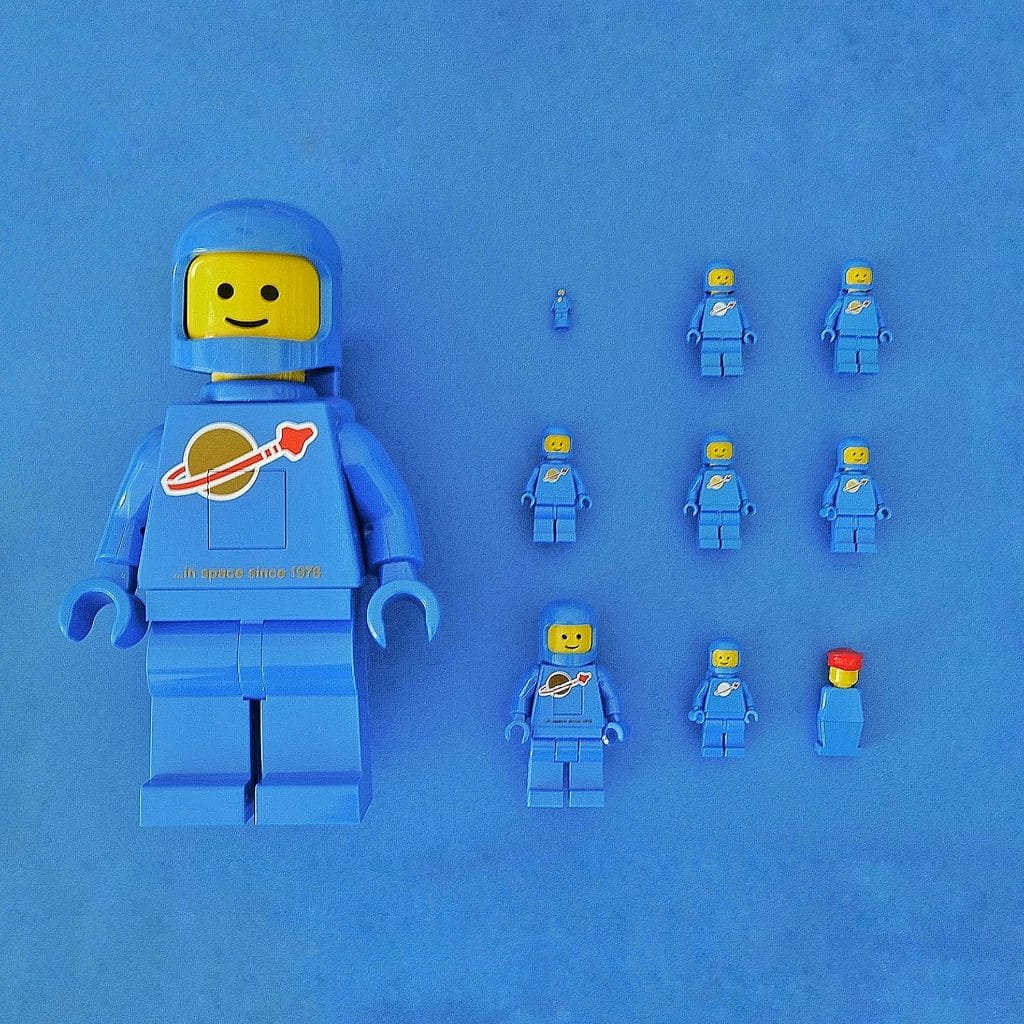 When looking back at my pics from the 52 challenge I'm always getting lost in this one from week 19. My photo for Leg Godt shows my favourite minifigure in different variations. To me, it is the essence of the love for the brick.
Stefan (AKA @herrsm)
@iancockayne – Spirituality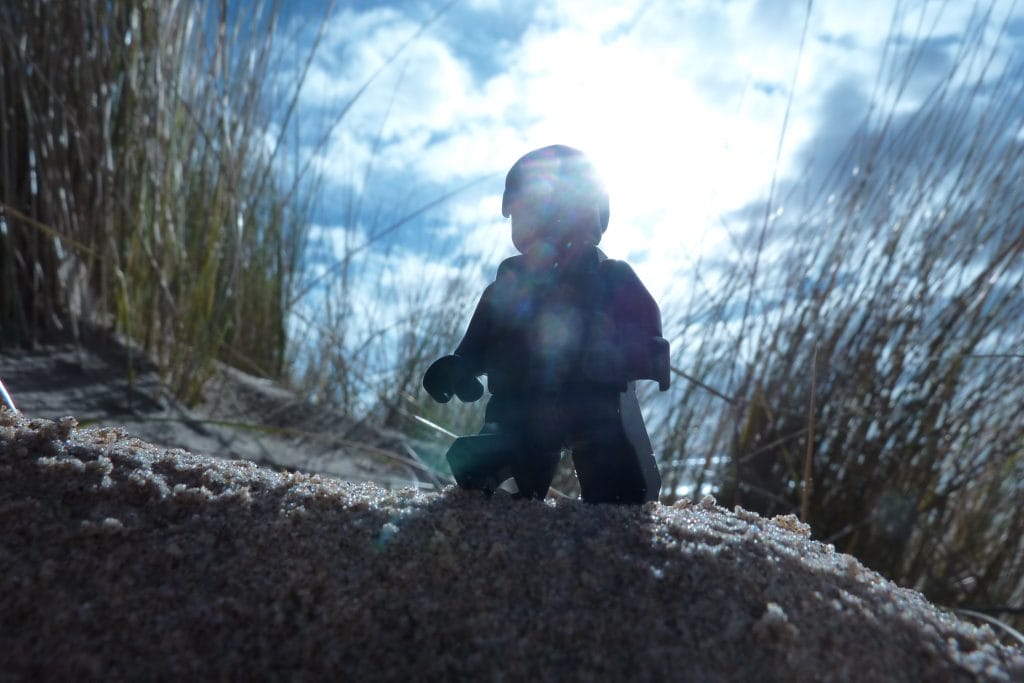 In participating in SiPgoes52, I hoped that it would give me the opportunity to try new things photographically and challenge me to create images that I would not normally produce. In July 2018, when I wrote about the challenge, this image stood out as being the best example. Now that I have finished the project and despite managing to rustle up a couple of photos that were different from my usual spacemen and spacekarts, this one still remains my favourite. I captured it on a cold Sunday afternoon in February on my local beach in bright, low winter sun; not normally ideal conditions for toy photography, but I think they helped me capture what I was aiming for.
Ian (@iancockayne)
@jdpinto91 – Faith
Believing in our loved ones, in ourselves and our capabilities to overcome any trouble is a strong force which keeps us going forward. Even in the darkest situations, there is a light inside that gives us that strength. And since we truly feel that faith, even the biggest stone in our way won't stop us from chasing our dreams and reaching our objectives.
It's been hard to choose the best picture from the year, but I finally felt more inspired with this one. I think I can also feel that true strength for new projects to come…
@kekkans_legoaday – Passion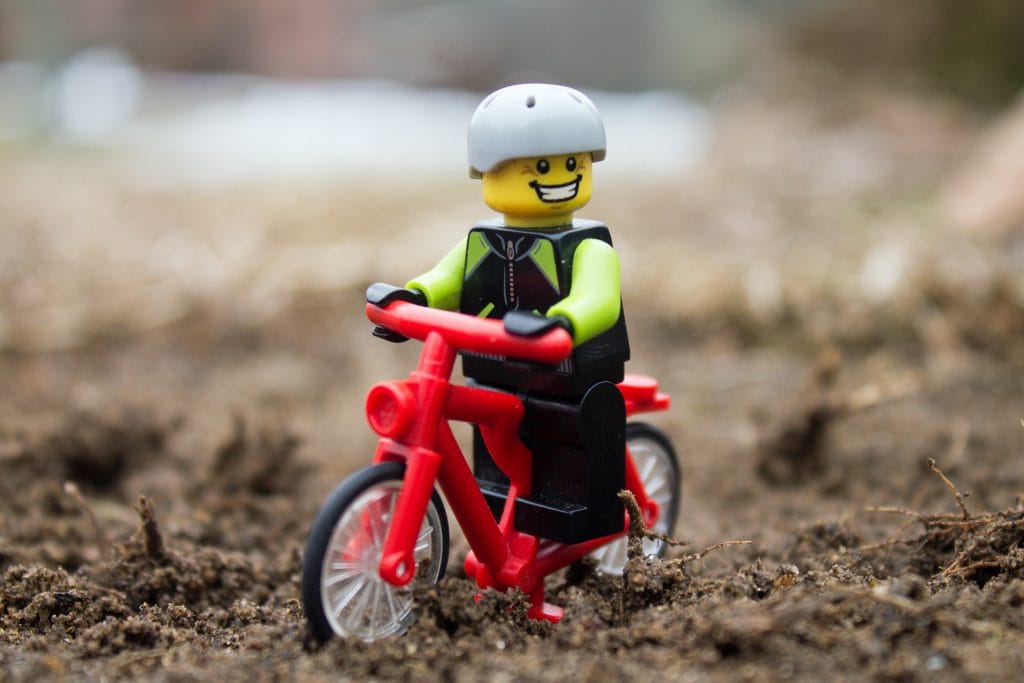 This photo represents my passion in a few ways, Mountain biking is by far my favorite thing to do. Photography has always been an enjoyment to me, and LEGO's I have had the joy of for 40+ years.
Kevin (AKA @kekkans_legoaday)
@legomommy.art – Action
I like action in all the meanings of this word. We take actions to prevent some bad things, we take actions to make our life better, we are always aware of our actions. And our life is one huge action. Sometimes you need some actions to rouse yourself and you can drive or run or sail somewhere without any special reason… I love running, I try to do it regularly. And this little plastic lady loves to go sailing. Imagine the summer evening, when it is not that hot as it was at the midday. You're moving fast, the wind is waving your hair and the sunset is drawing amazing pictures on the water… Isn't it a perfect day?
Elena (AKA @legomommy.art)
@legorunner – Emotion
Emotions range from strong to weak, extreme to calm. Happy, sad, angry, confused, tired, all of these emotions are so different and all the same. They help us express ourselves when words can't, and communicate and connect with those around us. We even use them in photography to direct the feel of the shot. Emotions are important but we can't let them control us, yet we also can't be too afraid to express them. We must achieve a balance, a hold on our emotions that knows when the time is right, so we can be together, humans connected, because there is nothing more that I want for 2019 than that, connected as one.
Bennett (AKA @legorunner)
@legoschmidt – Joy
For me, LEGO is associated with joy.
This joy lies in the moment when I get the long-awaited LEGO set.
Coming up with ideas, creating scenes and building MOCs for my future photos is a great joy.
Finally, when I can convey my thoughts and feelings to people through my toy photos, it also gives me joy.
Konstantin (AKA @legoschmidt)
@lego_minifig_photos – Humility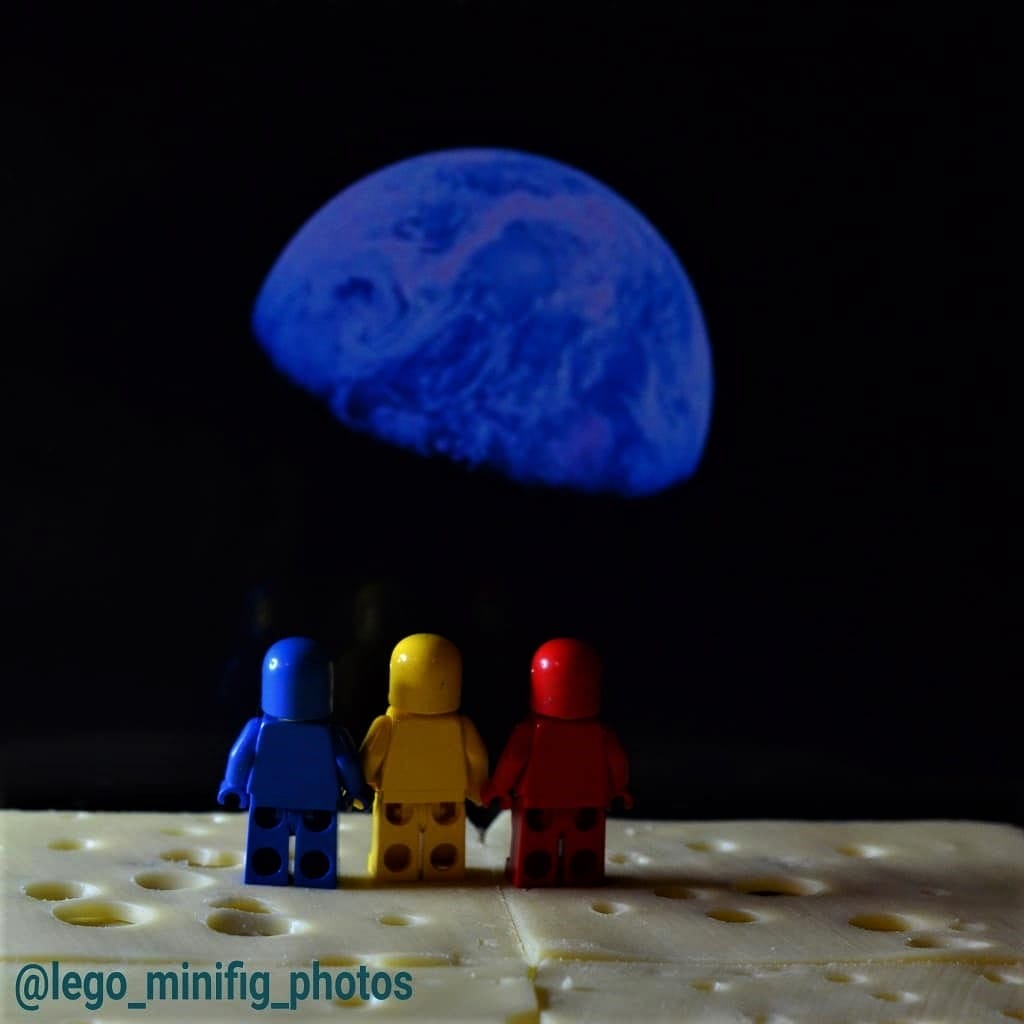 It was difficult to choose a single shot as there were so many I loved but I chose this one as it features some of my favourite minifigures (classic spacemen). It also makes me smile when I think about when I set it up, if people in the shop only knew I was buying holy cheese to use as a moonscape, I'm sure they would think I was a little odd.
Karl (AKA @lego_minifig_photos)
@mister_bricks – Passion
This photo was inspired by the 'Times Square Kiss' taken by Alfred Eisenstaedt on Victory over Japan Day in New York City's Times Square, August 14, 1945.
The original portrays a U.S. Navy sailor grabbing and kissing a woman in a white dress, but I went with a uniform theme and used a nurse instead.
I don't normally tint or filter my photos, but I felt that this one needed to feel older, like the original. It was ok in black and white, but I prefer the slight 'retro' tint that this version has.
Mike (AKA @mister_bricks)
@nutelasabe – Fun
My favorite photo nicely captures what I like in life – snow and someone on the same level of craziness as me by my side :)
Jana (AKA @nutelasabe)
@reiterlied – Passion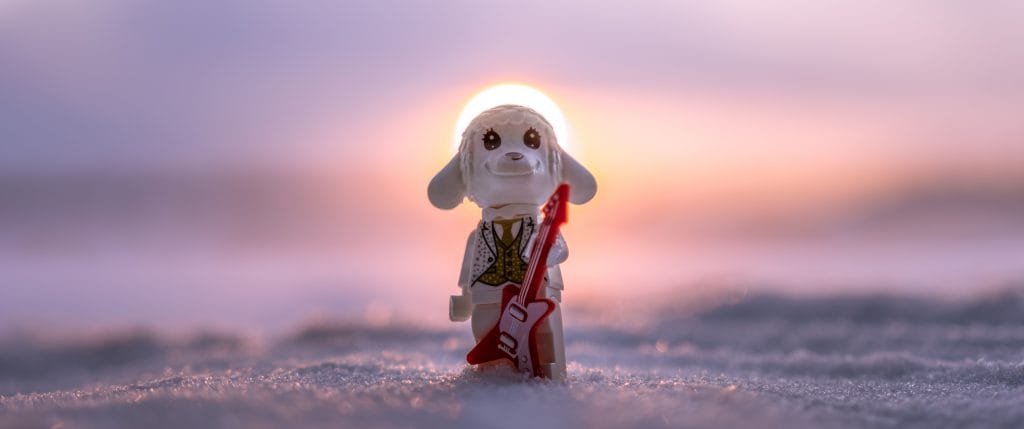 The determination in life. The passion to create. A passion for music. Or a passion for toys and photography. If I were a better musician, I would be creating music. But I'm not, so instead I use toys and a camera to create a world in which my Fabulous Sharp Dressed Sheep is playing at sunset in the Nordic Wilderness. Not for the fame and fortune, but just for the Love and Passion of Music.
Maëlick (AKA @reiterlied)
@tomekskog – Intelligence
Nature is one of my most important sources of inspiration, although sometimes this inspiration takes on a strange form. That was also the case with this photo. The tasty contents of the walnut shell have always reminded me of the brain, so when I finally got a figure of an alien queen who has an exposed brain, this combination was obvious. Subject matter of the photo – intelligence, the word of the 50th week of SiPgoes52, in my case treated as an intelligent form of life, beautifully closed this whole, bit crazy, concept.
Thank you
We want to thank everyone who played with us. No matter whether they took a photo for each word or not. Thanks to you all @adsdailyphoto, @bevvypix, @blueberryhillsforever, @brickprawnz, @donaldsshadow, @frog_101, @fubiken, @iancockayne, @kekkans_legoaday, @legocllc, @legojac, @lego_minifig_photos, @legomommy.art, @legorunner, @legoschmidt, @mister_bricks, @nutelasabe, @sacha1982, @the_legoade, @thomas_thoresen_, @tomekskog!
Sharing the Adventures in The North of my Plastic Friends.