That's it!
My #SiPgoes52 project is finished.
1 year, 12 months, 52 weeks, 52 pictures.

At the time, I am writing these words, I have just finished editing my last picture in the series giving it its final name "32_Humility.jpg". (Yes, I had to get back on the horse with this project after a long summer break. So I did not make them in order at the end.)
It's a bitter-sweet moment…
On the one end, I am really happy with what I accomplished. I am proud of my pictures. I am relieved that I was able to finish in time.
But on the other end, making the 52nd picture, the last one, means that it's over. And I hate things that end. I hate saying goodbye.

So, to help me with cope with "Post Project Depression", let me share my feelings about this past year, my ideas for the future with this project, my "best something" pictures and show you the big picture to discover a secret hidden story.

What did I feel about this project?
In three words, I Loved It!!
As I explained at the beginning, I was dubious at the idea of making 52 pictures illustrating human values and emotions. It seemed a bit insurmountable at the time. And to ease my work, I gave myself a bigger challenge, the one of only using stormtrooper (inexpressive characters) to convey emotions and keep a consistency in my pictures.
Life came in the way and had me stop for several months. But I think that this break helped me gather my thoughts and come back even stronger on some words that I had trouble with.
Now that the project is over, I think that I succeeded in making a coherent universe and some great pictures. If you don't agree, just le me know, but I am really happy with what I accomplished and proud with my work.

But, does that mean that I will leave this universe alone?
No, I don't think so.
There will be a hiatus but I will probably come back on the Death Star for other stories and pictures. But not right now.
I am also thinking on bringing some characters outside of this world as they landed on a different planet to extend their stories elsewhere.
But I will miss this universe for sure.

Behind the scenes
As I explained in my initial post, I took all the pictures in my little "studio", meaning the coffee table in my living room. I tried to do as much practical effects as I could to avoid spending too much time on Photoshop.
So, as always, I used plenty of blu-tack and for some pictures, I added some wires (that I removed afterwards on Photoshop) to keep elements in the air.
Here are some pictures from my living room :-)
The future of the project
Now that I have those 52 pictures, what could I do with them?
After some thinking, I decided to make two things.
The first one was to make a book for myself.
I went to Blurb and created a complete book with my 52 pictures. I added some BTS pictures and alternate versions of some pictures. It will be a great physical memento of this project.
And, since you can share and sell books on their website, I decided to make it available to anyone who would be interested. So if you want to get yours, follow that link!
A book is a great idea, but I wanted also to display all the 52 pictures so they could be enjoyed side by side at the same time. So, I decided to make a poster !
If you are interested in buying a poster, please contact me directly by email or direct message, as they are custom made. I will take care of have it printed, and I will personally sign it and ship it to you.

My "best something" pictures

Let's do a quick review of some pictures.
The one I love the most
It's difficult to answer since I have some attachment to all of them. But since I have to choose, I will have to say Confidence.
I really like this one because it was not my initial idea for the word (see this post on the subject). And it was at that time I decided to create some characters and develop their story all along the project (see below).

The one I hate the most
Hate may be too strong a word but I don't like Honesty. The only reason is that, to me, it seems difficult to understand the story. In my mind, the lady stormtrooper lost a banknote, and the other stormtrooper, being honest, was rushing towards her to give her back. But does it read in the picture…?

The most photoshopped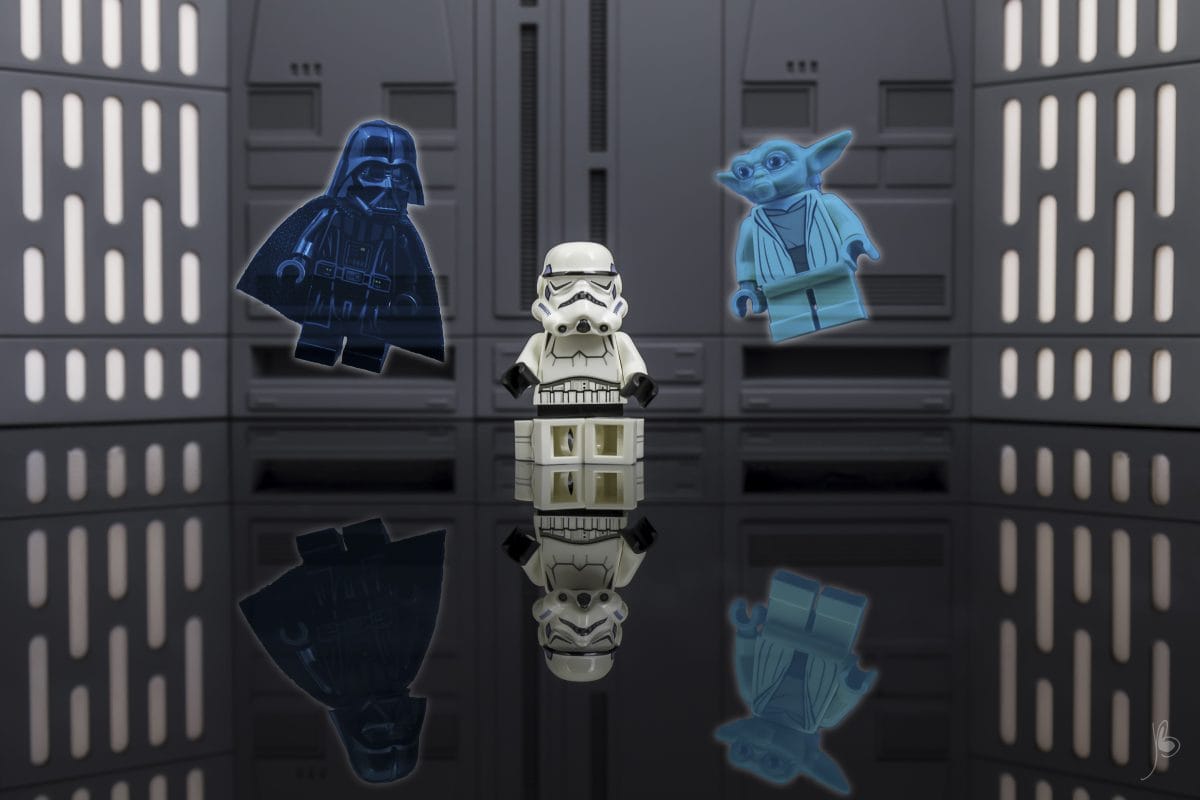 The pictures where I spent the most time on Photoshop are the ones with elements in the air. I made several ones in this project. But I think the one I spent the most time on is Spirituality. On that one, I had to have Darth Vader and Yoda in midair, give them a bluish ghostly glow as if they were spirits and I had to close the "eyes" of the stormtrooper on his helmet as if he was meditating. It was a fun one to make and I am really happy with the result.

The most complicated to set-up
The more characters or the more complicated background will make for the most complicated pictures to set up. But one comes to mind, which is Action, since I had 5 Stormtroopers shooting a movie. They had to be all in the scene (one actor, the director, the cameraman, the sound guy and the technician with the clapperboard). Initially, my picture was a mess. It was not easy to read, they were all in front of each other. It did not like it. But after several attempts, I was able to find a position for the background and the characters that I liked.

The most Stormtroopers in a picture
When I thought about Harmony, I immediately thought of a choir (I was part of one in my youth) with several Stormtroopers singing in harmony. So I created a small scene on several level so we could see them all and I put 23 Stormtroopers next to each other in the same position (I wish there was one not doing like the others but the word was harmony…) and added the conductor.

The most liked on social media
I like numbers and stats. So I went to my social media channels and looked for the most liked pictures. However, we have to take into account that those pictures were posted all year long (and my number of followers kept growing other the year) and we all know that depending on when we post pictures online we get different level of receptions…
Anyway, here are the results.
On Instagram, the fan favorite is Power.
On Facebook, it's Friendship.
On Flickr, it's Emotion.
And on Twitter, it's Community.

The most…
I think I could find categories so I could share all of them with you in this post, but it's better to look at the bigger picture.

The bigger picture
I made these 52 pictures in the same coherent universe so that they could be enjoyed all together. Hence, the poster that I made :-)

The secret story
Now that all those pictures are there. You can notice that some recurring characters are present. So, let's take their pictures, put them in the correct order and a secret story will appear. Here is my vision of that story.
The last word
Now that this #SiPgoes52 project is over, it does not mean that I will stop taking pictures. As I said, I will take a break from this universe, but it's time to get into #SiPgoes53 and maybe come back to discover more of the life on the Death Star for #SiPgoes54… Who knows. Only time will tell.

By the way which is your favorite picture/word of the series and why?
Please let me know as I am curious to discover your choices.
And, what are the words I should add to the series?
Julien (Ballou34)

Aeronautics engineer by day, toy photographer by night.
Exploring the world with his plastic figures.