As you may know, during the day, I work as an aeronautical engineer.
And I have my own office.
Since everyone at work knows about my passion for toy photography, I don't hesitate to decorate it with toys and pictures.
I have aircraft models on display and pictures of great memories of work in particular places.
But I have also LEGO sets on my desk (in particular a Wall-E) and some of my toy pictures on the wall. For example, I have a custom made frame with my little "Panda Life" story from last year and two of my favorite pictures that I printed large for an exhibition.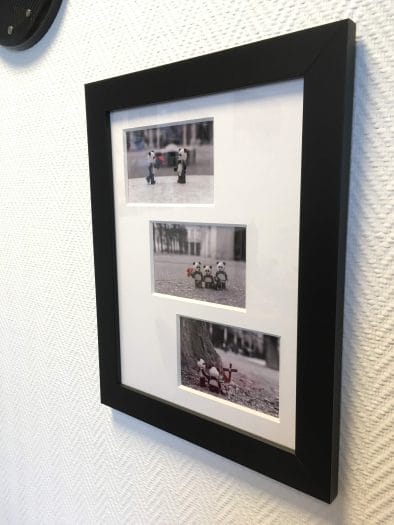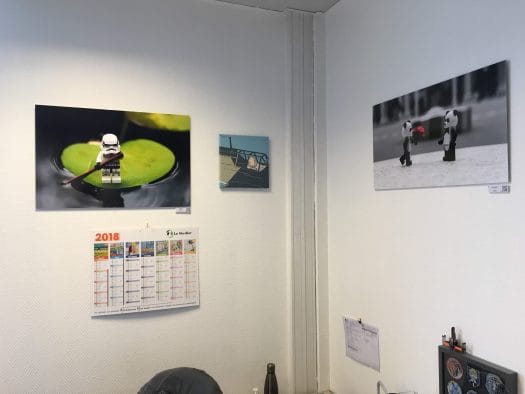 But most of my office is decorated with pictures, but none of those are from me. They make what I call my "wall of friends".
The Wall of friends
On that wall, I display all the pictures I receive from other toy photographers and artists. Instead of keeping those gifts in a drawer somewhere, I want to have them displayed for everyone to enjoy. And you know what? It's the case. I see colleagues of mine coming to my office only to check the new addition to my wall.
When I look at those, it reminds me of the good times I shared with those people. And it brings me joy.
So let's go down memory lane and see the evolution of that wall…
The evolution of the wall
It all started after my first toy photo safari, in Hamburg in 2016. During that weekend, we exchanged pictures between all the participants, so I left Germany with almost two dozen pictures and decided to stick them to the wall.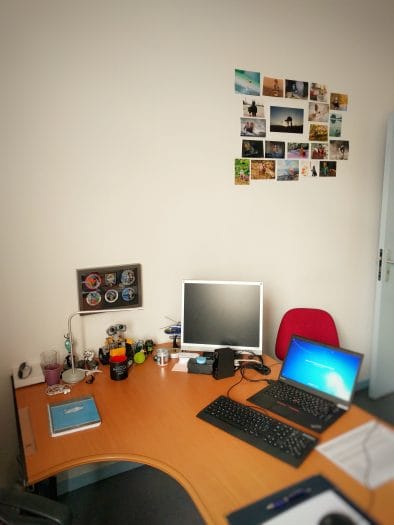 The week after that safari, I did my first exhibition in France. I met another French artist and added his pictures to the wall.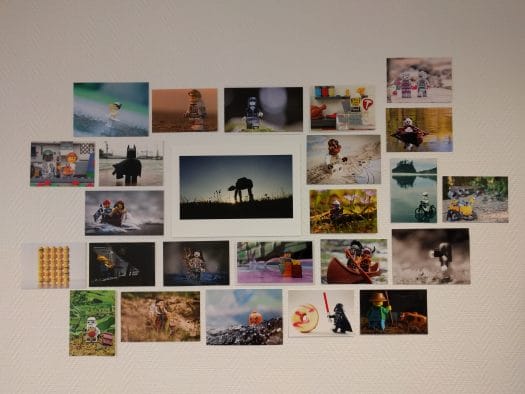 Then 2017 arrived and it was time for another safari, this time in London.
And another one in San Francisco.
A couple of months later, I exchanged a picture by mail with Lynn from Texas and had to rearrange the wall a bit. The pictures started to crawl around the door…
And we went in Autumn to Scotland for another great safari which I followed with a trip to Skaerbaek in Denmark to meet with Luigi, Shelly, and Chris. I had to start adding prints to the second wall around the corner.
Fast forward to June of this year, with the toy photo safari in Paris.
In July, I went to the Parisian "Japan Expo", a manga convention and a couple of French toy photographers had a booth with their pictures.
And last month, I did my latest exhibition in Nantes, western France where I met with talented artist
This is the current state of my wall. Or should I say wallS! It's growing like vines and brings smiles. Not only to me but also to my colleagues and guests who come by my office.
You may notice that I am missing some pictures, though. I did not put the Christmas cards from last year, there, because I forgot… I should correct that this year.
Thank you to everyone who contributed to making this wall so awesome.
Two years, two walls, dozens of artists, 170+ pictures.
What will it look like in another year…?
Julien (@Ballou34)
PS: If you wish to add your pictures to the wall, don't hesitate to contact me by DM here or on Instagram and of course, I will send you one of my pictures in exchange as a thank you.
Aeronautics engineer by day, toy photographer by night.
Exploring the world with his plastic figures.