Classic Cars and where to go to
We have already posted some articles about SiP's photoshootings of LEGO's classic Creator Expert cars. Today I'd like to share with you the look through my viewfinder. There may be many ways to approach "the next" photo project.
One simple idea is that it's all about a vision.
You have an object.
You imagine a scenery where you see this object.
You think of a certain atmosphere, a mood.
Every time I'm choosing this path my first struggle is to find the right location. But when TLG (read: The LEGO Group) asked us to create photos of their Classic Expert cars, I first had to decide which car(s) I wanted to shoot. Living in Germany, it was obvious to me that a Volkswagen would be first choice.
The Beetle
So when the package with the Beetle and the Camper Van arrived on my doorstep, I instantly started my happy building. While doing so I was also thinking about locations. As the Beetle is carrying a surfboard on its roof, a beach was the obvious place to go. There are in fact some beaches close by at the banks of the river Elbe. But still I felt the Beetle needed to see some open waters. The closest place to go for this was the Baltic sea, located some 70km away from my place. Then one Sunday I put the Beetle in a large shopping bag, grabbed my camera and hopped in my car to head out to the beach.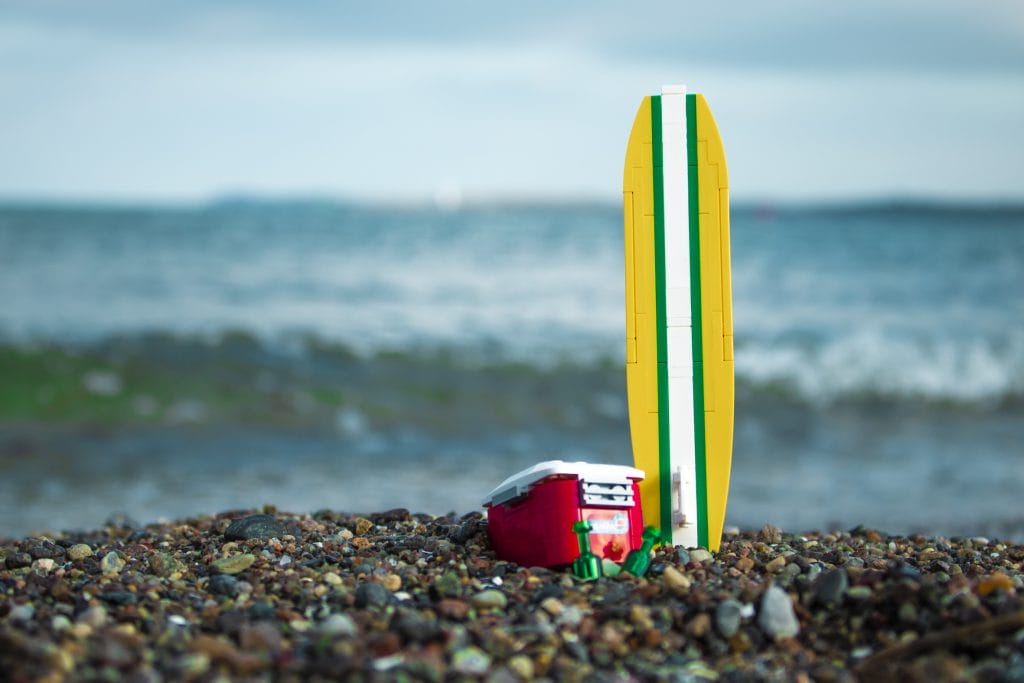 On The Beach
Even though it was Sunday morning, surprisingly I wasn't the only person there. When taking toy photos in public places you´re probably used to receive the same comments over and again.
"Are you ok?" (Yes, thank you, I am.)
"What are you doing on the ground?" (Doing my thing, thank you.)
"How nice, isn't that a Playmobil car?" (No, it´s not. Still thank you for your support.)
The Only One Who Wanted To Play
This time felt slightly different. No one seemed to notice me at all. People were too fascinated by the sea and its vitamins (pun intended). Most didn't notice me. Instead, they all walked through my scene, even close by, leaving large footprints where "my beach scene" should find untouched sands. One man actually almost stepped on the Beetle. But a disaster could be averted at last second.
There was only one curious being that sneaked up to me and…barked at me very loudly. Yup, guessing he was just envious and wanted to play along.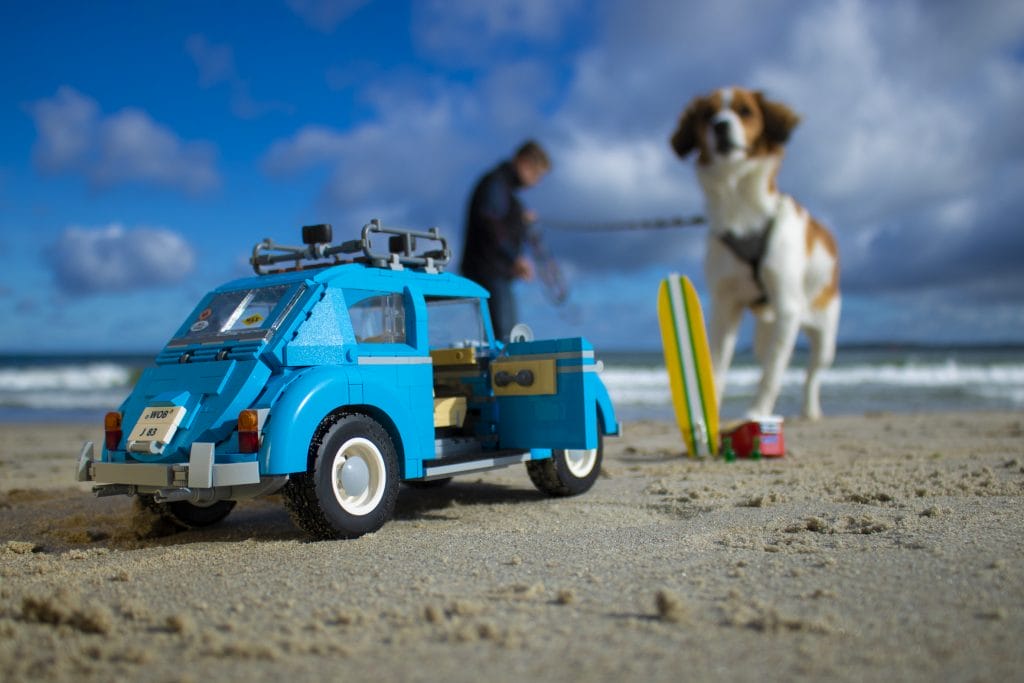 The weather conditions were a challenge on their own. Harsh, direct sunlight and cloudy shades took their turns almost by the minute.
Cars And Waters- And Electricity!
In advance I had also received a lighting kit for the Beetle by the folks at LightMyBricks. But some gut feeling told me to wait with the installation of it until after the beach shooting. Trusting that feeling turned out to be good. Of course, at some point I wanted to get closer to the waves. And then a little closer. Until finally…
Fortunately, I wasn't to experience disasters like Maëlick or Julien did on their adventures. In the end, my Beetle was just flooded. And I was able to grab the car, the surf board and the cooler before they could be washed away to the distant shores of Denmark or Sweden.
The Camper Van
For the Camper Van, I had a different location in mind. In the city I live in, there are many offers for all sorts of guided tours. You can hop on and off huge double-decker busses. You can take several themed walks or drive around in little HotRod-shaped go-karts. And you can also book a tour in an old VW Camper Van (should you wish more info on that let me know in the comments below). So the ports of Hamburg were my goal for the next photo location.
Tick-Tock
Unfortunately, I started to run out of time. I could see the deadline on the horizon. The weather wasn't really on my side. Still, I set out for a tour on yet another Sunday. Again, I grabbed my Camper and camera and went to check out some spots. First I went to a famous place for fish and chips. (The first one to tell the name of the place in the comments section below will receive a print of this here, delivered to their door.)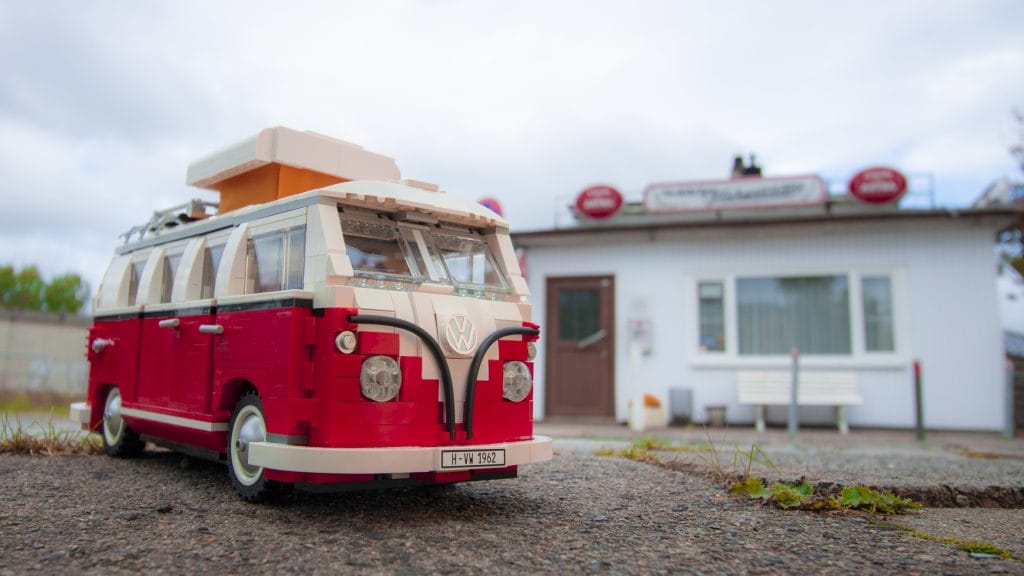 On And On And On
The place felt right for a photo of the van, just not right enough. This time I only had a blurry vision of what I was looking for. So I hopped back in my car and went on. As went the rain, starting to drip slowly.
My mood took a skydive.
I wasn't really looking for rain as a backdrop to my shooting.
Yes!
Petrus (the god we are always blaming for too wet weathers) must've felt sorry for me and the rain stopped again. Driving down some street in the industrial parts of the ports something red appeared on the edge of my vision. I stopped and went back for further inspection. Suddenly the vision of my pic of the camper van cleared and showed up right in front of me: a red shipping container with a puddle just in front of it! After some setting up and test shots I finally got the one image I was happy with.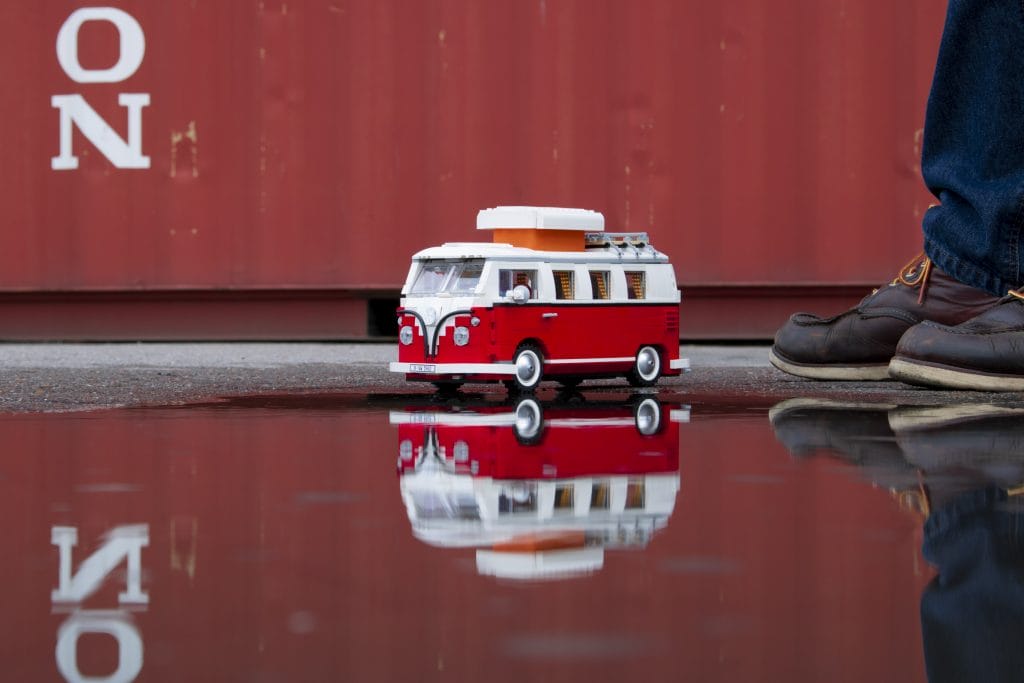 My mood was back in place. I was feeling happy. And this feeling lasted on, even though the rain came back and the following pics on later locations didn´t meet my expectations.
Happy- Finally
The lesson I (re)learned from this project is this: It's good to stick to your original visions. And it's ok to come back from a session and have only one (or sometimes even no) photo you're happy with. But most importantly: keep on chasing your dreams and ideas and ALWAYS go/walk/drive that extra mile. You never know what occasion is waiting for you around the next corner.
Thank You
Thank you to The LEGO Group and everyone at the AFOL engagement team for providing the VW Beetle and the VW Camper Van for these sessions. And thank you to all at LightMyBricks for sending the lighting kit my way.
Post scriptum
Back to the lighting set. When our Christmas card exchange was already in full swing, I was still in doubt with the motif for my card. Creative energies had abandoned me for some time already, due to personal experiences in the second half of this year. So it was time to sit down, pause for a moment and reflect on the year.
Meanwhile, I had already installed the lights from LightMyBricks. An idea began to take shape. After some information from my favourite gardener (I love you, dear!) and a visit to a flower shop, I went out just minutes before our first snow of 2018.
All who received my card may spot some real snow on the bumper of the Beetle. And for those who haven't joined this year's card exchange: here's an alternate version of my holiday greetings…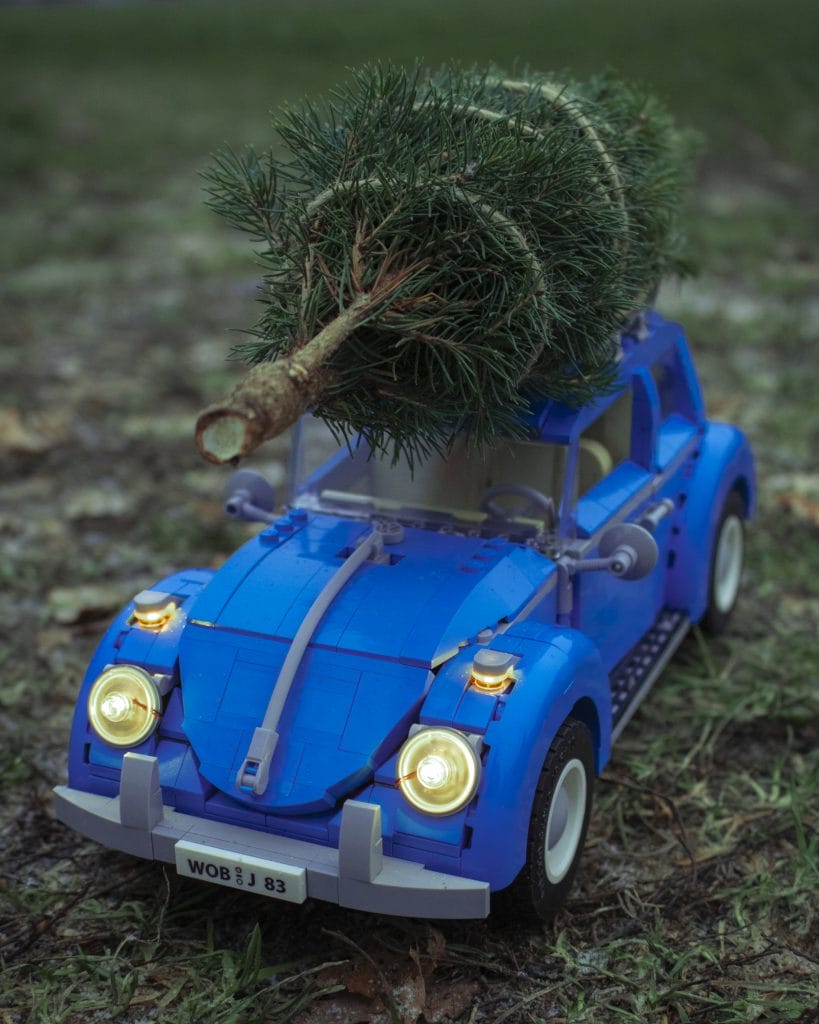 Merry Christmas and a Happy New Year to all of you and your loved ones!
A Non-Belgian living in Hamburg, Germany. Curiosity-driven and mostly to be found on tiny adventures and great journeys.