A happy Xmas from all of us to all of you. Santa has been spotted all over the world delivering packages to young and old and the Santa train is slowly on its way back to the North Pole for another year of well-deserved rest and winter fun. The NORAD crew is winding down and some of us still had one picture to shoot.
The last post
This is the last post in the little winter village advent series that started four Sunday´s ago. I knew from day one that Christmas day would be an awesome day to spend some time behind the lens. And I knew that doing some cooking in the studio was not a bad idea either. Having a white Xmas is something that some years need a little push.
But that is as far as advanced planning went.
It is a wrap
And now it is a wrap. Xmas eve has gone. Folks around the world are enjoying a Xmas dinner with family and friends, and I managed to shoot my final image. A classic. A smaller tribute to Vesa. And a tribute to bringing Nordic winter wonder landscapes into the studio with flour, long exposures and some strobes.
The magic of storytelling
I am not a very big fan of "how-to" manuals. There are enough YouTube and other channels giving a full behind the scene of how to do everything these days, and sometimes it takes away of the magic.
The wonderful joy of Santa.
The magic a seven or even forty-seven-year-old believes in.
The magic of storytelling.
The Sneak Peek
But we started this advent story with a sneak peek in the build and the boxes, and so on this last day of our story, it is only fair to give a sneak peek behind the scenes.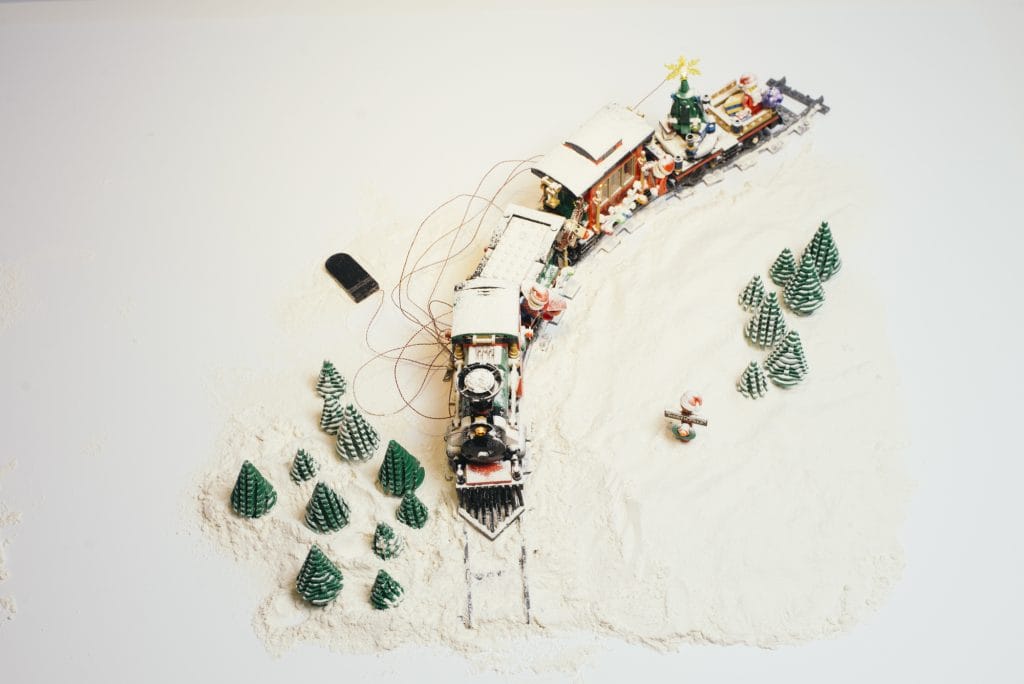 Light My Bricks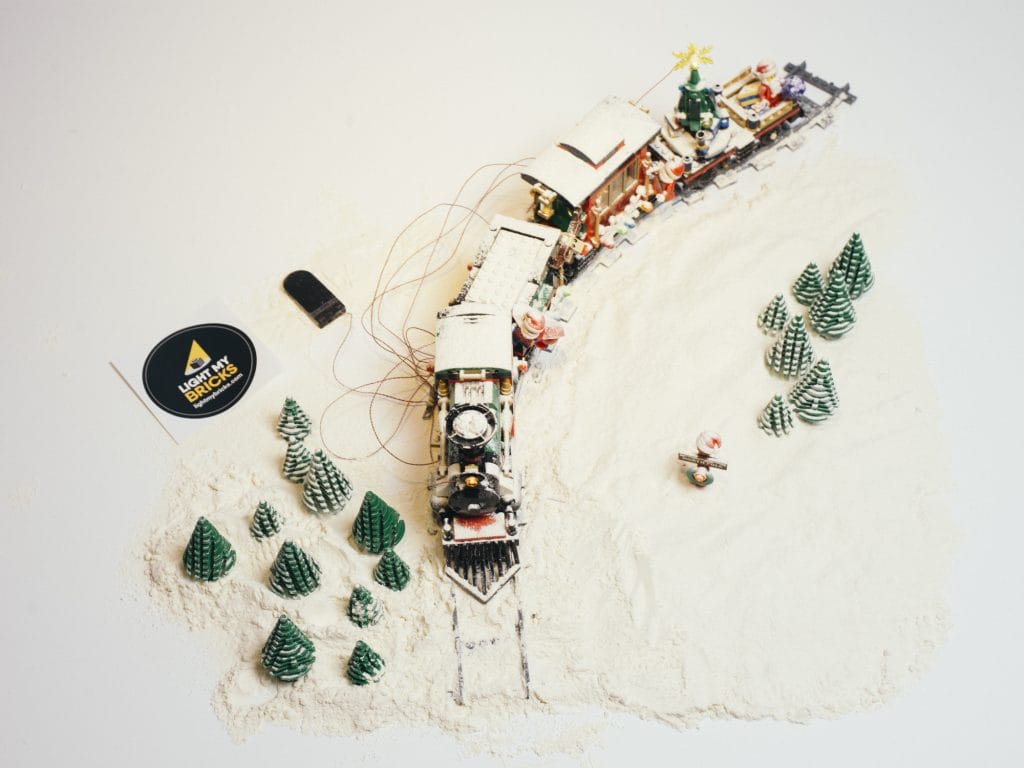 I have to admit, I did not know Light My Bricks and I had their set for my Mini laying on my desk for a while. Julien reached out to the great folks of LMB and the box looked cool, but I had not opened it until today.
A delayed Xmas present.
And what a present it was. (Thanks Julien).
The wiring is amazing. The small connectors at the end, really fit through every single LEGO piece I encountered in my build and I am on my way to order some more as this is cool, really cool. I am so sorry I did not use it for the intended VW BMW Mini, but I hope the good folks at LMB are OK with me misusing the MINI set for the Winter Village Train. Maëlick mentioned he felt the lights were too strong or too low in output when shooting the VW Camper, but for me in the Studio they just did a perfect job. Thanks again, LMB. I will be using these lights much more.
My Flour Provider
I remember Vesa telling me he has a special flour (or was it baking soda ?) and did some advanced research for his winter wonder star wars landscapes on what gave the best results. I just opened our 'skafferi' (the swedish word for pantry) and grabbed a bag of special vetemjöl (read flour).
Our Royal Danish Plastic Provider.
And then, there was our Danish Royal Danish Plastic Provider, also known as RDPP TLG. The LEGO Group (TLG) providing most of the pieces in this shoot. And I have to admit I am very happy with the outcome.
A happy Xmas from all of us to all of you.