When I learned that we would be doing another project with TLG (read The LEGO Group), I was ecstatic like every time. I find it interesting to work for someone else from time to time. It's often challenging since you don't want to disappoint the client and you can always learn something from it.
Respectfully for the client (here, TLG), we refrained to talk about it or to share with you pictures or BTS before they started publishing our work, even though we allowed ourselves (read Stuck In Plastic and the crew) some teasing about the project.
But now that the cat car is out of the bag, let me share with you my experience.
This article is part on a new series on the blog. Every Wednesday, one of the creative who participated to this project will share some behind the scenes with you.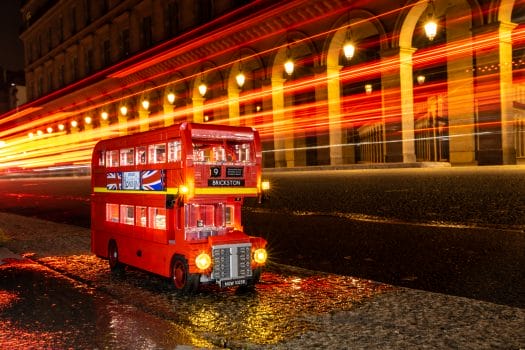 The assignment
The request from LEGO was pretty simple. They sent us some cars from the Creator Expert line and we would have to photograph them outdoors. Since it was a task we couldn't tackle alone, we invited some creatives to participate.
We all selected one or two cars we would like to play with and TLG shared with us some "inspiration", meaning pictures where you could see the car in an environment that would fit with the ambiance (for example, a yellow taxi cab in New-York)
It sounded like a simple task. Take the car outside and take some pictures. But most of the cars they offered would fit better in the countryside, so I let those to my friends and went for the most "Urban" ones: the London bus and the Aston Martin DB5. Perfect, except that Paris is not London…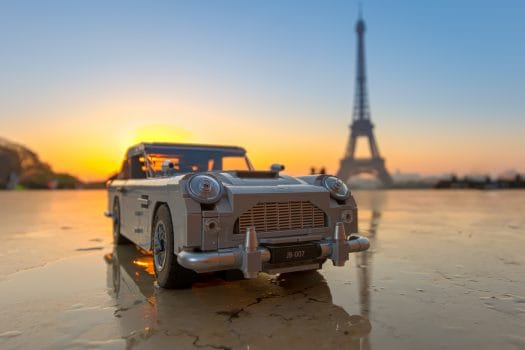 Getting ready
Even before receiving the cars, I started thinking about the pictures I would like to make.
As always in that case, I wrote some notes on a piece of paper and doodled some basic drawings of what I had in mind. I had some basic ideas. But because they were cars and not minifigure, it would be more difficult to tell stories or express emotions through the picture. So I decided to go for some interesting background instead.
I would do day and night pictures. I would play with sunrise, sun flares, light trails, lights in the cars, puddles, etc.
For the Aston Martin, I allowed myself to have some iconic Parisian monuments, since it sounded reasonable for James to come to Paris with his beautiful car.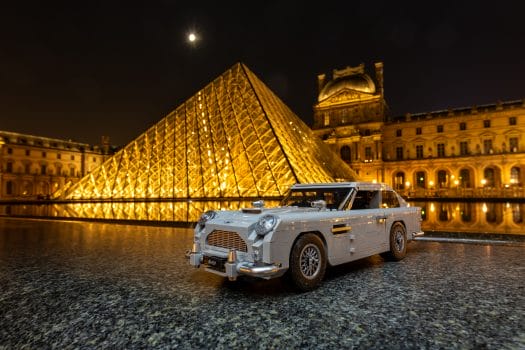 But for the London Bus, it seemed out of place to have it in front of the Eiffel Tower. So I went for more "random" backgrounds.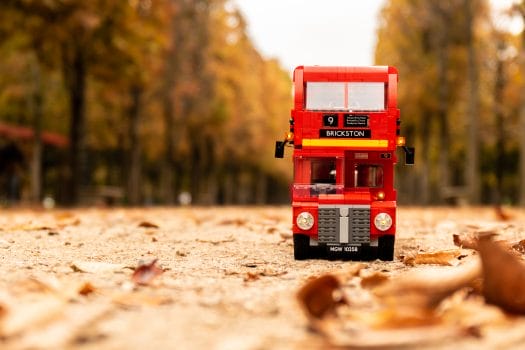 Building and packing
At the reception of the boxes, I started building. I knew I wouldn't have much time to take pictures in the month of October (Note: our deadline was 1st November).
The build was fun in both cases. I really enjoyed the engineering behind the Aston Martin. All those James Bond gadgets were great. But they were also my worst enemies during the shoot (see later in the post…).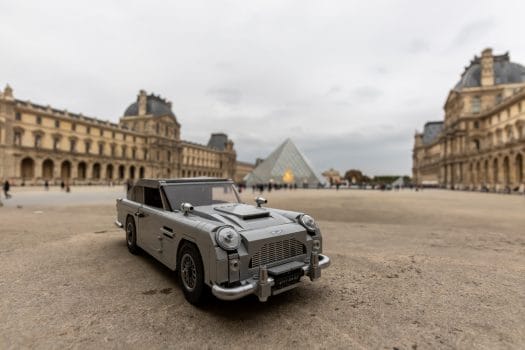 And to bring some cool addition to my pictures, I installed some Light my Brick micro-LEDs to the London Bus. I already talked about those lights in a previous blog post.
This added some nice effects to the picture. But at the same time, it reduced the clutch power of some parts of the vehicle (because of the wires) which made it more prone to breaking.
(But more about Light my Bricks in another blog post, soon.)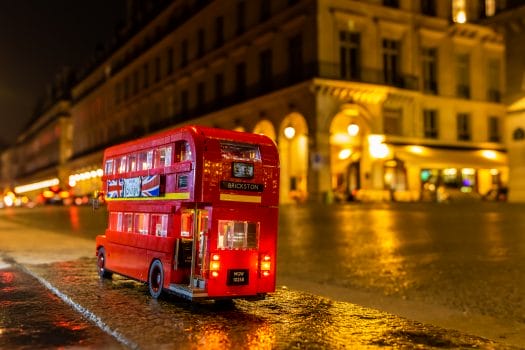 As you know, I am used to carrying minifigures and accessories in plastic containers.
I occasionally carry a bigger vehicle, like a plane. But never have I tackled something like this…
Those cars are big. They are made of bricks and so, they break.
First of all, I individually packed them in large plastic bags. This was really useful because all the broken parts were easily found at the bottom of the bag between each location. That way I was sure not to lose any part.
Then, since in Paris, I like to move quickly from one spot to another, staying discrete and limiting the number of items to keep an eye on, I like to only have one backpack with me.
I was able to fit everything in one I had. But this was not the best idea because there was a lot of destruction between shoots. I even had to cancel one photoshoot at some point because the bus needed to many repairs and I didn't have the building instructions with me.
So for the last shoot (the night one), I went with a big grocery bag and threw everything inside. It was easier to access stuff but it was more difficult to walk around since all my hands were full with the bag and camera.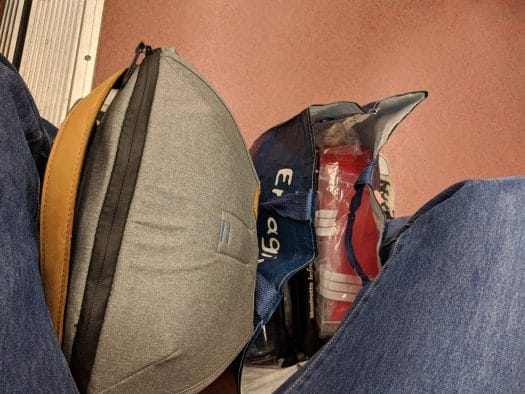 Spending so much time before each shoot rebuilding the cars, you get to know them pretty well.
The London bus was very fragile in the back. Parts fell off regularly (but I think it was mostly the case because of the added lights and wires).
And on the Aston Martin, I had to rebuild the roof several times. I found broken parts inside the cars which made the gadgets not work anymore. This locked the revolving headlight in an in-between position (which I didn't notice until I looked at the pictures on my computer – see the above picture in front of the Louvre Pyramid). Now, I have a bag of unidentified parts from the car :-)
Additionally, I noticed several failed parts looking at the picture on a bigger screen. Here is a funny example of a flying seat in the bus. But no one noticed it until I told them ;-)

Photoshoot
And that was it. Now that everything was ready, I went outside to take pictures. It took me 3 photo sessions to get everything I wanted (and I didn't have much time to do more).
If you are familiar with our last toy photo safari in Paris, you may recognize some of the places we went to.
On the first one, I went during daytime around the Tuileries garden, the Rivoli street, and the Louvre pyramid.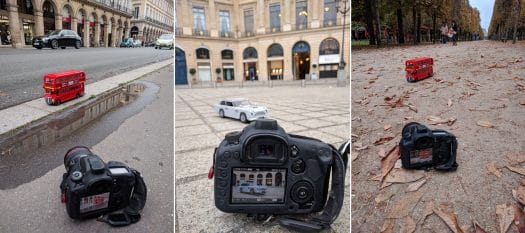 For the second one, I woke up a bit earlier to enjoy the sunrise in front of the Eiffel tower before work.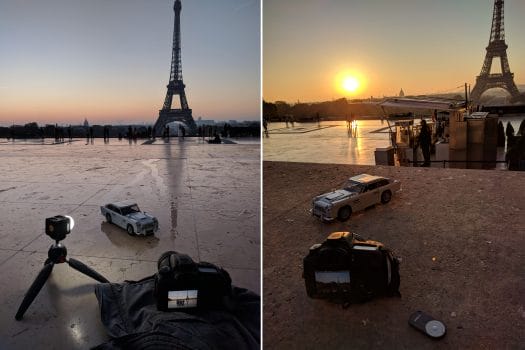 And for the last one, I went by night from the Louvre to the Arc de Triomphe.
One thing you may notice on the picture is the fact that I used a tripod. It's essential to take pictures by night without moving, especially if, like me, you are taking long exposure shots.
During the day, I usually don't use a tripod and I set the camera on the ground using a piece of cloth to keep it stable and very low on the ground. So, why didn't I use this technique by night… I have no idea?! There was a glitch in my brain and I was obsessed with using the tripod. That's why my night pictures were taken at a higher angle.
If you look at some BTS pictures, you may notice that the ground was humid around the car. It was actually me who added the water. Having a wet ground allowed for some interesting reflection and ambiance. This is something you can easily add to your pictures. I wish I had something with me to spray water droplets on the car, too. This could also have been some interesting texture to add to the cars.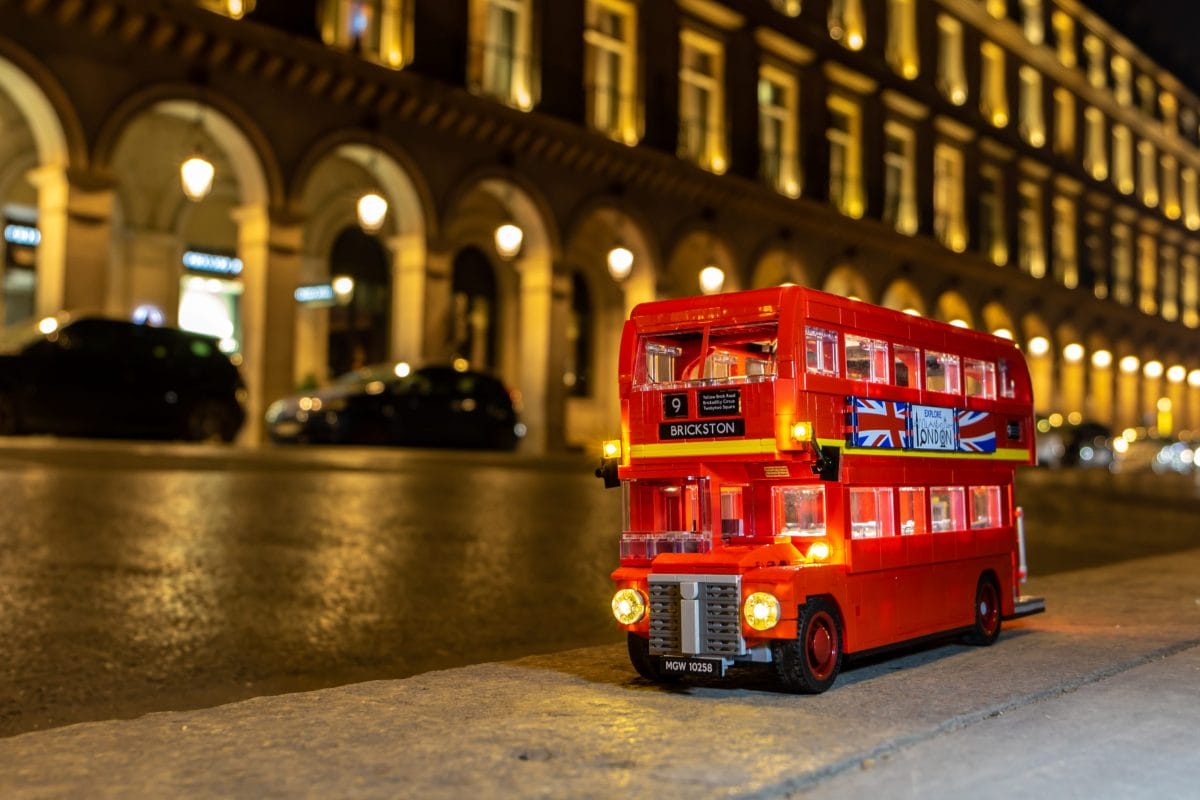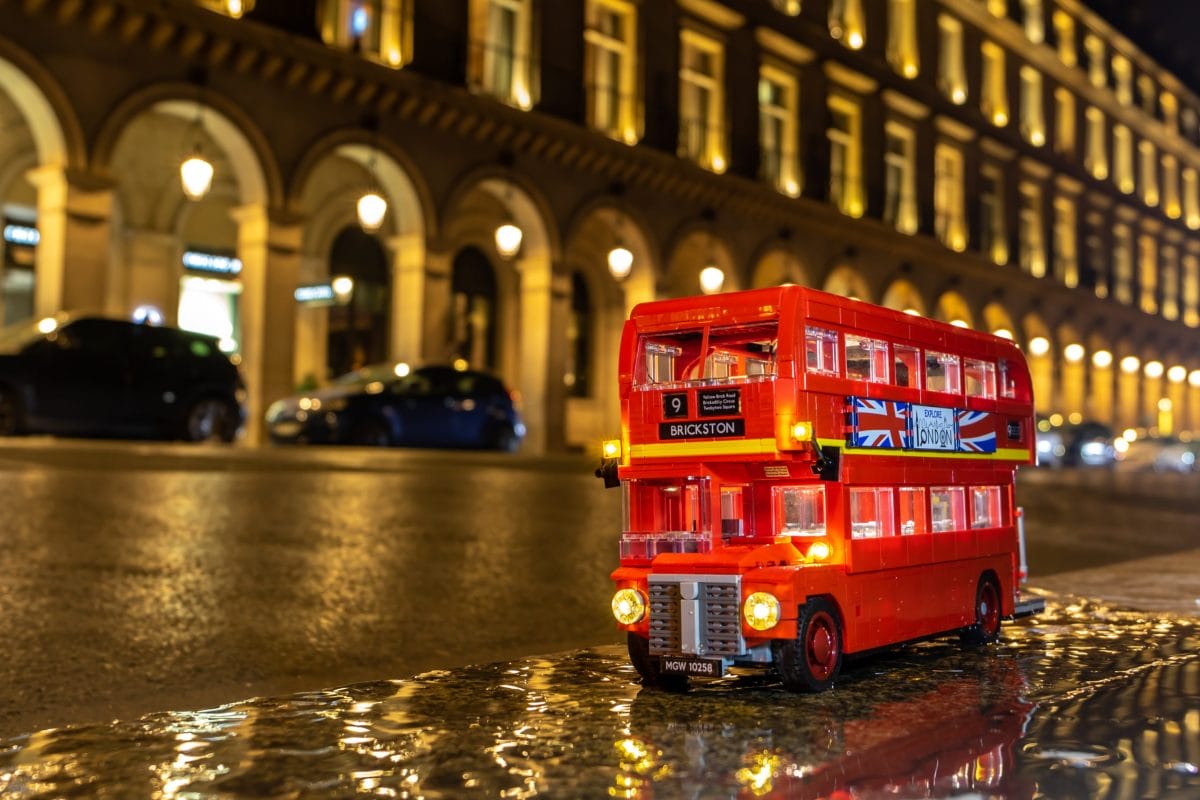 Conclusion
All in all, this was a very interesting project playing with those cars. It allowed me to try something new, to play with a new scale and inanimate characters. It does not mean that I will do more of these, but I learned some tricks that I may use in my future projects.
Julien (@Ballou34)
Aeronautics engineer by day, toy photographer by night.
Exploring the world with his plastic figures.