We've already talked in the past about the first test shot and the struggle when it comes to recreating it. This is something I've experienced with this week's SiPgoes52 word: trust.
Last year, at the beginning of the winter, and not long before we started planning SiPgoes52, I took a photo of Aria befriending T-Rap. When we kicked off our little project for 2018, I started going over all my photos from last year. I was hoping to find photos I had already taken that would fit one of our 52 human values and emotions.
My photo for trust was one of them, But I wasn't entirely satisfied with it.
Why? There are multiple reasons.
First, in early December there wasn't a lot of snow on my "winter studio", the frozen lake where I take most of my pictures in winter time. The snow just doesn't look good. Just for that reason, as soon as I took the photo, I knew I would eventually have to retake it again.
Then in January, I decided to break Aria's wings so that there wouldn't be that distracting pink circle around her neck. Now her wings are attached with blue tac on her back. But since then, every single photo I took before looks wrong to me and needs to be retaken.

The first photo of Aria with her brand new broken wings…


…And the last photo with her wing piece complete.

Finally, I wasn't too sure about the light, colors, and composition. I wanted to try something different to see if it would be better.
First try
Not unusual for me, I actually procrastinated with this photo. The deadline was November, so why take the picture in early 2018? On the other hand, there were dozens of words for which I needed pictures. So it's only after the summer that I added the "trust remake" on my photo todo list.
My first try was in September. I woke up for sunrise and went to the other lake nearby. (The winter studio isn't good for sunrise at that time of the year.) The light was great but…
I still wasn't happy. The feet of T-Rap weren't posed correctly and it looks like he's floating in the air. And maybe the backlight is too strong and prevents from seeing his face.
So I had to try again…
Second try
A few weeks later, in October. This time in the winter studio on the shore of the lake at sunset. The backlight is also better controlled. Both Aria's and T-Rap's face are in focus. And the composition is different with Aria on the right and T-Rap on the left. It looks more dynamic. But…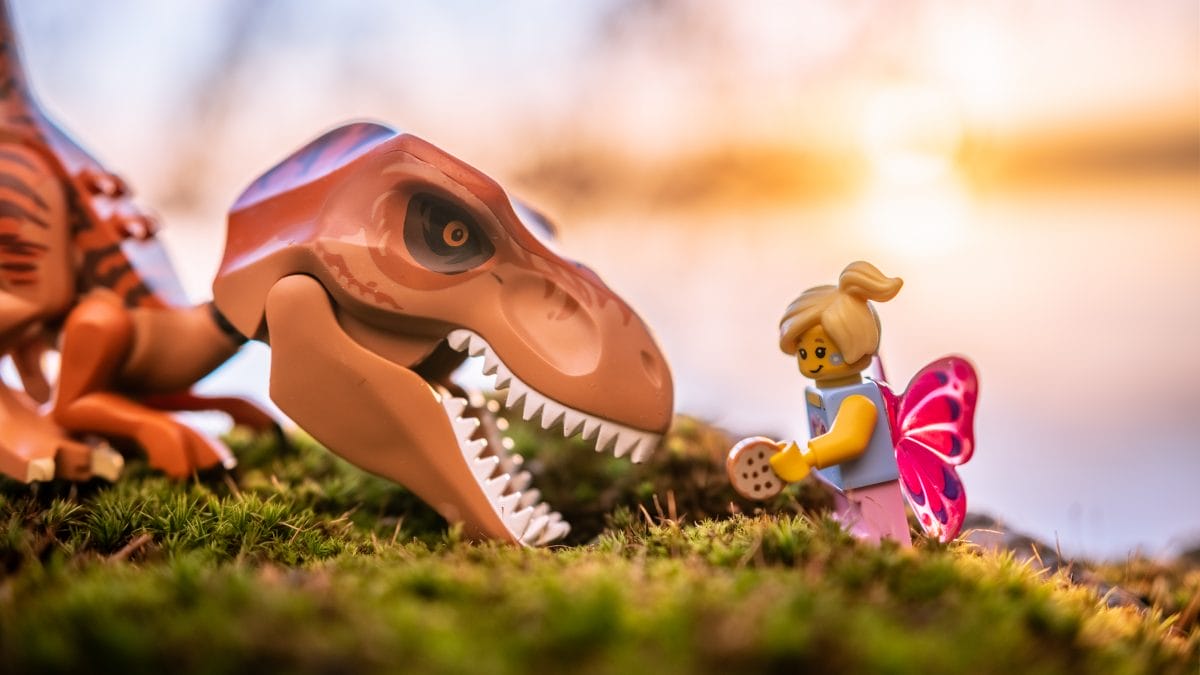 Somehow I still wasn't satisfied. I wanted something softer. The original photo felt calm, peaceful and zen. This new photo doesn't. Something that maybe I can only achieve in winter.
So I had to try again!
Third try
I was pretty sure there would be a third attempt. It should be at the beginning of winter. When the lake starts to freeze and the first snow comes. Last year we had snow two times for a few days in mid-October and late October. So I was certain there would be a third attempt before the deadline.
But winter has been late. Although we had a few days with freezing temperature, I decided to use the ice for another project (more on that later). And another photo with Aria without T-Rap. I was waiting for the snow… but it didn't happen. Then the lake melted. (And it's unlikely to freeze again in the upcoming week.)
The end?
So I've decided to use the very first photo I took last year as part of SiPgoes52. Even if it is not exactly what I envisioned, there's nothing I can do about it. At least now. The deadline is today, and the weather wasn't on my side.
But does this mean this is over? Probably not. I will try again for sure! Maybe when the snow will finally appear, I will encounter some of the same problems than last year. Maybe it will be cloudy and the light won't be interesting enough. Or maybe it will only be possible next year, when there will be plenty of nice snow and sunlight.
Or maybe it's better to procrastinate, as I still have to take a few more photos for SiPgoes52…
Sharing the Adventures in The North of my Plastic Friends.