Getting Ready
At about 3 o'clock on Saturday, November 17, Haesook Kim and I started setting up snacks and drinks for the opening party of the Stuck in Plastic – A Toy Photography Exhibition. The exhibition already opened the day before. Yet we were having the party on Saturday so that more people could attend. Everything had to be ready by 4 o'clock. At 4:01 we expected the first guests and at 4:30 we would start a live-stream with Boris, Stefan, Julien, Maëlick, and Karine.
Getting Nervous
By 4:25 only two other people had arrived. I was nervous. And I feared that the guests of honor would be left disappointed. We started the Hangout regardless and as we talked, people started arriving. Every time someone new walked in, I relaxed a little more. By the time the call was winding down, quite a few people had interacted with the photographers to congratulate them and ask them questions about their work. I was for sure more relaxed.
Having Fun
There were a number of people who saw how much fun we were having inside the gallery and walked in off the street. By the end of the meeting, I was happy that the Stuck in Plastic collective could see guests respond to their work and ask them questions and genuinely connect.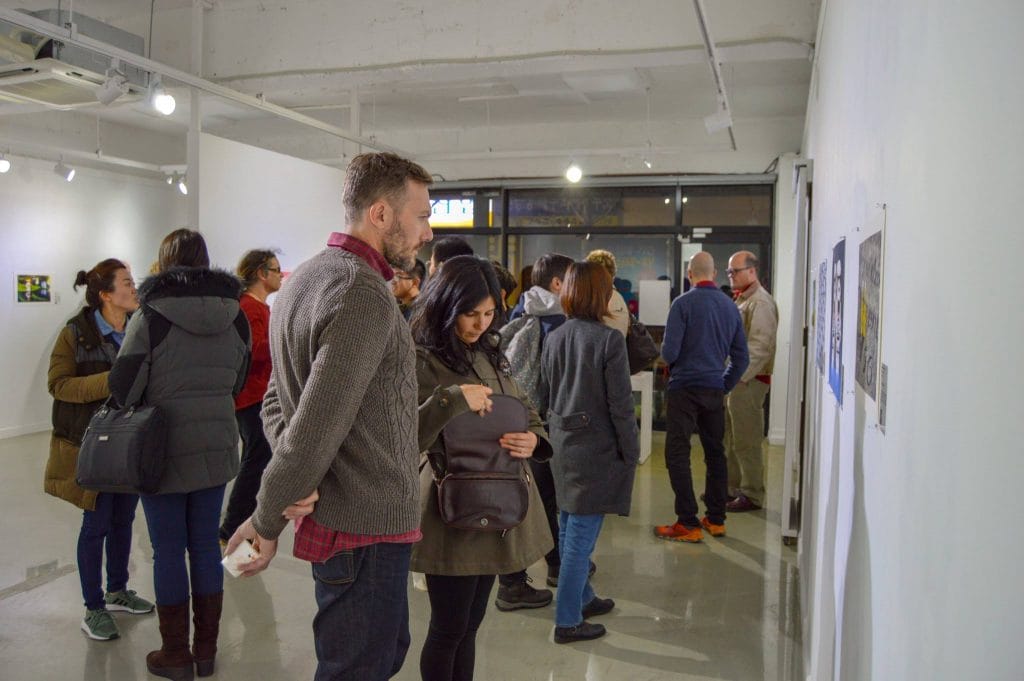 The party continued until 9 PM and a lot more people attended the show. We left the party feeling extremely happy with the exhibition and how it was received. Initially, it was intended the exhibition would run until November 22.
And getting extended
On Monday, Byungjin Kim,the gallery owner, contacted me to ask if we could keep the show up another week.
Apparently, the show has been drawing more passersby, especially young people, into the gallery.
And will now run until the 29th.
How cool is that?
Suné.
Art Curator of the SiP goes Korea exhibition. Architect from South Africa teaching English in South Korea. Pursuing all kinds of other creative endeavors.