This week's SiPgoes52 word is "inspiration". So let's use that opportunity to be inspired by José who's our guest for this week's #FeatureFriday interview around a virtual cup of coffee.
About José
Hi! My name is José David. I'm just a Spanish guy in the middle of his 20's (well, actually a little closer to the 30's) and currently based in Majorca. I've studied chemistry and environmental technology at the university, and I usually work wearing a lab coat while trying not to stain myself with samples or chemical reagents. In addition to that, I also try to be a good teacher to youngsters and help them to understand the exciting (hmm…maybe sometimes not that much) world of science they must study for their exams.
I think I've always liked to take photos, although I hadn't discovered it could be an exciting hobby until a few years ago. I remember being a child and asking my father to use his analogic camera to shoot some photos when we went on a trip anywhere or on a holiday. I also have to recognize that most of those photos were overexposed or just out of focus. I had no idea about how it worked to take a good shot, but it was fun anyway just pointing my eye through the visor and shooting what I wanted.
I didn't realise I would enjoy as much taking photos until I had my first DLSR camera around three years ago. After a lot of reading on the internet, I decided to take a step forward and buy a Nikon D3200. I discovered a whole new world of possibilities. Manual adjustments let me control better focus, aperture and shutter speed. I could play with long exposure, freezing shots, bokeh effects, and better portraits… As I came from a small Sony digital camera with mostly automatic adjustments, I tried to spend more time learning about improving the technique as well as looking how to transmit better how I see things through the lens.
José and toy photography
I can't tell with precision when it all started. As a child, I used to play with Action Man figures, Playmobil and LEGO when I got my first red cube filled with LEGO System pieces. Not too long after, I got my first LEGO minifigures, and those first sets were mainly from police and space themes. I was particularly in love with the adventurers series from 1999, from which I wish I had a few more sets. (I managed though to get as gifts the temple, a car, and a small plane.)
I think I started taking photos a little bit more serious when I began watching LEGO stop-motion videos on Youtube. I was amazed by the movie effects that could be achieved, and I thought it would be a good idea to try to make some stop-motion movies myself and recreate those effects. So I took my Sony camera, built some scenery and started taking frames. At that time, I managed to create one or two small videos I feel quite proud of, although I know they won't win any "Oscar".
At some point, I left stop-motions and started taking just some LEGO pictures with the "macro" mode of my Sony camera. I really liked the proximity effect, or maybe the fact that you can focus more on details… or just the way those photos made me feel. I enjoyed them more than other types.
I would say my path in toy photography is just at its beginning… Indeed, I think I still need to explore new possibilities with all the resources I have and broaden my gallery with something different from LEGO 😊
Sometimes it gets kind of hard for me to describe feelings or emotions with words. I think toy photography lets me fill the frame better with the ideas that come to my mind. I think it's easier to relate to my vision of things by making or finding a scenario for minifigures. And portrait myself in many of them. Sometimes I also get lucky and I just come up with a cute shot without too much thinking or preparation.
José and SiPgoes52
I've been shooting less every time since last year. Due to many reasons, I didn't find enough time or inspiration to take the camera out and shoot some photos. Then I found this blog and the challenge was just in time for me to think about getting back to work. That was a good chance to get some responsibility, continuity, and dedication to avoid letting my camera and motivation get dusty into its case. That's how I began shooting for #sipgoes52.
I have to admit not all photos are "fresh" taken. Sometimes I cannot get enough time, or I just don't feel fine to come up with a new idea so I just try to find into my archives something that could fit into that week's word.
José's favorite words
There are words I feel more connected to, like confidence, power or balance. Maybe it's because what they transmit and how I thought they would fit more with my personal vision. Like confidence in ourselves and power to make changes happen and manage to get balance in life.
But if I have to choose, I would take faith as my best so far. It inspired believing in something and getting the force to keep on moving forward, no matter the adversity. I was not sure about how to put this vision into a frame, but then I found the light from a candle… and the rest was to place the two minifigs, and trying to get a good focus. I didn't expect to enjoy the result as much as I finally did.
At the time of writing this, I'm pretty curious about the word "inspiration". (This week's word!) It's still early to get an image of what it can look like… But in the end, inspiration has been the main word that has taken all of us up here. With 47 words since the beginning, I'm sure there will be more than 47 reasons to get inspired :)
Completing SiPgoes52
I plan (and I'm sure I will) to complete the project. Even though I've tried to be up to date with every word, I haven't managed them all. But I'm still in the game!
I learned it's not a good idea to let work pending to do until the last day…but I still fail sometimes at it. At least I've learned to be more constant with my work and not to give up if things don't come easy. Additionally, I've found with every week tag many photographers on Instagram who have really good shots, as well as very different visions of every word.
I would recommend SiPgoes52 to anyone who wants a fun and complete challenge. It's also good for learning to take photos with a broader meaning. For me, it's been my very first long challenge in photography, and I hope it will not be the last one. Maybe I can take the chance someday for a 365 challenge…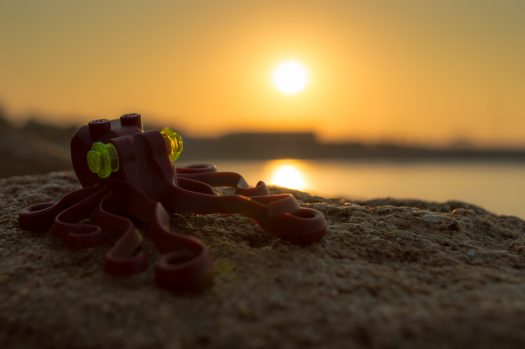 Let's thank José for his time with us! Be sure to keep following his photography on Instagram: @jdpinto91.
(And see you next week for one last #SiPgoes52 #FeatureFriday!)
And feel free to join the conversation and let José know what his images mean to you.
Stuck In Plastic.
The creative collective of toy photographers.