Some of you will remember the early days of Candy Crush on Facebook. Friends poaching for you to help them out to get more lives. Advertisement everywhere. And while my partner in crime can be found quite often playing a game of Candy Crush on her iPad, I never downloaded it or made an attempt to give it a go. Too much sugar for me.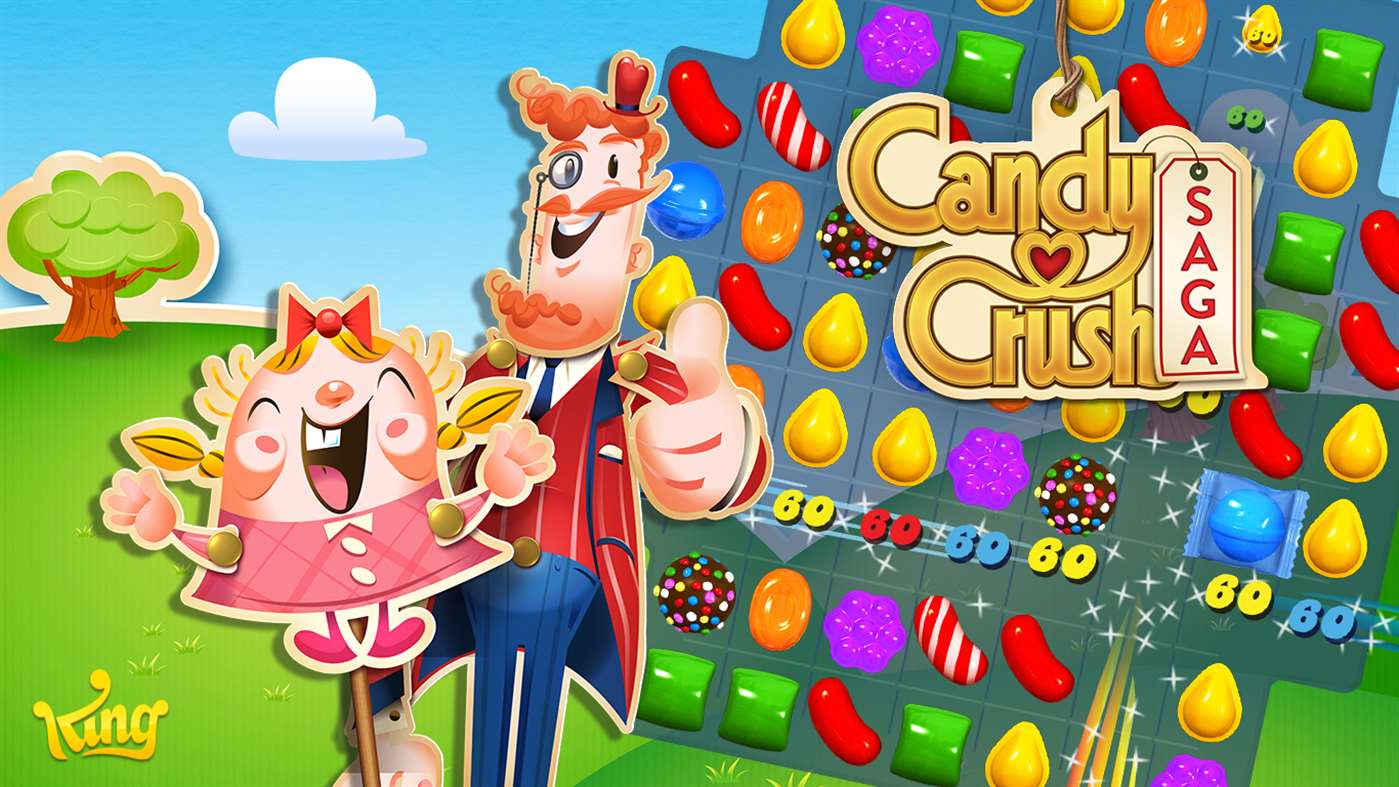 By now you will wonder what Candy Crush, one of the most successful freemium online games has to do with toy photography. Clickbait of some sort or a toy photographer went crazy.
The World Greatest Photography Game
For sure not the first, maybe the latter, but hold on, things will clear up pretty soon. I am here to talk about another freemium game that has been on all my social channels over the summer. On Instagram, Facebook, and YouTube I got presented with adds for a new game. A photographic game. A game listening to the name of Guru Shots. The world greatest photography game according to their own website.
Guru Shots, Here I Come.
I could not resist and signed up. 
If you want to sign up right away and don't want to read the whole post, you can do so through my little referral link by clicking here, and let me know, so I will follow you as well but do read on. This is not some kind of infomercial. 
I had to explore this Candy Crush like experience of gaming and joined the Newbie challenge with some of my less toy photography work and I got overwhelmed with notifications telling me how great I was and passing me through the levels of the challenge pretty fast.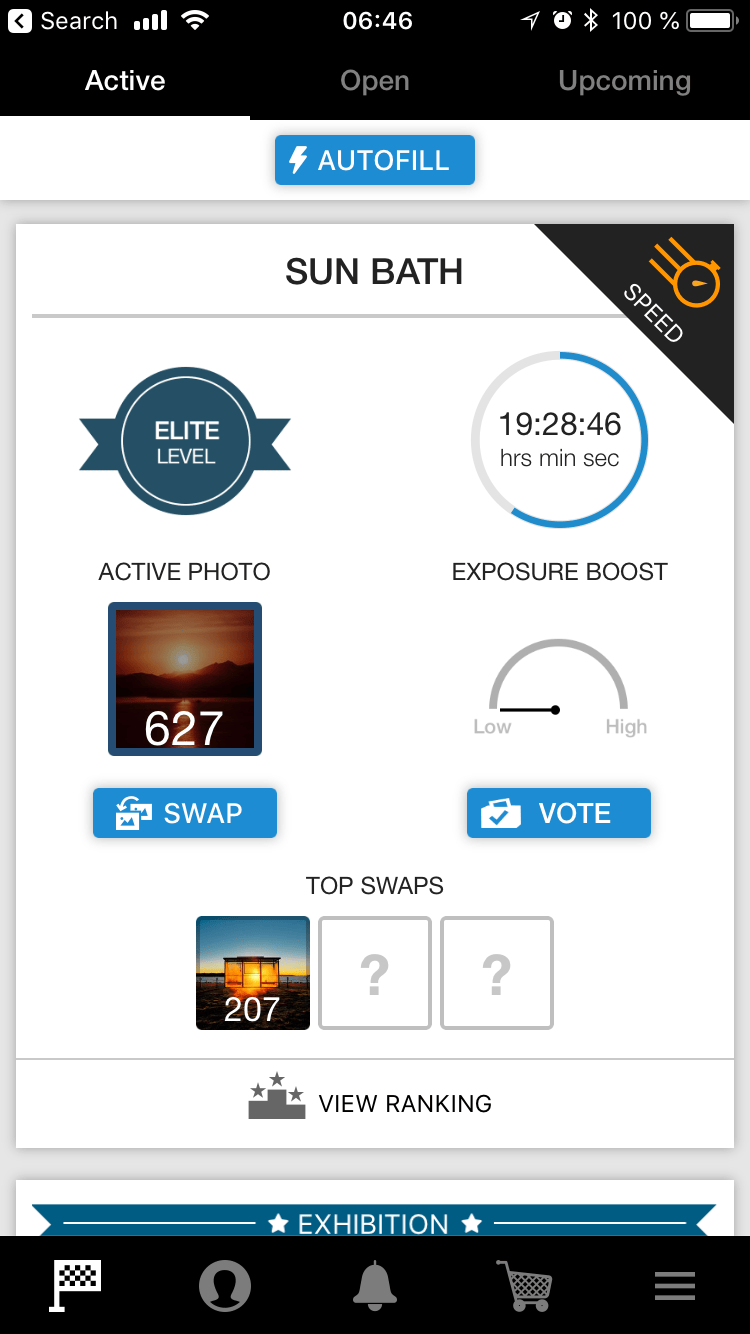 My dopamine kicked in and I was hooked.
Who wouldn't?
First, you are Popular. Then you become Skilled (see the subtle difference. Popular is before Skilled making you all warm and fuzzy inside) before you become Premier, Elite and ultimate you can reach All-Star level based on a randomized voting system.  
So, be aware that the makers of this game are good at game making. 
I joined another challenge and even a third.

And if you want to not just collect points inside a challenge but also grow inside the game you have to collect different levels and achievements, but more on that later.
Time for a pause.
I took a deep breath and reflected.
Took a pause.
Read some of the help.
You could win prizes, but there was also a store.
A store where you could buy additional autofills, boosts, and other elements for hard cash.
And big cash even.
With just a click on the phone, as it is linked to your Apple or Google Apps Account. Inline app purchases, parents beware.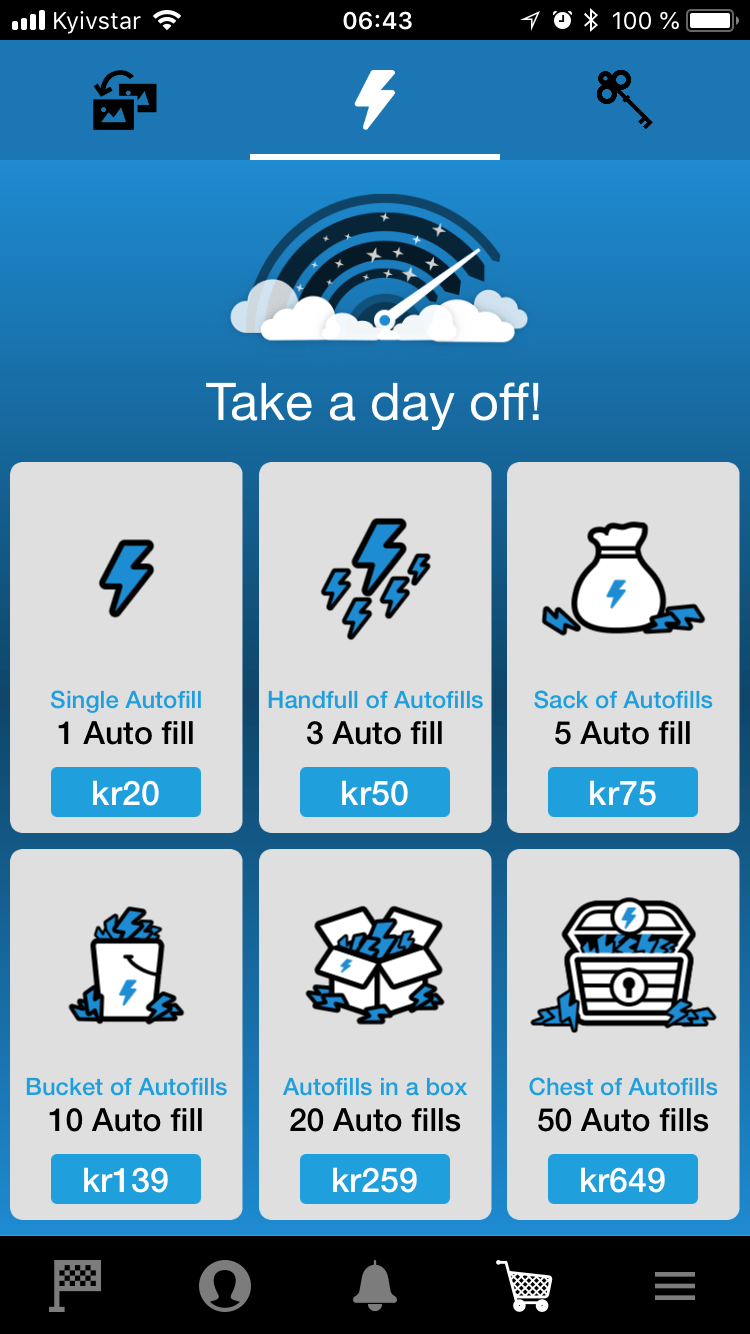 And I needed to save some money. Not spending it on a game. I have my eyes set of the new Nikon Z6 system (long-term goal – different post) and the DJI Mavic 2 Pro (hopefully less long-term, and another post), featuring a Hasselblad camera, so the last thing I wanted to do was buying extra candy in the Guru store to boost an image, to get some imaginary pat on the back and get my dopamine feed running.
But I still liked the game.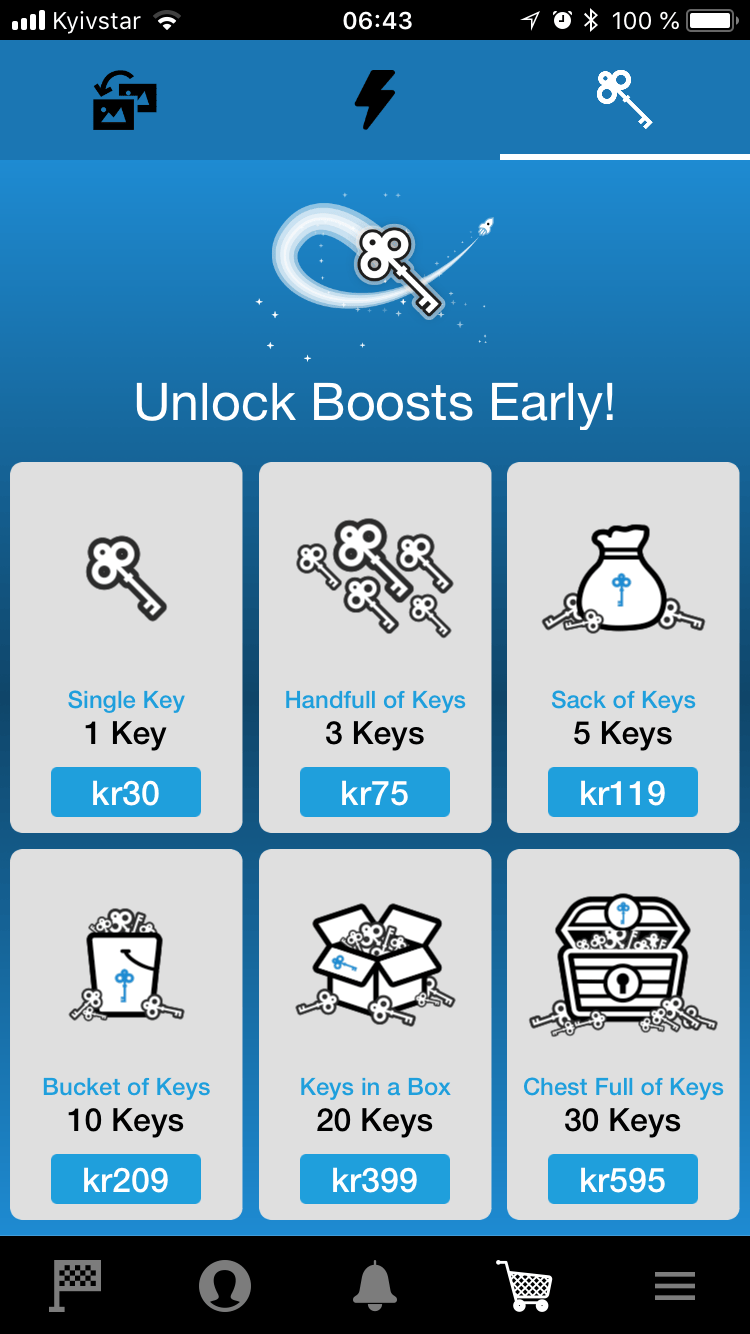 Being Hardcore
I made for myself the promise I would only play the freemium model, and if you join this game because of this post (or all the adverts that lured you in), be aware that if you are not careful you may end up buying booster packs to get those needed levels faster. I want to play, but at the same time try to get to Guru level without cashing out an upgrade pack.
As you can see in the gaming levels above, every level exists out of a set of challenges. The first is based on collecting points, which you earn by just "playing the game" and joining a few challenges. The second level is how many times you became Elite, Premier or All-Star and this really pushes you to submit your best work for a challenge. And the third is the big achievements. Reaching the Top 30%, Top 5% or if you want to reach Guru level Win a challenge and collecting handpicked Guru picks. 
I am sure there will be ways to beat the system or befriend some Gurus and ask for a favor but basically, it is a photographic game you play with yourself.  And playing the Freemium is making it a double challenge and for sure one the makers of the game have anticipated. Also, Candy Crush makes big money out of only 3% premium paying gamers, while 97% of the community plays for free (according to W.) so playing the Freemium model is not cheating.
It is being hardcore :)


A few weeks later
Here we are. A few weeks later, and I turned a Newbie into an Expert level with only 30 pictures out of my portfolio. And that is what I really like about this game. Most of us have a body of work on IG, Flickr, 500px and have been around for a while. We create, we post, we move on. But we don't spend enough time with our Portfolio and this is where the game really kicks in. Look back at your work. Select masterpieces from the past. Join challenges and get your Portfolio into (re)shape with an anonymous voting system, very similar to the Instagram likes, yet completely different.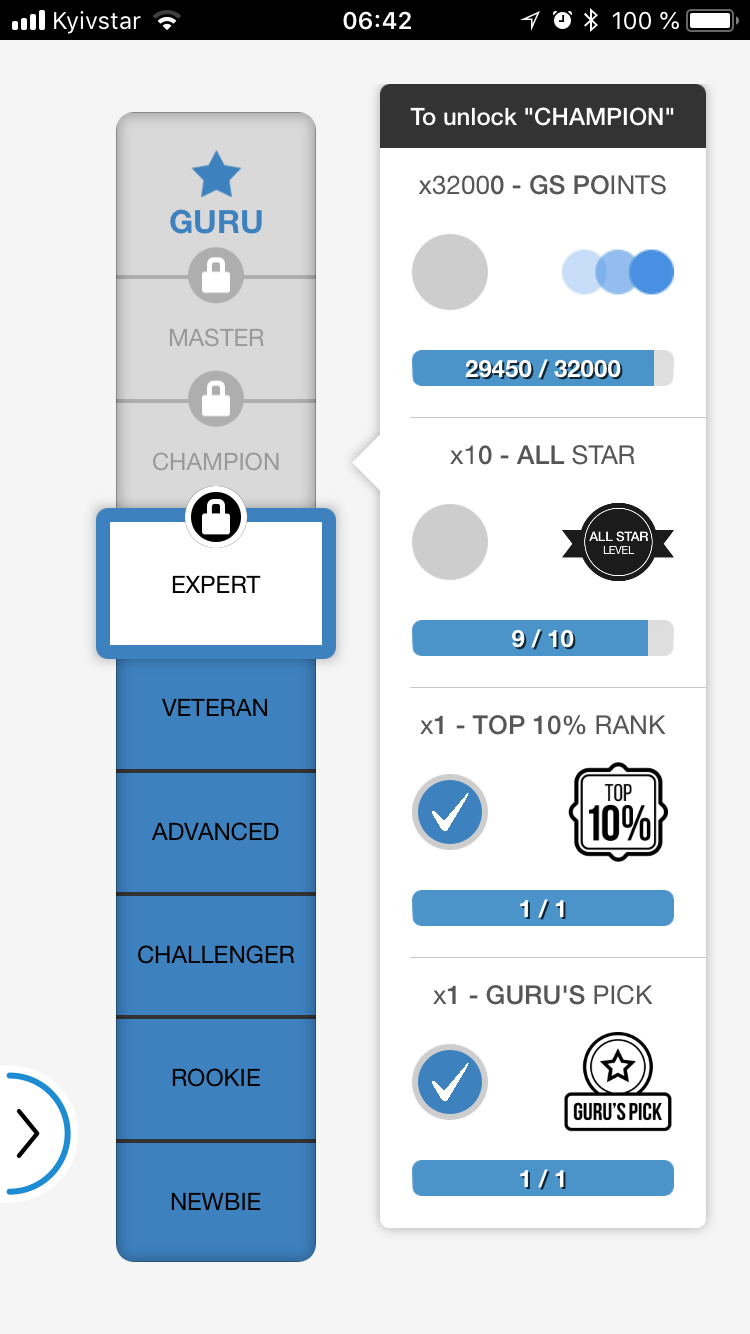 A game against yourself
You are playing against yourself. At least I am, and for me my goal is to collect the necessary levels to reach Guru level and that means selecting images that fit with the challenge, stand out and get a consistent vote of trust or get handpicked by another Guru, who is passionate about the game and has a (relative) good body of work. I am not saying that all Gurus are of the level of Ansel Adams or Annie Leibovitz, but they have a photographic eye and are passionate about their work just like you and me. 
I am not trying to show off here.
Or turn this into an infomercial for GuruShots or collect a few extra swaps by you signing up through my referral link.
And I am sure quite a few of you with focus will reach Guru level before me.
The only promise I do want to make is that I will follow you back and regardless if you reach Guru level before or after me, I will join your Toy Photography challenge or I will create one myself (assuming G. level let you choose the topic of choice).
Conclusions
Before you know this could become a very addictive game where you cash out some money to "help you" along. And that is NOT why I invite you to join me on this challenge. 
This little game is really about YOU and YOU alone. Some social pressure, but the battle is against the magic of your images. You will have to play along and do some blind voting, but that is great. The blind voting system allows you to critique others in your own sphere and in a very fast way discover what is great and what is not so great since all images are collected to a theme. Do you like the image? Did it adress the challenge?  What speaks out to you? All in a matter of seconds when you cast your blind votes to keep your exposure boost up. By applying group critique mechanisms and a gameplay attitude you are actually playing against yourself and you may become a better photographer.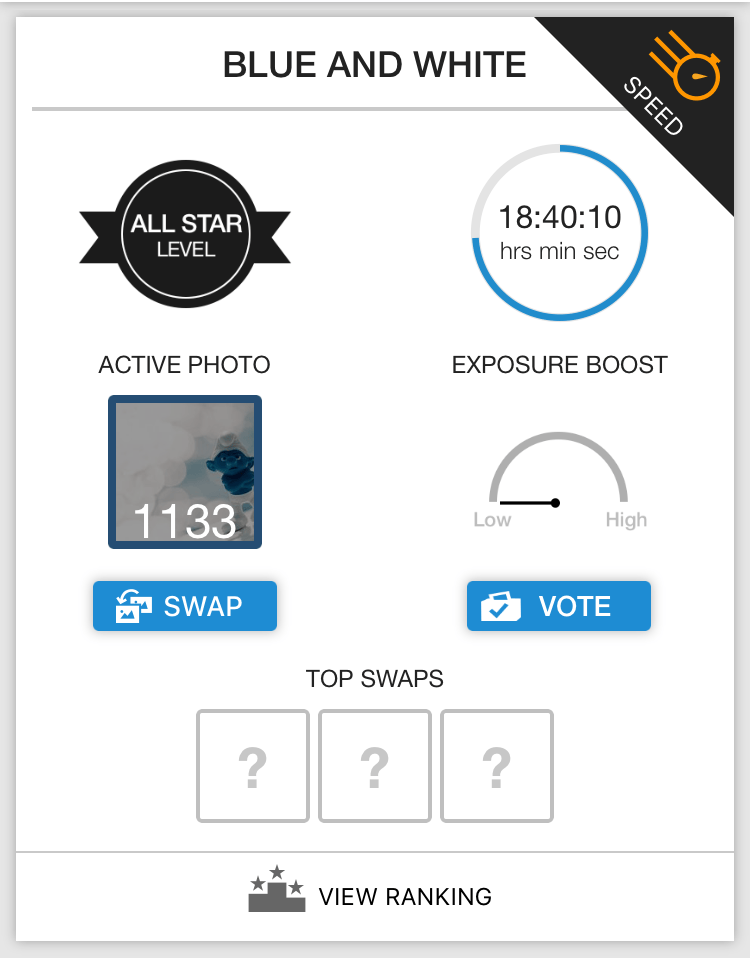 If you are like me a game playing "red" person, than hit me up on GuruShots. If all this "alpha" game playing dopamine is not your thing, than do not join the game and let me know your portfolio in the comments below. There is much more than Candy Crush or Guru Shots to rock your boat.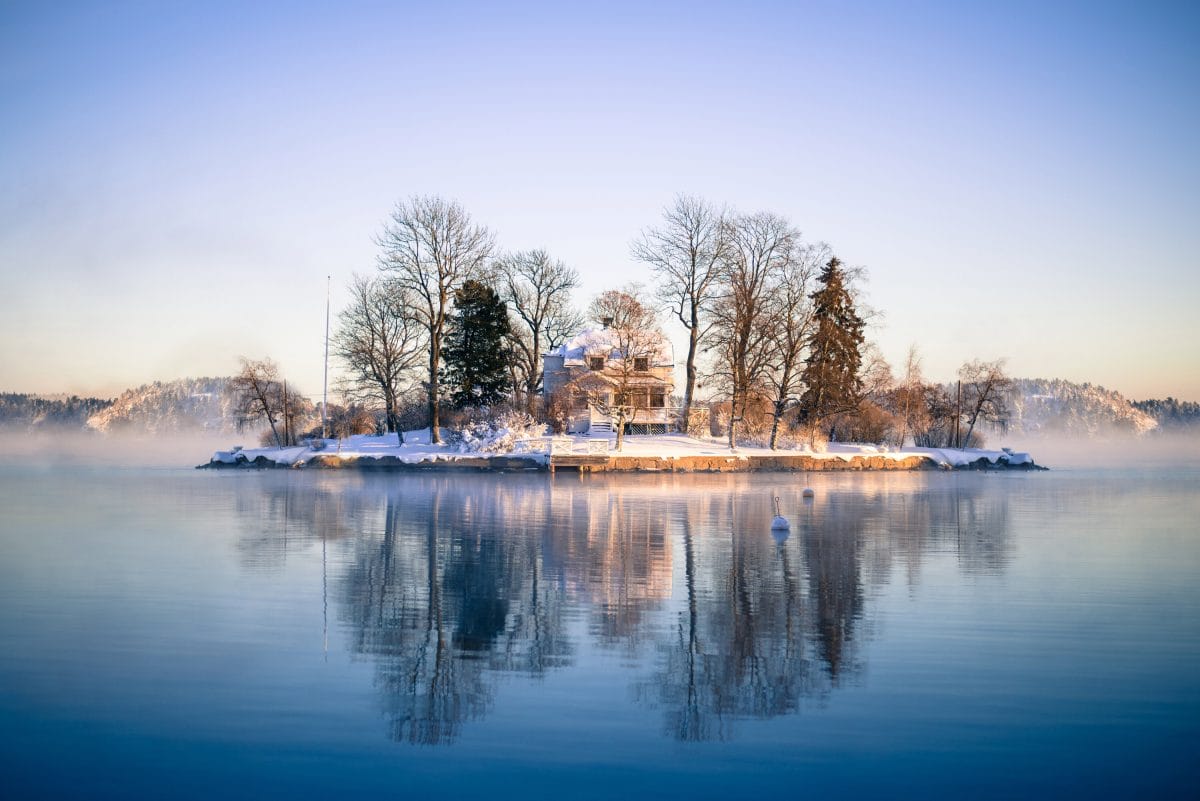 And I love to see some more great toy photography on Guru Shots and turn us toy photographers into a mainstream photography genre. After HDR, Foodies, and Selfies …
Boris